Inside the nail-biting drama of the US-Sweden penalty shootout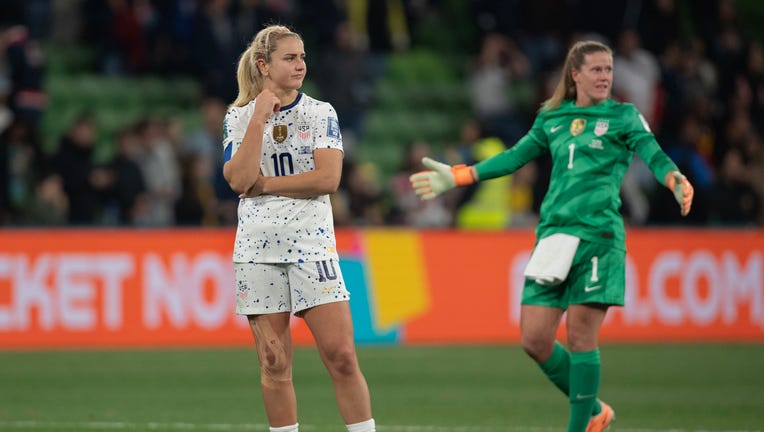 article
"Match point" is a tennis term, but you hear it pop up in soccer every now and then, but only when the inescapable drama of a penalty shootout is in the air.
It refers to an opportunity to clinch a match, either by scoring the decisive kick in a shootout, or by making a save that would end it all and put your team through to the next round.
The United States had three match points in its World Cup clash with Sweden on Sunday. It couldn't capitalize on any of them.
There were moments that were predictable, like Lindsey Horan showing captain's courage to deliver a perfect conversion, and Sweden's unflappable Fridolina Rolfo doing exactly the same thing.
But then there was stuff so wild and weird that it took any feasible script and tossed it out the window. Stuff like Megan Rapinoe, yes, Megan Rapinoe, blasting her critical strike over the crossbar, and sure-footed Sophia Smith firing way wide.
And, in the end, a VAR ruling that awarded Sweden's its winning goal – the technology deciding that the ball had crossed the line by the tiniest of margins.
"We just lost the World Cup by a millimeter," USWNT goalkeeper Alyssa Naeher said. "That's tough."
[USA's three-peat dream ends in heartbreaking shootout loss to Sweden]
The score reads that Sweden went through 5-4 on PKs, after a 0-0 extra-time tie at Melbourne Rectangular Stadium. 
That doesn't begin to convey the drama and the nail-biting tension of an emotional night that ended American World Cup dreams for another four years.
The shootout started fairly conventionally. With the USA having the advantage of kicking first, Andi Sullivan drilled one into the bottom corner. Rolfo responded by firing into the inner side netting, past Naeher's reach.
Horan closed her eyes, said a private word, then curled her kick into the corner as Zecira Musovic, so outstanding during the 120 minutes of play, could do nothing to stop it. 
Sweden though, was sensing its moment and Elin Rubensson drove one into the same spot to equalize at 2-2.
It was becoming tense. 
Sub Kristie Mewis looked nervous but sent Musovic the wrong way and then … the first crack opened up – Sweden right-back Nathalie Bjorn smacking her attempt high over the crossbar.
It was within the USWNT's control. But not for long. Rapinoe's penalty-taking prowess was a huge part of the 2019 title run, she scored from the spot no fewer than three times during that event, including the opener in the final.
Here though, having come on as an extra-time replacement, her right-footed try sailed high into the Melbourne night, and she could only smile ruefully as Sweden celebrated.
[USWNT run of dominance ends in painfully early World Cup exit]
Now, the twists were coming thick and fast. 
Naeher dived brilliantly to parry Rebecka Blomqvist's shot, which set up Smith with a chance to clinch a quarterfinal showdown against Japan.
Smith, the USA's dynamic offensive threat, seemed like a perfect candidate for such an occasion, but with so much on the line, her nerve failed her. It was an off kick, sliced way wide, and the momentum shifted.
Hanna Bennison smashed one down the middle to keep Sweden alive, then U.S goalkeeper Naeher stepped up to take her own kick and blasted it home, before defender Magdalena Eriksson matched her by tucking one into the top corner.
Now, it was the turn of Kelley O'Hara, the 35-year-old voice of poise, who tasked herself with lifting spirits and spreading positivity after the disappointing group-stage draw with Portugal.
O'Hara sent Musovic the wrong way, but it wasn't a clean strike, and it thudded again the post. Suddenly, for the first time, it was match point to Sweden.
Lina Hurtig stepped forward, a member of Sweden's team for nine years, but who had never experienced a moment national importance like this. She looked confident, but Naeher was a picture of determination. 
Something had to give. It did, but barely.
Naeher hurled herself to her right, got a glove on Hurtig's powerful shot, then twisted backward to palm it away as the ball fell toward the goal line. "No chance," the keeper said, as Hurtig claimed a goal, but these are the days of instant replay and in truth, this was the kind of moment the mechanism is made for.
A few agonizing seconds passed, then mayhem. Referee Stephanie Frappart awarded a goal, the Americans stood stunned, while Sweden celebrated one of its most famous triumphs.
There are those who say penalty shootouts are an unfair way to decide games of such importance. Maybe they're right, but there are few methods that could possibly be more exciting.
That however, will be of little consolation to the USA squad. This will take time to get over, as the dust settles, and the impact of losing the World Cup — by a millimeter — kicks in.
Martin Rogers is a columnist for FOX Sports and the author of the FOX Sports Insider newsletter. Follow him on Twitter @MRogersFOX and subscribe to the daily newsletter.