NFL players 'significantly safer' on grass than turf, association says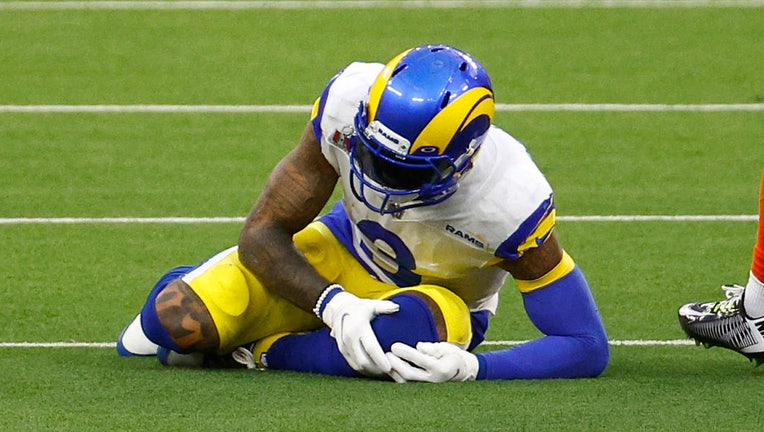 article
After much debate over artificial turf versus natural grass in the NFL, the union that represents the players recently presented data showing the notable difference in non-contact injuries between the two playing surfaces.
Data provided by the National Football League Players Association showed that during the 2022 NFL season, players suffered more non-direct contact injuries on turf than natural grass.
"Grass is a significantly safer surface than turf," JC Tretter, NFLPA president and author of the online post, said.
HOW SUPER BOWL LVII PUTS A SPIN ON THE CLASSIC GRASS FIELD
The association reviewed past data and found that 10 of the previous 11 years showed that the injury rate on synthetic versus natural surfaces was considerably higher. The NFLPA noted 2021 was likely an anomaly where the trend flat lined but increased again in 2022.
"Last year, the gap – much like the NFL's credibility with players on this issue – was as wide as it has ever been, proving that (as the NFLPA suspected) 2021 was, in fact, an outlier," Tretter wrote.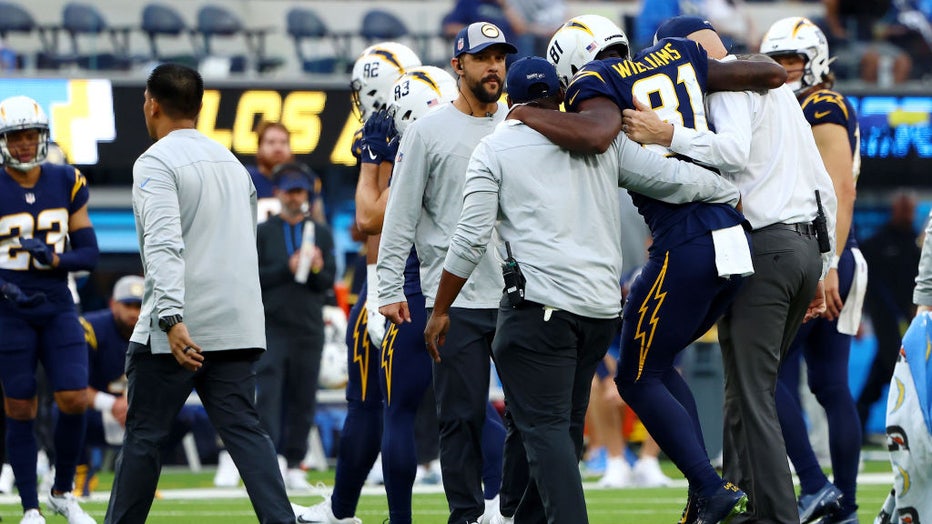 Mike Williams #81 of the Los Angeles Chargers walks off the field after an injury against the Seattle Seahawks at SoFi Stadium on October 23, 2022. (Katelyn Mulcahy/Getty Images)
"Last year, the NFL touted data to push the narrative that turf was just as safe as grass," he continued on social media. "It highlights the credibility gap on health and safety and why players are right to call for safer surfaces."
In response to the NFLPA's claims, the NFL responded by saying there were no simple answers to the ongoing debate.
ARTIFICIAL TURF VS. REAL GRASS: NFL'S ONGOING PROBLEM WITH PLAYING SURFACES
"The committee, including the NFLPA's experts, believe that simply playing on natural grass is not the answer to this complex challenge. Some artificial turf surfaces have a lower injury rate than some grass fields, and some grass fields have a lower injury rate than some artificial surfaces," Jeff Miller, the NFL's executive vice president of communications, public affairs and policy, said.
Miller went on to say that the league's goal is to decrease injuries on all surfaces. 
"There are no simple answers, but we are committed to the substantial, ongoing work with the players and their expert advisers to make the game safer."
CHICAGO BEARS INSTALLING NEW TURF AT SOLDIER FIELD AHEAD OF SEASON OPENER AGAINST 49ERS
NFL players advocate for grass over turf
Tretter, a former NFL offensive lineman, isn't the only one vocal about how the artificial turf is significantly harder on the players' bodies than grass during the 2022 NFL season.
Seattle Seahawks wide receiver DK Metcalf and Los Angeles Chargers cornerback J.C. Jackson suffered knee injuries during the October 23rd game at SoFi Stadium - both injuries occurred during non-contact plays.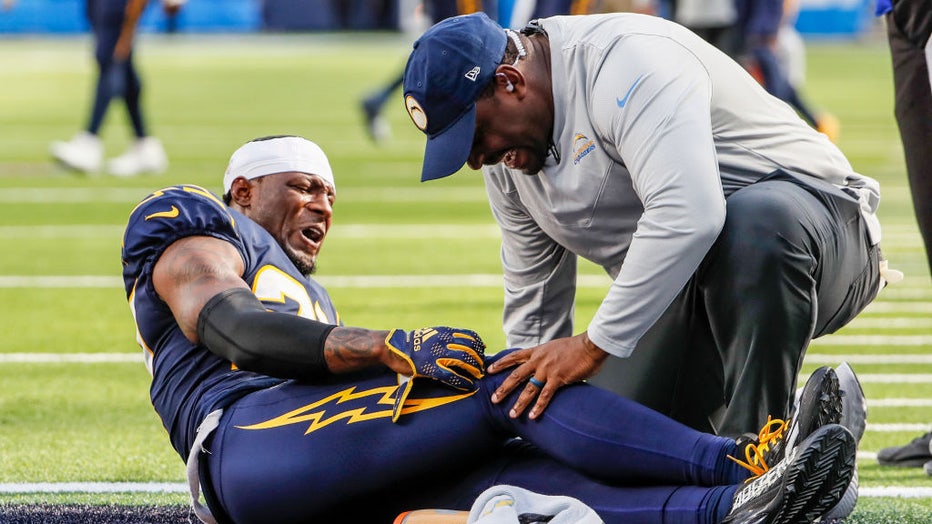 Los Angeles Chargers cornerback J.C. Jackson (27) writhes in pain after injuring his knee against the Seattle Seahawks at SoFi Stadium. (Robert Gauthier/Los Angeles Times via Getty Images)
After the injuries on the artificial surface, Seattle head coach Pete Carroll commented about using manmade surfaces and what would be best for his players.
"I think we definitely need to look at this really seriously in the offseason again," Carroll said. "It's been a discussion before. We've got to do what's right, and we've got to do what's safest for the players, and we've got to make those choices. I would pound on the drum for that." 
$5 BILLION STADIUM HAS LITTLE AC: HOW LA PLANS TO COOL FANS DOWN
Following the 2022 NFL season, San Francisco 49ers tight end George Kittle urged sports fans to sign a petition by Pennington Grass Seed to "Flip the Turf."
"Of the 32 teams in the NFL, 16 teams still play on artificial turf, despite the undeniable risk it poses to both players and the environment," the petition stated. 
"I've been saying, artificial turf feels like playing on cement. It's time to play smarter, not harder," Kittle wrote on Twitter.
Just before Thursday's 2023 NFL Draft, the petition had nearly 30,000 signatures. 
Which NFL stadiums have artificial turf, and which NFL teams have real grass?
Here is a full list of the playing surface for each NFL stadium: 
Arizona Cardinals- State Farm Stadium: Bermuda grass
Atlanta Falcons- Mercedes-Benz Superdome: FieldTurf CORE
Baltimore Ravens- M&T Bank Stadium: Bermuda grass
Buffalo Bills- Highmark Stadium: A-Turf Titan
Carolina Panthers- Bank of America Stadium: FieldTurf
Chicago Bears- Soldier Field: Bermuda grass
Cincinnati Bengals- Paycor Stadium: UBU Speed Series S5-M Synthetic Turf
Cleveland Browns- FirstEnergy Stadium: Kentucky bluegrass
Dallas Cowboys- AT&T Stadium: Hellas Matrix Turf
Denver Broncos- Empower Field at Mile High: Kentucky bluegrass
Detroit Lions- Ford Field: FieldTurf Classic HD
Green Bay Packers- Lambeau Field: Desso GrassMaster
Houston Texans- NRG Stadium: Hellas Matrix Turf
Indianapolis Colts- Lucas Oil Stadium: Shaw Sports Momentum Pro
Jacksonville Jaguars- TIAA Bank Field: Bermuda grass
Kansas City Chiefs- GEHA Field at Arrowhead Stadium: Bermuda grass
Las Vegas Raiders- Allegiant Stadium: Bermuda grass
Los Angeles Chargers & Los Angeles Rams- SoFi Stadium: Hellas Matrix Turf
Los Angeles Rams- SoFi Stadium: Hellas Matrix Turf
Miami Dolphins- Hard Rock Stadium: Bermuda grass
Minnesota Vikings- U.S. Bank Stadium: UBU Speed Series S5-M (turf)
New England- Patriots Gillette Stadium: FieldTurf CORE
New Orleans- Saints Caesar's Superdome: FieldTurf Revolution 360
New York Giants- MetLife Stadium: UBU Sports Speed Series S5-M
New York Jets- MetLife Stadium: UBU Sports Speed Series S5-M
Philadelphia Eagles- Lincoln Financial Field: Desso GrassMaster
Pittsburgh Steelers- Acrisure Stadium: Kentucky bluegrass
San Francisco 49ers- Levi's Stadium: Bermuda grass and Perennial Ryegrass mixture
Seattle Seahawks- Lumen Field: FieldTurf Revolution 360
Tampa Bay Buccaneers- Raymond James Stadium: Bermuda grass
Tennessee Titans- Nissan Stadium: Bermuda grass
Washington Commanders- FedExField: Bermuda grass
There is no set rule for whether a stadium uses real grass or turf, and the decision is up to local management.
For some stadiums in the West, like Levi Stadium in San Francisco and State Farm Stadium in Arizona, teams have the ability to bring in new grass throughout the NFL season that is grown at a nearby farm.
Get the latest updates on this story at FOXWeather.com.