FOX Bet Super 6 player wins Clint Bowyer's $10K in Fontana NASCAR contest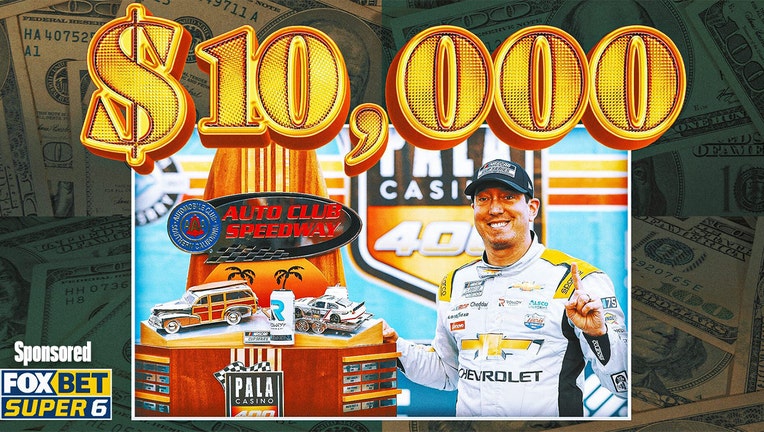 article
The winter storm in Southern California might have put a damper on the NASCAR race at the Auto Club Speedway in Fontana on Feb. 26. But nothing could rain on the parade of one very lucky FOX Bet Super 6 contestant who sped away with $10,000 of Clint Bowyer's cash.
Stephen from North Carolina became the newest member of the Super 6 winners row after correctly predicting all six outcomes of the Stage 2 contest featuring the Pala Casino 400 race.
"I found out when it was announced on TV that someone from Charlotte had won, and I thought, 'There's no way,'" the NASCAR super fan laughed. 
"So then I decided to check to see how I did, and then I was really surprised and shocked when I saw that it was me!"
And Stephen's shock was justified because to cash in on the $10K, he had to answer some tough questions. From guessing where the pole sitter would finish to predicting whether Chevrolet or Ford would have the most cars in the top 15, the road to Clint's cash was tricky.
So what was his winning strategy?
"If we're being honest," Stephen said, "luck."
However, the 30-year-old Chase Elliott fan admits that research plays a part in his prep before he submits his picks.
Stephen won $10K playing the FOX Bet Super 6 NASCAR Stage 2 contest featuring the Pala Casino race at Auto Club Speedway in Fontana, Calif.
"A lot of times, I will look at how the drivers and the teams have done historically," he said. "Knowing that helps me decide my answers."
While the Charlotte native wasn't present at the Auto Club Speedway when his answers hit, he has spent some time watching races in person.
"The most memorable one for me was watching a race here [in Charlotte]. Dale [Earnhardt] Jr. was leading on the last lap. He ran out of gas, and he lost. I think Kyle Busch won that one. It was a heartbreaker."
Before Stephen finally found his fortune in Fontana, he had been playing FOX Bet Super 6 for about a year. When he's not focusing his attention on the app's NASCAR challenges, he tries his hand at the NFL contests.
"Yep, I play the football contests in the app, and my NFL team is the Panthers," said Stephen, adding that Carolina's success next season depends on the quarterback.
"I actually hope we get C.J. Stroud because I think he'll be the best out of this new bunch," Stephen said.
When it comes to plans for his payday, the manufacturer worker and recent graduate admitted he's still deciding what to do.
"I think I'll probably put it in savings!"
And when it comes to his predictions for how the rest of the NASCAR season will play out, Stephen shared some winning insight.
"As much as it pains me to say," Stephen acknowledged, "by the end of the season, we will see Kyle Busch as a champion for Richard Childress again."
So are you ready to try your hand at winning big playing FOX Bet Super 6? Download the app and check out all the free-to-play contests. For each challenge, remember to get your picks in before the contest closes.
Like Stephen, your lucky day could be a few picks away!
Download the FOX Bet Super 6 app for your chance to win thousands of dollars on the biggest sporting events each and every week! Just make your picks and you could win the grand prize. Download and play today!
No purchase necessary. Open to legal residents of the US, excluding WA. 18 and older. See terms and conditions at foxsuper6.com. Sponsored by TSG Interactive US Services Limited.