Baseball brothers Trevor, Tylor Megill both demoted to minors on successive days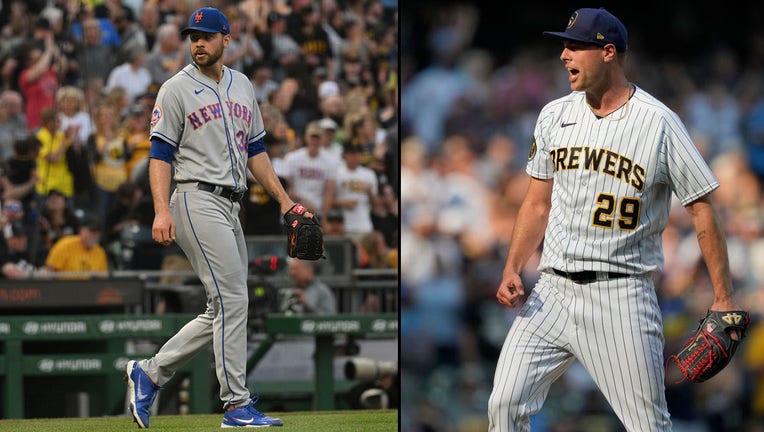 article
Tough times for the Megill boys.
One day after Milwaukee Brewers reliever Trevor Megill was sent down to the minors, younger brother Tylor was demoted to Triple-A Syracuse by the struggling New York Mets on Friday.
For one California family, a double dose of disappointing news.
Trevor Megill was optioned Thursday to Triple-A Nashville, clearing a roster spot for Milwaukee setup man Matt Bush when he was reinstated from the injured list Friday. Bush missed two months with an injury to his right rotator cuff.
The 29-year-old Megill was 1-0 with a 4.91 ERA in 14 appearances for the Brewers this season. The right-hander's string of six consecutive scoreless appearances ended Wednesday when he allowed three runs over 1 1/3 innings in a 5-1 loss to Arizona.
Tylor Megill was 6-4 with a 5.17 ERA in 15 starts for the Mets this year. He gave up four runs, five hits and four walks in 2 1/3 innings Wednesday as New York lost 10-8 in Houston.
"Command has been the biggest issue," manager Buck Showalter said before Friday night's loss in Philadelphia.
Showalter did not announce a replacement for Megill in the rotation Tuesday at home against Milwaukee, saying the club is considering several options.
Asked what the determining factor would be, Showalter said: "Who's your best option to win a game in the major leagues?"
Tylor Megill, 27, has issued 39 walks in 71 1/3 innings this year. He walked 40 batters over 137 innings combined the past two seasons.
Showalter said the move to the minors will allow the right-hander to correct mechanical issues in a more relaxed environment.
"We talked about taking a breath and trying to get back to where he was," Showalter said. "Obviously, we like him a lot and know he's capable of better. I look forward to him getting back in the mix."
New York recalled right-handed reliever Vinny Nittoli from Syracuse.
Trevor Megill, listed at 6-foot-8 and 250 pounds, was selected by the San Diego Padres in the seventh round of the 2015 amateur draft out of Loyola Marymount University in Los Angeles.
He made 28 major league appearances for the Chicago Cubs in 2021 and 39 for the Minnesota Twins last year. He is 6-5 with a 5.83 ERA in 81 games over three big league seasons.
Tylor Megill, 6-foot-7 and 230 pounds, was an eighth-round draft pick by the Mets in 2018 out of the University of Arizona. Before that, he also attended Loyola Marymount.
The brothers grew up in Long Beach, California.
Tylor Megill, nicknamed Big Drip, is 14-12 with a 4.88 ERA in 48 big league games (42 starts) for the Mets over the past three seasons. He was ticketed for the minors coming out of spring training before injuries to starting pitchers José Quintana and Justin Verlander opened a couple of spots in the rotation.