Woman killed in what's believed to be the first deadly elk attack in Arizona
MOHAVE COUNTY, Ariz. - A woman was killed in what's believed to be the first deadly elk attack in Arizona.
The Arizona Game and Fish Department (AZGFD) said the attack happened on Oct. 26 in the Pine Lake community in the Hualapai Mountains.
The husband of the victim got home around 6 p.m. and saw his wife in the backyard on the ground "with injuries consistent with being trampled by an elk."
There were no witnesses, but her husband says he saw a bucket of spilled corn nearby, leading investigators to think she was feeding the elk.
Her husband called 911.
His wife was transported to Kingman Regional Medical Center and then to Sunrise Hospital in Las Vegas. She was put into a medically induced coma.
On Nov. 3, AZGFD said it was contacted by the Kingman Police Department and was told the victim died.
AZGFD learned about the attack on Oct. 27 from a local resident. The following day, an officer began hanging signs around the neighborhood, warning people to not approach or feed elk.
The officer visited the victim's home and spoke with her husband. During that time, the officer reportedly saw several elk tracks in their yard.
"This is believed to be the first fatal elk attack in Arizona. There have been five reported elk attacks in the state during the past five years. Feeding is one of the main sources of conflict between humans and wildlife. Fed wildlife becomes habituated to humans. For example, in 2015, two children suffered minor injuries after a food-seeking elk circled a picnic table from which their family was eating in the Hualapai Mountains. In 2021, an adult female received serious head injuries from an elk that was habituated to humans in Pine," AZGFD said.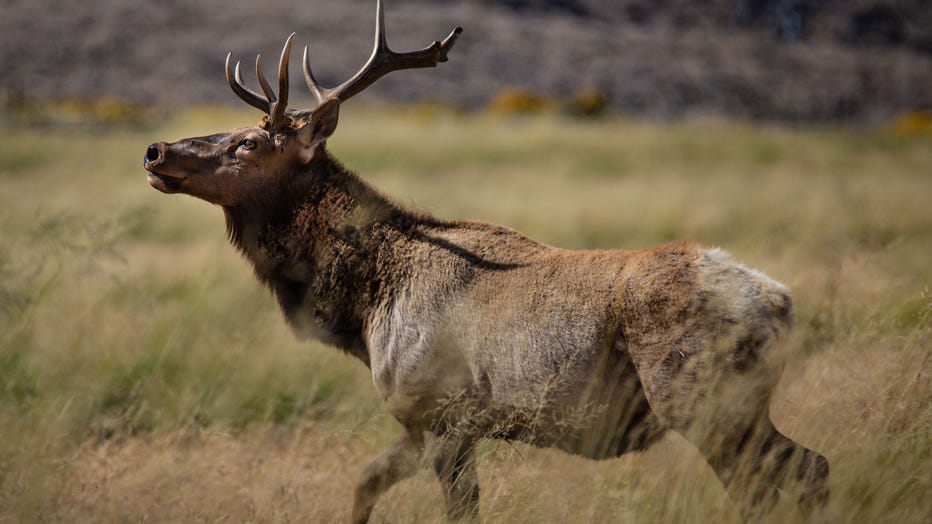 INDEPENDENCE, CA - OCTOBER 18: A herd of tule elk, transplanted from Central California in the 1950s, is viewed grazing and mating in a large open field of grass along Highway 395 on October 18, 2022, near Independence, California. As the seasons tra
The victim's cause of death, the Clark County Medical Examiner's Office says, has determined the death to be caused by an accident. She has been identified as 63-year-old Lisa Williams.
"AZGFD will continue to urge residents not to feed elk and other wildlife, and will continue to monitor elk activity in the area," AZGFD said.
The department asks people to not feed these animals and to keep them wild. 
You can learn more about the dangers of feeding wild animals here.