Who would be hit the hardest by a US debt default?
The U.S. government could default on its debt within a matter of days, jeopardizing payments to millions of Americans and businesses. 
The clock is running out for lawmakers to lift the debt limit. Treasury Secretary Janet Yellen reiterated a warning Monday that it is "highly likely" the country will run out of cash to pay its debts in early June, potentially as soon as June 1.
"We have already seen Treasury's borrowing costs increase substantially for securities maturing in early June," Yellen warned in a letter to congressional leaders. "If Congress fails to increase the debt limit, it would cause severe hardship to American families, harm our global leadership position, and raise questions about our ability to defend our national security interests."
The debt ceiling, which is currently around $31.4 trillion, is the legal limit on the total amount of debt that the federal government can borrow on behalf of the public, including Social Security and Medicare benefits, military salaries and tax refunds. 
US DEBT DEFAULT COULD SEND MORTGAGE RATES SOARING ABOVE 8%
"A technical default would also have severe consequences for millions of people. Social Security recipients, veterans, U.S. military employees, government employees, defense contractors, among others would likely go unpaid," said John Lynch, chief investment officer for Comerica Wealth Management. "The downstream effects of job losses and freezing of the credit markets would be a multiple-quarter negative hit to GDP, making a deeper recession all but certain."
Here is a closer look at the ordinary Americans who would be hit the hardest by a first-ever debt default.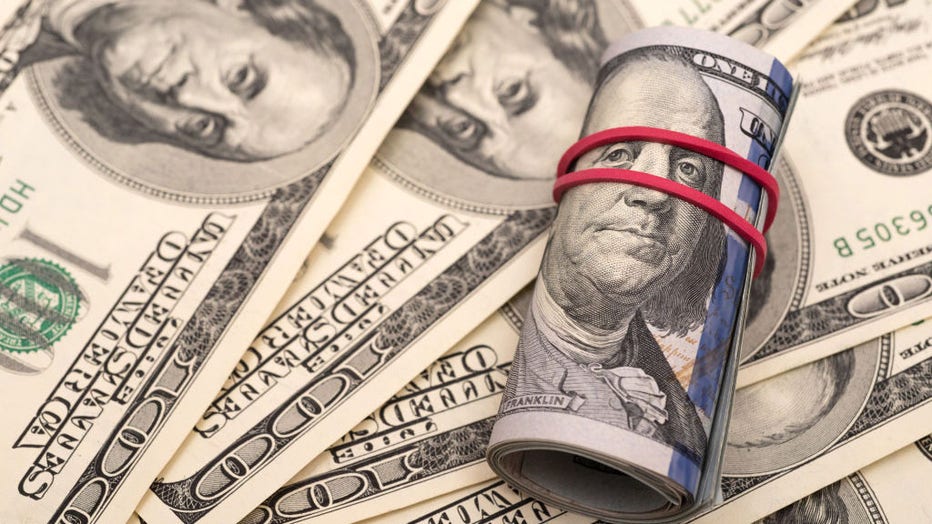 In this photo illustration a hundred us dollar banknotes seen displayed. (Photo Illustration by Mykola Tys/SOPA Images/LightRocket via Getty Images)
WHAT IS THE DEBT CEILING, AND WHAT DOES IT MEAN FOR YOU
Retirees 
Social Security could be among the first government programs to face spending cuts in the event of a default, according to a new analysis published Tuesday by the Bipartisan Policy Center (BPC).
The government is slated to pay $100 billion in Social Security benefits throughout June, with four $25 billion payments slated for June 2, June 14, June 21 and June 28.
"Realistically, on a day-to-day basis, fulfilling all payments for important and popular programs (e.g., Social Security, Medicare, Medicaid, defense, military active duty pay) would quickly become impossible," the BPC report said. 
Veterans 
A default could halt or delay pay for current and retired service members and also threaten payments allocated to critical programs for mental health, caregivers and unhoused veterans. 
The government is scheduled to pay $12 billion in veteran benefits and $10 billion in military pay and retirement funds on June 1, according to the BPC findings.
DEBT CEILING SHOWDOWN RISKS TRIGGERING 'SELF-INFLICTED' RECESSION
"Because there is no precedent for a default, it is difficult to know the precise impacts on specific federal programs," Terrence Hayes, spokesperson for the Department of Veterans Affairs, told FOX Business. "But what is clear is that, without the ability for the federal government to borrow funds, there is a very real potential that any government program or payment would be halted or severely delayed." 
Homeowners and potential homebuyers
The already fragile U.S. housing market could suffer another blow if Washington officials do not raise the debt ceiling before June. 
That's according to a recent analysis from Zillow, which projected that homebuying costs could surge by a stunning 22% if Congress fails to raise the debt limit by June 1. On top of that, the 30-year mortgage rate would likely skyrocket above 8%, the highest since the early 2000s, according to the report, authored by Zillow senior economist Jeff Tucker.
Zillow laid out a bleak scenario for the housing market in the case of a default. Tucker projected 23% fewer sales of existing homes to a seasonally adjusted annualized rate of 3.3 million in September. And, by the end of 2024, home values would be down about 5%.
GET FOX BUSINESS ON THE GO BY CLICKING HERE
"Much uncertainty surrounds these estimates, but there's little doubt that a default would be a major negative shock to housing market activity," Tucker wrote in the report titled "A debt ceiling default would send the U.S. housing market back into a deep freeze."
SNAP
The government may also run out of enough cash to fund the Supplemental Nutrition Assistance Program (SNAP), formerly known as food stamps. 
There are $1 billion payments for SNAP benefits scheduled on June 5 and June 20, according to the BPC.
FOX Business' Breck Dumas contributed to this report