Nearly 1 in 3 Americans don't know when Tax Day is, survey finds
WASHINGTON - The IRS is now accepting and processing 2022 tax returns, and while some may prefer to get started on them as soon as possible, others procrastinate for various reasons until the deadline.
And according to a recent survey, nearly 30% of Americans don't even know when Tax Day is this year.
The survey, conducted by Fidelity subsidiary Investment Property Exchange Services (IPX1031), also found the biggest procrastinators by state with Wyoming ranking No. 1.
RELATED: The average IRS tax refund so far this year is about $1,900
The survey included 1,007 people from around the U.S. in January. Respondents aged in range from 18 to 90 with an average age of 39. 
To rank the states and cities, IPX1031 said it analyzed nearly 200 Google search terms relating to the tax filing deadline from January to September 2022 and took the average number of monthly searches for each state and city – calculating the searches per 100,000 residents.
When is Tax Day 2023?
Tax Day is April 18, 2023. However, nearly 1 in 3 Americans don't know when the tax filing deadline is, according to IPX1031's survey. 
Among the generations, 53% of Gen Z, 33% of Millennials, 23% of Gen X, and 20% of Baby Boomers said they were unsure of the deadline. Roughly 13% of Gen Z and nearly 1 in 10 Millennials said they believed Tax Day is April 20.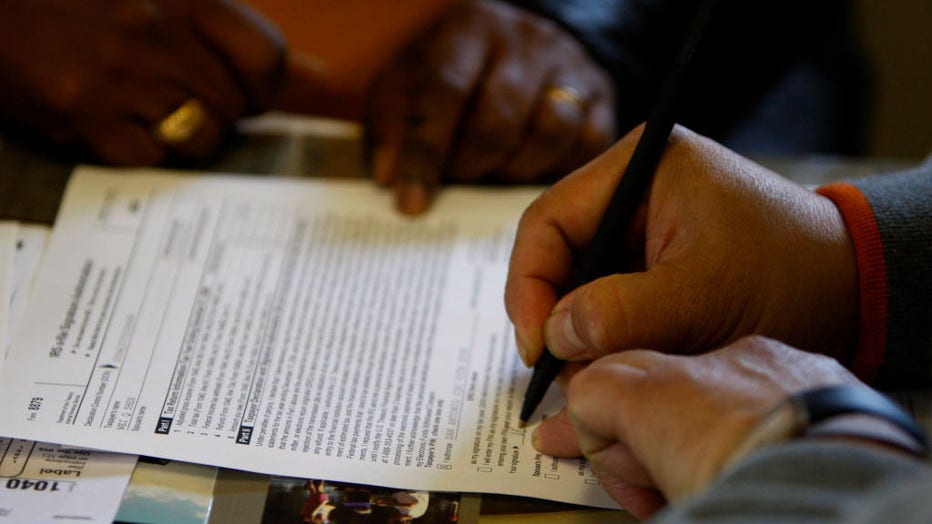 FILE - A person signs his income tax return in Oakland, Calif., on March 25, 2009. (Photo By Paul Chinn/The San Francisco Chronicle via Getty Images)
Biggest tax procrastinators by US state, city in 2023
While the biggest tax procrastinators were found to be in Wyoming, other states may also struggle with filing early, the survey findings suggest. 
Vermont, Alaska, North Dakota, and South Dakota rounded out the top five states of biggest procrastination.This was followed by Delaware, Rhode Island, Montana, Maine, and New Hampshire.
The states found to procrastinate the least included Ohio, Pennsylvania, Florida, Texas, and Michigan.
IPX1031's survey also looked at the biggest procrastinators among the 30 largest U.S. cities.
Baltimore ranked No. 1 2023, moving up from its No. 4 spot in 2022, while Las Vegas ranked second, and Boston came in third, according to the survey. 
In 2023, Denver ranked fourth. Finishing out the top 10 biggest tax procrastinators were Portland, Detroit, Washington D.C., Louisville, Seattle, and Memphis.
IPX1031 said some of the country's biggest cities were found to be home to the least amount of tax procrastinators, including New York City, Chicago, and Los Angeles.
Reasons for procrastinating on taxes in 2023
Nearly 1 in 3 (30%) Americans in the survey said they didn't feel prepared to file their taxes this year, and 32% admitted to procrastinating on doing them. 
While 41% said they planned to file in February, 26% said they would file in March, and 17% planned to do it April, according to the survey. 
The top reason for tax procrastination was that it's just "too complicated and stressful," the survey found. 
Others said they were avoiding the task because it's "too time consuming", or they didn't believe they would get a refund this year.
When it comes to actually filing taxes, 70% said they use an online service, 23% do so through an accountant or tax preparer, and 7% ask the help of family or friends, the survey found.
RELATED: Lawmaker proposes 'Yankee tax' as northerners flock to this state in droves
This story was reported from Cincinnati.