Watch: Man 'deliberately' drives car into police station while blasting Guns N' Roses' song
Security video shows a man "deliberately" crashing his car into a police station while his car was blasting Guns N' Roses' "Welcome to the Jungle," according to police. 
The Independence Township Police Department in New Jersey shared the security footage from Sept. 20 that showed John G. Hargreaves, the driver, crashing his gold Toyota SUV into the station's squad room. 
While the song could not be heard in the video, police confirmed that "Welcome to the Jungle" was blaring from Hargreaves' car stereo.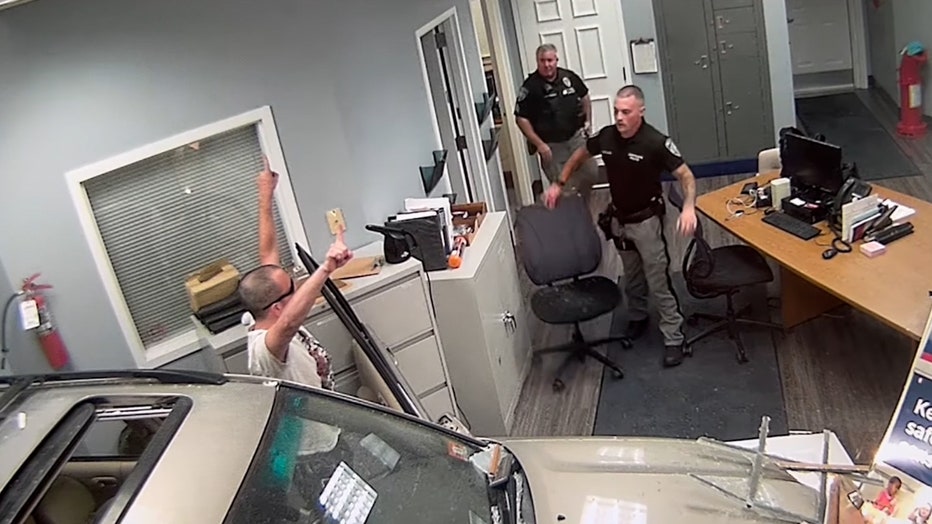 Still image taken from security footage of a man who drove his car into a New Jersey police station.  (Independence Township Police Department)
"The defendant exited the vehicle and appeared to be celebrating as he was apprehended by officers on scene," the department said. 
In the video, as soon as Hargreaves crashes into the station, he steps out of his car and puts his hands up in the air, pointing upward. Two officers, who had been in another room, approached Hargreaves and took him into custody without further incident. 
Police also revealed that before Hargreaves crashed into the police station, he had deliberately driven his car into another residence that same afternoon "in an attempt to scare or harass the homeowner, who the defendant knew." 
Hargreaves has been charged with several counts including burglary, criminal mischief and possession of a weapon, among others. 
Police did not say whether there were any injuries from either of the two incidents. 
FOX TV Stations reached out to the police department for comment. 
This story was reported from Los Angeles.