Video shows impatient Florida man pull semi-automatic handgun on ATM user
A Florida man was caught on camera pointing a gun at another man who was making a deposit at an ATM machine.
According to the Broward County Sheriff's Office, the victim said he was trying to make a deposit at a drive-thru ATM when an unknown man pulled up behind him in a black Cadillac sedan and started honking his horn.
The victim told police he got out of his van to get a deposit slip from the back of the vehicle, and then the two men "exchanged words." That's when the Cadillac driver stepped out of his car and pulled out a gun.
READ MORE: Miami police hunt for nightclub vixen they say drugged, stole $600K jewelry from man she met at Dirty Rabbit
Video shows the suspect is a bald man with tattoos who was armed with a semi-automatic handgun with an extended magazine.
He's believed to be in his 40s or 50s and can be heard yelling and cursing at the victim before driving away.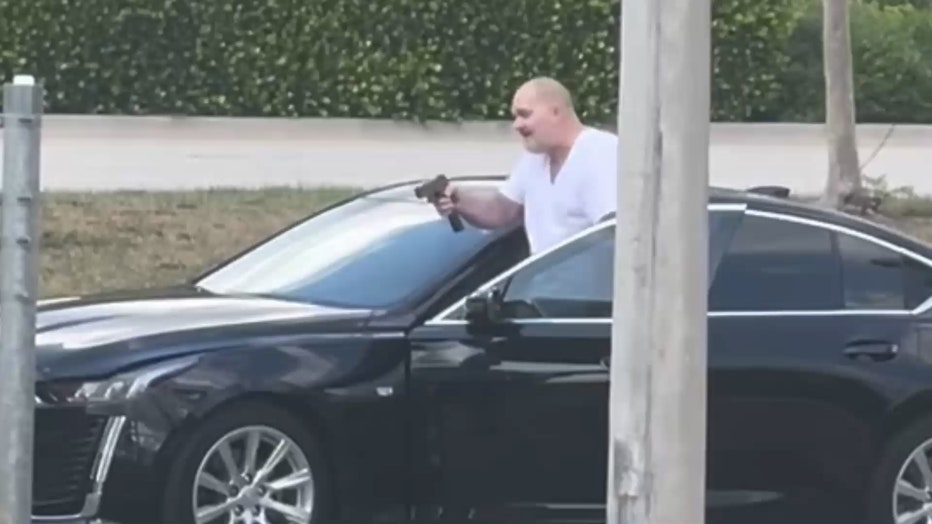 Suspect wanted for pointing gun at man in drive-thru ATM line (Broward County Sheriffs Office)
Anyone with information is asked to contact BSO Violent Crimes Detective Jennifer Petrofsky at 954-321-4238 or submit a tip through the SaferWatch app. If you wish to remain anonymous, please contact Broward Crime Stoppers at 954-493-TIPS (8477), online at browardcrimestoppers.org, or dial **TIPS (8477) from any cellphone in the United States.