Veterans Day: How you can help our homeless military men and women
This Saturday marks Veterans Day, and the U.S. Department of Veterans Affairs wants to suggest ways you could help military men and women, particularly those who are currently homeless. 
"Every Veteran experiencing homelessness has a story to tell and, often, it involves one or more traumas that led them to where they are now," the department said on its website. 
Help them call the National Call Center for Homeless Veterans
Veterans can connect with counselors for free to the National Call Center for Homeless Veterans at 877-424-3838. Counselors can then connect veterans to VA hospitals for medical help. 
RELATED: Watch: US Dept. of Defense releases 1st ever rap song to honor veterans
VA hospitals can also help veterans find housing, seek mental help, get treatment and other community-based residential programs or social services.
Show humanity and kindness to people experiencing homelessness
Every veteran has a story and has experienced trauma that may have led them to their current financial and economic situations. Many don't know when their next meal will come or where they will sleep. Any act of kindness could go a long way.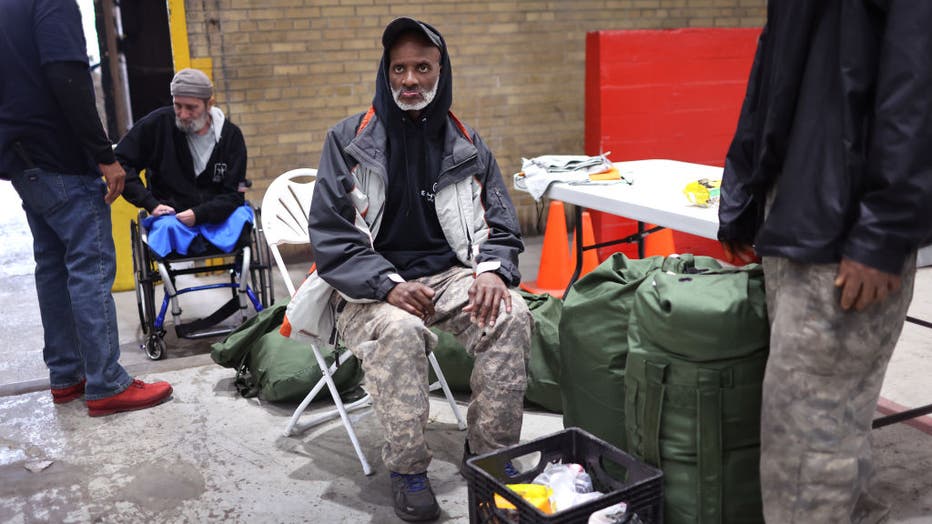 Military veterans attend a Stand Down event designed to help veterans who are homeless or housing insecure on June 16, 2023 in Chicago, Illinois. (Photo by Scott Olson/Getty Images)
Offer a connection to resources
If you come across a homeless veteran, it may be helpful to have resources already available. You can carry printouts with information or water bottles with information written on how they can seek help. 
Leave judgments and misconceptions about homelessness aside
RELATED: Iconic jeep used in 'Saving Private Ryan,' 'Band of Brothers' hits auction market at nearly 80 years old
It's also helpful to leave any judgments and misconceptions you may have against homeless veterans. The VA says homelessness is often a cycle that's hard to break, partly due to job instability and lack of medical are. Several other factors can contribute to homelessness including job loss, illness of themselves or a family member, shortage of affordable housing, loss of a home, health issues and substance abuse to name a few.
Consider volunteering to help Veterans experiencing homelessness
You can also volunteer in programs that aim to help homeless veterans such as a local Stand Down event. They're typically one-to-three-day events where VA staff and volunteers provide various resources including food, clothing and health screenings to homeless and at-risk Veterans. 
This story was reported from Los Angeles.