USDA considers chocolate milk ban in school cafeterias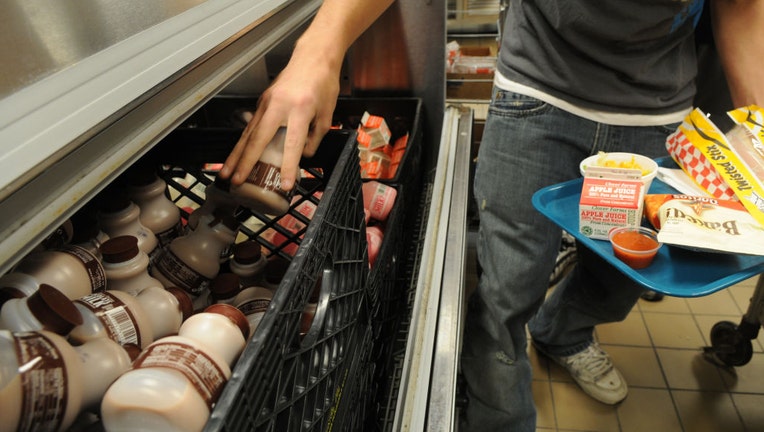 article
A popular beverage on school lunch menus may no longer be available in cafeterias. 
The United States Department of Agriculture (USDA) is considering a chocolate milk ban in elementary and middle school cafeterias based on its added sugar content, according to the Wall Street Journal. 
In February, the USDA announced the proposal as an update to nutrition standards set by the department for healthy school meals.
A USDA spokesperson provided a statement to FOX Television Stations which reads in part "Dietary Guidelines for Americans draws attention to the concerning levels of sugar consumption, including in many flavored beverages. This proposed rule would allow kids to enjoy the benefits of milk as a nutrient-dense food, with reasonable limits on added sugars to encourage consumption and reduce waste in school meals."
RELATED: Lunchables with 'specialized recipe' headed to US school lunch programs
The agency says it's weighing two options. One would allow schools to continue offering fat-free/low-fat flavored and unflavored milk. And the second would limit younger children in elementary and middle schools (K-8) to unflavored milk and only allow flavored milk as an option for high school students (9-12).
USDA officials asked for public feedback on appropriate age limits for drinking flavored milk, which would have a limit on added sugars under the two proposed choices.
In 2022, the USDA issued transitional nutrition standards guidelines for the 2022-2023 and 2023-2024 school years to offer schools nationwide clear input on healthy school meals for students after requirements were eased during the COVID-19 pandemic, the agency said in a release. 
RELATED: New Mexico to provide free meals for all students, regardless of family income
According to a Centers for Disease Control and Prevention report from 2020, sugar-sweetened beverages (SSBs) are one of the leading sources of added sugar in children's diets, and consumption is linked to the development of obesity, cardiovascular disease, type 2 diabetes, and dental problems. 
A decision on flavored milk from the USDA is expected early next year and would take effect for the 2025-26 school year, the Wall Street Journal reported. 
This story was reported from Washington, D.C.