US to send additional $400 million in military aid to Ukraine amid ongoing war
WASHINGTON - The Biden administration is sending up to $400 million in additional military aid to Ukraine, including a variety of munitions for advanced air defense systems and a number of small, surveillance Hornet drones, the Pentagon announced Tuesday, as attacks in the war escalated to include strikes in Moscow and Crimea.
The package includes an array of ammunition — ranging from missiles for the High-Mobility Artillery Rocket System (HIMARS) and the National Advanced Surface-to-Air Missile System (NASAMS) to Stingers and Javelins. The weapons are being provided through presidential drawdown authority, which allows the Pentagon to quickly take items from its own stocks and deliver them to Ukraine, often within days.
The U.S. is also sending howitzer artillery rounds and 32 Stryker armored vehicles, along with demolition equipment, mortars, Hydra-70 rockets and 28 million rounds of small arms ammunition. The Hornets are tiny nano-drones that are used largely for intelligence gathering. Ukraine has also gotten them in the past from other Western allies.
U.S Secretary of State Antony Blinken said in a statement Tuesday that the U.S. will continue to "stand united with Ukraine" as the war persists.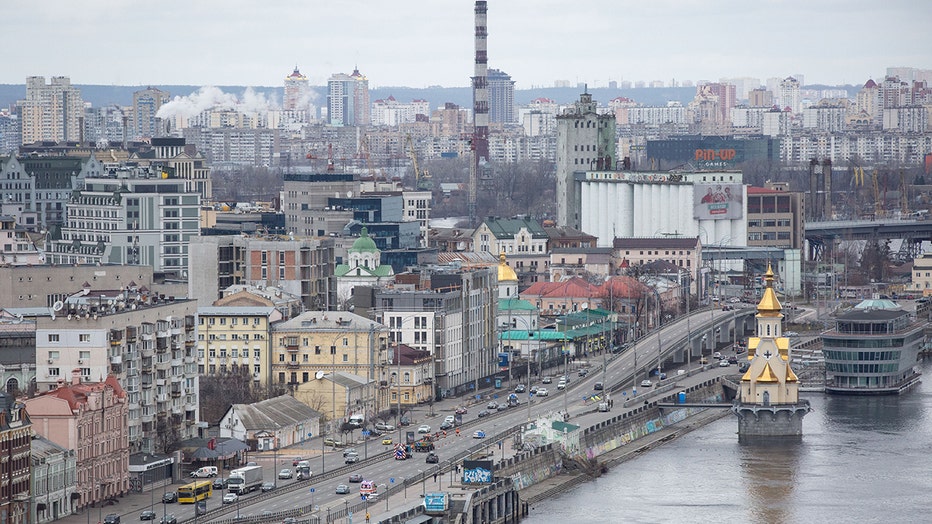 An aerial view of the city as daily life continues amid Russia-Ukraine war in Kyiv, Ukraine on February 19, 2023. (Credit: Oleksii Chumachenko/Anadolu Agency via Getty Images)
"Russia started this unprovoked war against Ukraine," Blinken wrote. "Following its withdrawal from the Black Sea Grain Initiative, Russia continues to attack Ukrainian ports and grain infrastructure – including in Odessa.  Russia could end this war at any time by withdrawing its forces from Ukraine and stopping its brutal attacks against Ukraine's cities and people.   Until it does, the United States and our allies and partners will stand united with Ukraine, for as long as it takes." 
Overall the U.S. has provided more than $43 billion in military aid to Ukraine since Russia invaded in February 2022. The latest package of weapons comes as a Ukrainian drone struck an ammunition depot in Russian-annexed Crimea and Russia accused Ukraine of launching a drone attack on Moscow. Russian media reported that one of the drones fell near the city center, not far from the towering Defense Ministry building.
Ukrainian authorities didn't immediately claim responsibility for the strike, which was the second drone attack on the Russian capital this month.
RELATED: What are cluster munitions? Why the US is now willing to provide them to Ukraine
Russia's military, meanwhile, unleashed new strikes on port infrastructure in southern Ukraine with exploding drones. The strike was the latest in a barrage of attacks that has damaged portions of the port in the past week. The Kremlin has described the strikes as retribution for last week's Ukrainian strike on the crucial Kerch Bridge linking Russia with Crimea.
____
Associated Press writer Tara Copp contributed to this report.
__
This story first moved Monday, July 24, 2023. It was updated Tuesday, July 25, 2023, with official confirmation from the Pentagon.