US gun violence over Halloween weekend leaves at least 11 dead, dozens hurt
As more than 1,000 people gathered to mourn the mass shooting deaths of 18 people in Maine, a violent Halloween weekend left at least 11 more dead across the United States.
Data shared by the Gun Violence Archive (GVA), a nonprofit group that tracks every incident of U.S. gun violence, showed that at least 11 incidents it classifies as "mass shootings" that took place between Friday and Sunday. 
The GVA defines mass shootings as a minimum of four victims, either injured or killed, and not including the gunman.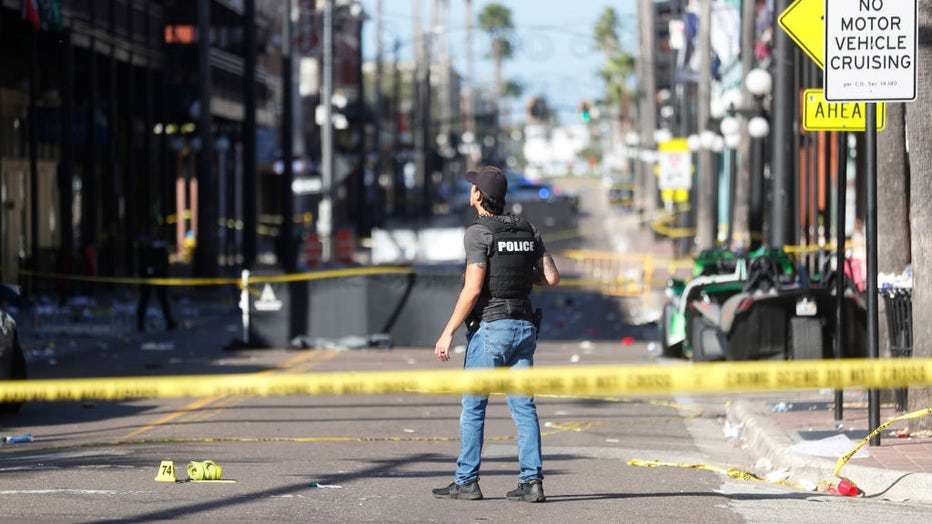 The Tampa Police Department and the Hillsborough County Sheriffs Office investigates a fatal shooting in the Ybor City neighborhood on October 29, 2023 in Tampa, Florida. (Photo by Octavio Jones/Getty Images)
In Tampa, Florida, a suspect was arrested in connection to a mass shooting that left two people dead and 18 injured during Halloween festivities early Sunday.
"It was a disturbance or a fight between two groups. And in this fight between two groups we had hundreds of innocent people involved that were in the way," Tampa Police Chief Lee Bercaw said.
Another shooting at a party on Saturday night in Texarkana, Texas, left three people killed and three others hurt, according to local reports. 
In Indianapolis, Indiana, an overnight shooting at a house party left one person dead and 9 others injured, police said.
Similarly in Chicago, a suspect was taken into custody following a mass shooting at a Halloween party that left 15 people wounded.
Gunshots rang out at a house party in Mansfield, Ohio, leaving two young people dead and four others hurt, according to reports. One of the injured was as young as 14, police said.
The violent weekend came as more than 1,000 people gathered for an evening vigil on Sunday in Lewiston, Maine, where days earlier a gunman fatally shot 18 people. Some put their heads in their hands as the names of the people who died in Wednesday's shooting were read, while others quietly wept.
RELATED: Maine shooting victims: 'Hero' bar manager, volunteer youth bowling coach among deaths
The body of suspected gunman Robert Card was found on Friday in a trailer at a recycling center in Lisbon Falls. Card died of an apparent self-inflicted gunshot wound though it was unclear when, authorities said. Card was also suspected of injuring 13 people in the shooting rampage.
Authorities recovered a multitude of weapons while searching for Card and believe he had legally purchased his guns, including those recovered in his car and near his body, said Jim Ferguson, the special agent in charge of the Boston office of the Bureau of Alcohol, Tobacco, Firearms and Explosives. He declined to discuss any specifics.
Investigators are still searching for a motive for the massacre, but have increasingly focused on Card's mental health history.
RELATED: Maine police were alerted weeks ago about shooter's threats: 'There were warning signs'
This story was reported from Cincinnati. The Associated Press contributed.