Wreckage, rescue and hope in Turkey's earthquake epicenter
NURDAGI, Turkey - Zeliha Hisir tried to speak, but could barely move after her hourslong rescue Tuesday near the epicenter of a powerful earthquake that has devastated parts of Turkey and Syria.
The 58-year-old woman's eyes darted around in shock and relief as a rescue crew covered her in a bright pink and green fuzzy blanket. Dressed only in shorts and a T-shirt, she had survived through freezing temperatures in Kahramanmaras.
Her son, Mufit Hisir, told The Associated Press that firefighters who flew in from Antalya had rescued his relatives.
"Two hours ago my sibling was rescued after a six-hour effort. And my mother's rescue took two hours. They're both well," he said.
Crowds gathered at wreckage sites throughout Turkey, vapor showing the air as people breathed in and out in anticipation of reaching more survivors. Even those who had emerged or escaped collapse in Monday's magnitude 7.8 earthquake and its aftershocks now had to sleep in cars, outside or in government shelters.
Many felt abandoned.
"We don't have a tent, we don't have a heating stove, we don't have anything. Our children are in bad shape. We are all getting wet under the rain and our kids are out in the cold," Aysan Kurt, 27, told the AP. "We did not die from hunger or the earthquake, but we will die freezing from the cold. It shouldn't be this way. No one is sending help."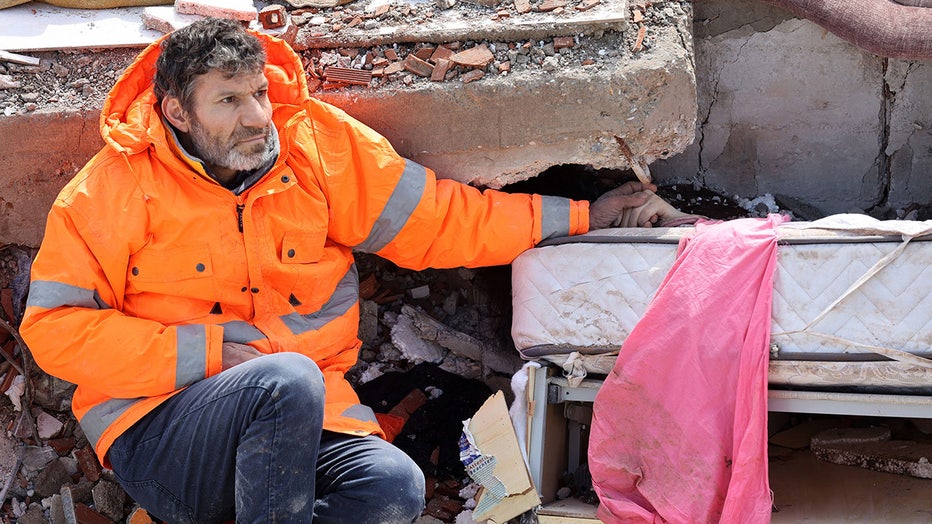 Mesut Hancer holds the hand of his 15-year-old daughter Irmak, who died in the earthquake in Kahramanmaras, close to the quake's epicentre. (Photo by ADEM ALTAN/AFP via Getty Images)
RELATED: Race to find survivors as earthquake toll tops 7,000
In the province of Kahramanmaras, where supermarket shelves were empty, people lined up for pita bread at a restaurant owned by Mevlut Ercan.
"We need flour. There is no flour," Ercan said. "People are desperate. We are desperate too. We will do what we can for the people as long as we are able to do it."
Yasar Magara, who waited to get a piece of pita, said: "We have been hungry for days. Our municipality and the others have not helped us yet."
In the town of Nurdagi, residents who lost loved ones said relatives could have been saved if rescue teams had arrived earlier. Steel rods jutted out of destroyed concrete like vines that rescuers had to work around in the town nestled below snowcapped hills.
"My sister has four children. She has one sister-in-law, in-laws and nephews and nieces. They're all gone. They're all gone," Nilufer Sarigoz said, putting her face in her hands and sobbing.
RELATED: How to help earthquake victims in Turkey and Syria
Men cried as they used their hands to bless four dead bodies wrapped in blankets in the back of a pickup truck.
Sixteen-year-old Havva Topal still hadn't heard from her uncle, his wife and children, who were in a burning building.
"We've heard nothing, no news," she said. "The building collapsed after the earthquake and then a fire started 15 to 20 minutes later. No firefighters came, no excavators. We tried to save them on our own, by scooping water out with plates."
"Our landlord's spouse was brought out yesterday," she later added. "They were charred, in pieces, in a horrible condition."