Key takeaways from Trump's court appearance in Miami
MIAMI - Donald Trump's four years in the White House, even on some of the most consequential days of his presidency, were punctuated by the spectacle and attempts at showmanship he cultivated from years as a tabloid fixture and reality star.
The former president's history-making appearance Tuesday as a criminal defendant in a Florida federal court was no different.
The former commander in chief, accused of being careless with some of the country's most sensitive secrets and obstructing authorities as they tried to recover critical documents, pleaded not guilty to 37 charges. But he treated the day like a campaign event, even as he faces serious threats to his political ambitions and his freedom.
Takeaways from Trump's day in federal court:
Always campaigning
Despite the seriousness of the charges, Trump, ever the showman, sought to maximize any political benefits from the day. The Republican had encouraged supporters to show up at the federal courthouse — and hundreds did — while the 2024 presidential candidate fired off a few posts on his social media app, calling it a "WITCH HUNT" and "ONE OF THE SADDEST DAYS IN THE HISTORY OF OUR COUNTRY."
After leaving the courthouse, his motorcade ferried him to an iconic Cuban restaurant in Miami, where he bowed his head with two pastors and a rabbi for a moment of prayer, shook hands with supporters and even managed to crack some smiles and jokes as he posed for photos, including one with UFC fighter Jorge Masvidal.
He initially kept a fairly grim expression as people in the restaurant began serenading him with "Happy Birthday," a day before his 77th birthday.
"Some birthday. Some birthday," he said. "We've got a government that is out of control."
Just like he did after his arraignment in New York, Trump planned a speech afterward from one of his golf clubs. He spoke Tuesday night from his Bedminster, New Jersey, resort, where he is spending the summer.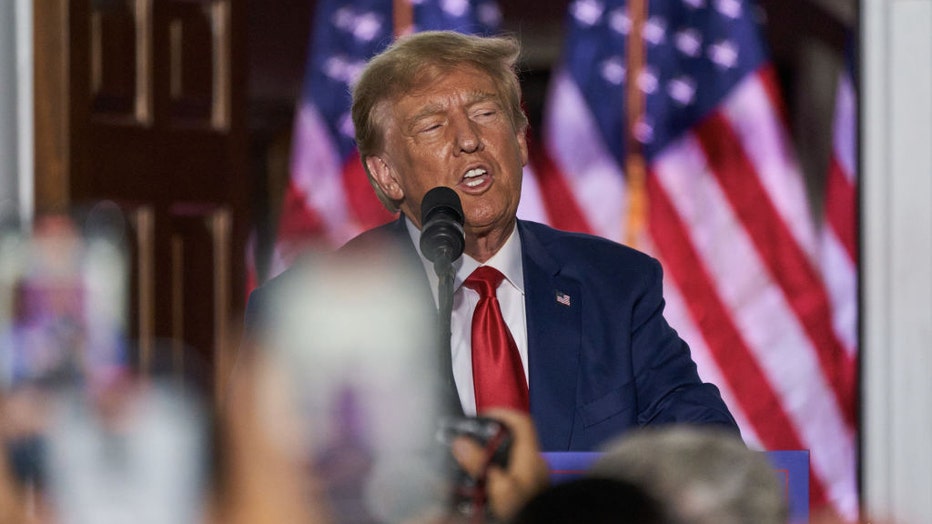 Former US President Donald Trump speaks during an event at Trump National Golf Club in Bedminster, New Jersey, US, on Tuesday, June 13, 2023. Photographer: Bing Guan/Bloomberg via Getty Images
In a maundering speech, Trump grimaced and repeated his claims of the investigation being politically motivated, called prosecutors "thugs" and claimed he was so busy that he hadn't had time to go through all the boxes of documents and memorabilia he had kept. He also said that if elected president next year, he would appoint a special prosecutor to investigate President Joe Biden and his family.
The whirling drama surrounding Trump overshadowed most other news Tuesday. His GOP presidential rivals largely refrained from any campaign events of their own. One Republican competitor, Vivek Ramaswamy, sought to capitalize on the spectacle by showing up outside the courthouse to tell reporters that he was encouraging other 2024 candidates to commit to pardoning Trump if elected to the White House.
Former Arkansas Gov. Asa Hutchinson, a Republican presidential candidate who has frequently criticized Trump, lamented in a CNN interview that candidates were not talking about issues but Trump and his legal challenges.
"It sucks a lot of energy out of the room," he said.
Smith personally overseeing 
Special counsel Jack Smith, who has been running the case for the Justice Department in Washington, appeared in the Miami courtroom Tuesday, sitting right behind federal prosecutors.
Smith's presence in the courtroom was notable and underscores the extent to which he has surfaced as the public face of the investigative team and its decision-making. He, not Attorney General Merrick Garland, was the one who announced the indictment Friday.
It's also striking given that the last special counsel who investigated Trump, Robert Mueller, steered clear of court appearances in cases brought by his team and never personally announced any of the indictments his prosecutors brought.
The two public appearances by Smith in under a week suggest he's likely to be a central protagonist in the historic saga of his investigation.
Trump indictment unsealed: Read the entire Trump indictment
From New York to Florida 
There was less visibility in the proceedings in Miami federal court than there had been in New York, where Trump appeared in state court and pleaded not guilty to charges related to hush money payments made during the 2016 presidential campaign.
In New York, journalists were allowed to film and photograph Trump inside the courthouse and photograph him in the courtroom before the arraignment began. In Miami federal court, journalists were barred from taking photos or video of Trump inside and were not allowed to have electronic devices, delaying the transmission of news to the public.
While only a handful of Trump supporters showed up to demonstrate in heavily Democratic New York during Trump's Manhattan appearance, the former president had urged supporters to turn out in Republican-leaning Florida.
Some officials were concerned about the possibility of violence Tuesday, but it was largely calm outside the courthouse as hundreds of Trump supporters waved flags, some getting into occasional shouting matches with small groups of anti-Trump demonstrators.
RELATED: Trump makes video appearance in New York criminal case; trial date set for March
Trump in tricky spot with aides 
The magistrate judge overseeing Trump's court appearance ruled that the former president can talk to his co-defendant, valet Walt Nauta, and potential witnesses about their jobs but not about the case.
That could be a problem for Trump, who is not known to hold back or refrain from talking about sensitive subjects and is facing charges in the documents case because prosecutors say he defied orders from a court.
Trump's attorney Todd Blanche noted that Nauta and potential witnesses are people with whom Trump interacts daily, whether at his Mar-a-Lago resort in Florida or his other clubs.
Demonstrating Nauta's continued loyalty to Trump, the personal aide traveled with the motorcade to and from the courthouse and stood by the former president's side during a stop at the Miami restaurant after the court appearance.
More trouble brewing
While the federal case over classified documents in Florida and the New York hush money case play out in court, Trump will have other legal worries on his mind.
A separate Justice Department investigation — also led by special counsel Smith — into efforts by Trump and his allies to overturn the 2020 presidential election continues in Washington. A federal grand jury has heard from witnesses including Trump's former vice president, Mike Pence.
A probe in Georgia is examining Trump's efforts to interfere with his narrow loss in the state's 2020 election. Fulton County District Attorney Fani Willis has suggested that any charges would come in August.
Trump also faces a civil trial in October in New York related to allegations he and his company misled banks and tax authorities over the values of their assets.
And on Tuesday, shortly after Trump appeared in court in Florida, a federal judge in New York ruled against him in a civil case for sexual abuse and defamation. The judge granted a request from a columnist who won a $5 million award against Trump to update a similar lawsuit to include his more recent public comments about her. She is seeking more than $10 million against him in the amended lawsuit.
___
Associated Press writer Eric Tucker in Washington contributed to this report.