These are the cities you can earn six figures in and still be broke
Are six-figure earners really financially stable? According to a new study – not necessarily. 
A recent study conducted by LendingTree revealed that a surprising number of Americans who earn six-figure salaries may be living paycheck to paycheck and struggling with debt.
The study analyzed various sources of data to determine the metros where someone can earn six figures and still be broke. The research team started with the 100 largest metros in the United States, basing its calculations on a family of three (two adults and one child) that earns a gross income of $8,333 monthly.
In 16 of the 100 largest U.S. metros, monthly spending on the basics was higher than the monthly income for a family of three that earns $100,000 annually, the study found.
California cities are the least affordable
Of the 16 metros listed, half (8) of the cities are in California. 
In San Jose, California, which is considered the land of tech giants and millionaire entrepreneurs, a family of three that earns $100,000 would be $1,493 in the red monthly after spending on the basics — the highest on the LendingTree's list. 
The research found that the exorbitant costs of housing and transportation were the main culprits for this metro. 
In fact, another LendingTree study on million-dollar homes found that nearly 53% of owner-occupied homes in San Jose were valued at $1 million or more — the most of any major U.S. metro.
According to LendingTree chief credit analyst Matt Schulz, it's understandable that these high earners may be struggling to get by — particularly in high-cost-of-living areas.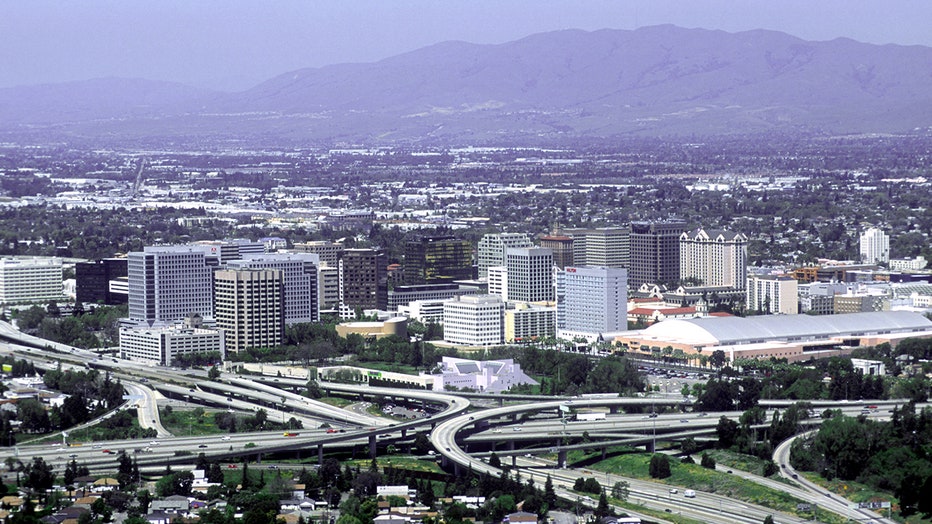 Large freeways curl through the city April, 2000 in San Jose, CA. (Credit: David McNew/Newsmakers)
"Lots of people in this country make six figures and are broke in this country for as many reasons as there are people," Schulz said. "Some of it may be the result of questionable choices, but for many, it's simply due to things that are out of their control, such as outrageous housing prices, the high cost of gas, grocery bills or health care expenses. The truth is that the financial margin for error for most Americans, including many who earn six-figure salaries, is perilously small."
Jackson, Mississippi is the most affordable metro
Looking to stretch your dollars as far as they can go? You may want to consider Jackson, Mississippi, which topped the list as the most affordable metro. 
Jackson, Mississippi topped the list for affordability, with a family of three that earns $100,000 annually having $1,394 left over after spending. 
RELATED: Study shows what $100K is actually worth in the largest U.S. cities
The research found that this is largely due to the state's childcare costs, the lowest in the country at $772 per month. In addition, the cost of living in the Jackson metro is about 11% cheaper than the national average, making it an attractive option for those seeking to maximize their budgets.
According to Schulz, those lower costs largely come down to the lower-than-average salaries that are offered in-state. "Mississippi has historically been one of the nation's lowest-income states, but it also has one of the lowest costs of living," he said. "That means that $100,000 can go a whole lot further in Mississippi than in most other areas."
Income alone may not guarantee financial security
The study's findings shed light on the fact that income alone may not guarantee financial security. Many factors, such as overspending, lack of savings and unexpected expenses can contribute to debt and financial hardship regardless of one's salary.
RELATED: Report ranks US states with the longest life expectancy: here's where your state falls
LendingTree experts advise that those struggling with debt should utilize credit card rewards, revisit their budget and invest in a 401(K) match if that is available. 
This story was reported from Los Angeles.