'The Masked Singer': California Roll gets served, sent home
LOS ANGELES - The remaining three celebrities battled it out on "The Masked Singer" stage Wednesday evening, delivering iconic performances.
During the semi-finals, singers Macaw, California Roll and Medusa sang their hearts out with hopes to make to the final round, but this time California Roll would "roll" out of the competition.
The sushi roll turned out to be Grammy award-winning a cappella group Pentatonix.
"Such an honor, a pleasure and a privilege to have you guys here," host Nick Cannon said after the reveal. "You guys are one of the greatest groups ever."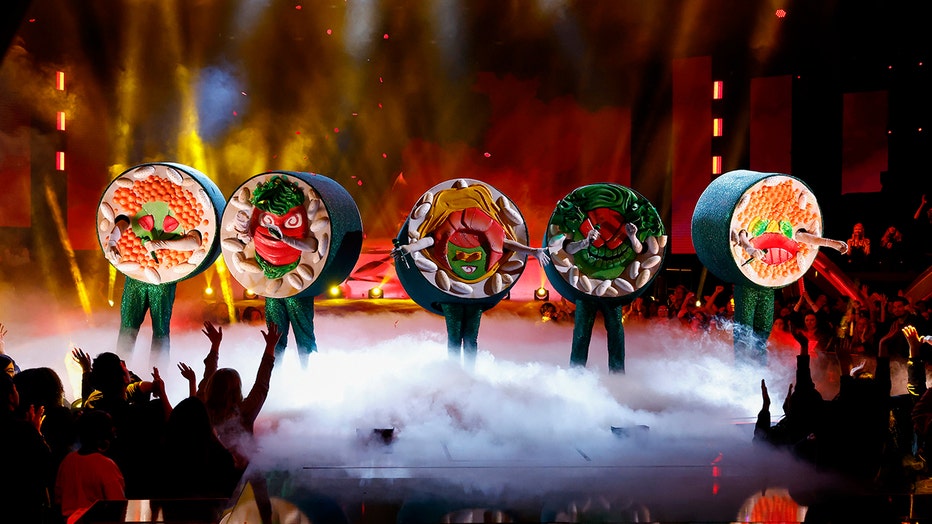 California Roll performs in the "Semi-Finals" episode. (Credit: Michael Becker/FOX)
Pentatonix told the audience they chose to be a part of "The Masked Singer," because it seemed like a "really fun opportunity" to do something they havenever done before. 
The group from Arlington, Texas, was formed in 2011 and subsequently won the third season of NBC's "The Sing-Off," receiving $200,000 and a recording contract with Sony Music.
"I think our strategy was just to be as creative as possible, to take a song and totally flip it and hear it in a way you've never heard it before, and then sing in perfect harmony I guess," group member Scott Hoying added.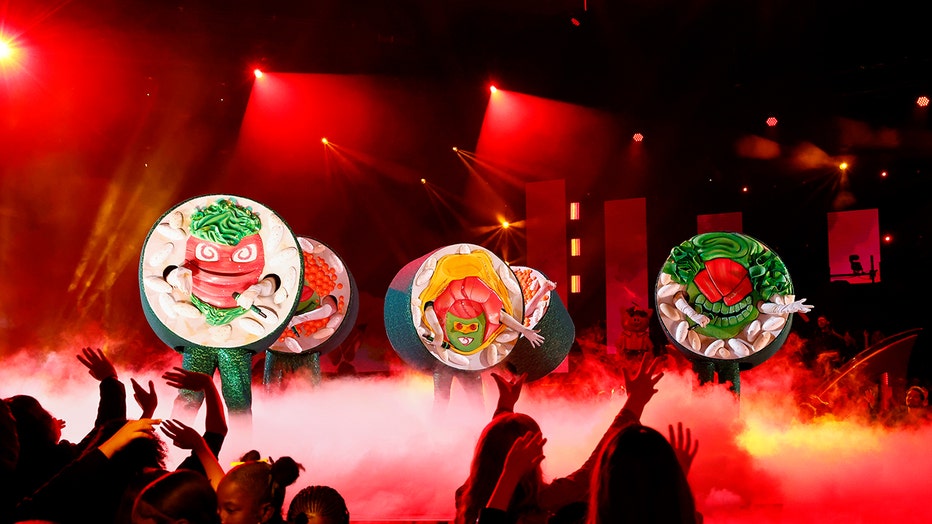 California Roll was sent home during the Semi-Finals episode Wednesday night. (Credit: CR: Michael Becker/FOX)
Panelist Robin Thicke was able to accurately predict that Pentatonix was underneath the California Roll costume. 
"Being a singer myself, the harmonies and arrangements you guys come up with are so spectacular and original, and I thought, every time you brought us something completely different. It was outstanding," Thicke shared with the group.
RELATED: 'The Masked Singer': UFO soars back to reality after out-of-this-world reveal
"You all defy what the human voice can do," panelist Nicole Scherzinger also revealed, adding, "It's just so innovative and next level, and we have champions, we have grade-A artists on our stage right now."
Next week on 'The Masked Singer' 
Don't miss out on next week's epic finale when Macaw and Medusa go head-to-head to compete for "The Masked Singer" trophy.
RELATED: 'The Masked Singer': Doll revealed, sent home after rocking out
"The Masked Singer" Season 9 airs Wednesdays at 8 p.m. ET on FOX.
This station is owned by FOX Corporation.