Thanksgiving 2023: Frying turkey dos and don'ts
Some say it's the only way to enjoy a turkey on Thanksgiving Day, and while deep-frying a whole Butterball sounds delicious (and let's be honest, it is), it can also pose a very dangerous fire hazard. 
Thanksgiving is the peak day for home cooking fires, with more than three times the daily average for such incidents, according to the National Fire Protection Association. Christmas Day and Christmas Eve ranked second and third, with both having nearly twice the daily average. 
The NFPA even warns against frying your own turkey at home altogether and just purchasing one from the store. 
But for those home cooks who just have to do it themselves, here are a few tips to guide you as you prepare to gorge yourself this holiday to A) Avoid seriously hurting yourself or others, B) Not burn your house or other people's houses down and C) Have a great Thanksgiving turkey.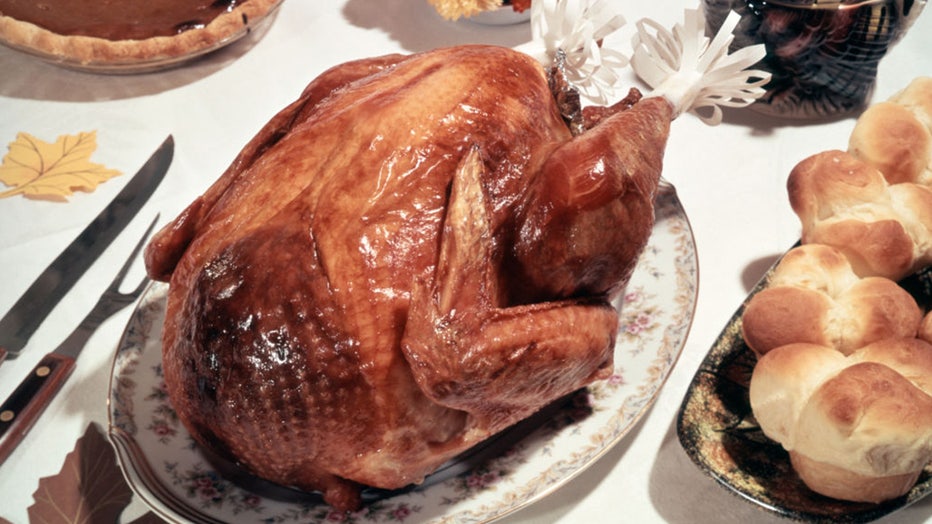 FILE - Turkey dinner. (H. Armstrong Roberts/ClassicStock/Getty Images)
Prepare a safe space
First and foremost, scout out a safe area away from your home. Keep the fryer away from garages, decks and fences, and a safe distance away from trees. 
There should be at least two feet between the burner and tank, according to State Farm. 
Ensure everyone, including the cook, keeps a safe distance away from the fryer and even if you aren't frying a turkey, keeping a fire extinguisher nearby is always a plus. 
You can't safely fry a turkey that isn't properly thawed, either. Frozen or wet turkeys can cause hot oil to splatter, potentially causing burns. So make sure the turkey is thawed completely and dry before frying.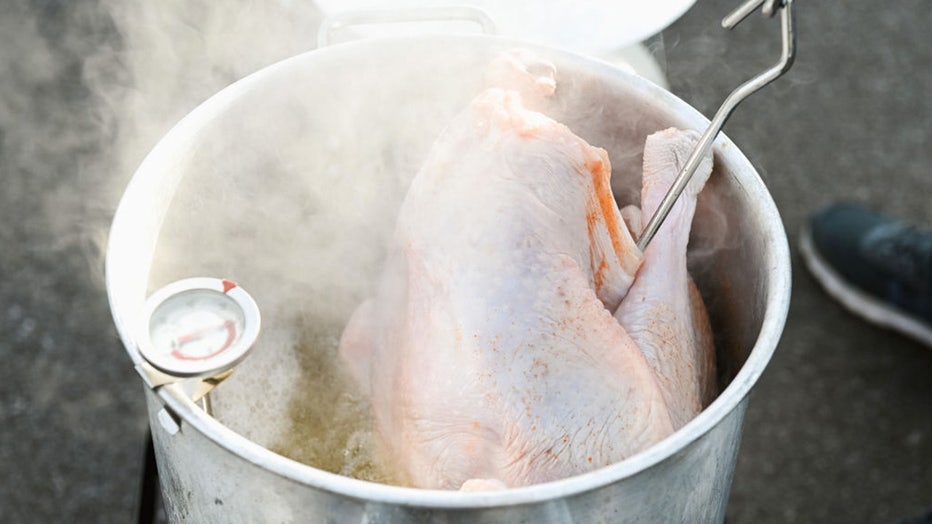 FILE - Participants are seen deep frying turkey on Nov. 24, 2020, in Nashville, Tennessee. (Jason Kempin/Getty Images)
Be careful around the oil
Once the oil gets hot, it's easy for things to get messy. Wear safety glasses, oven mitts and an apron to handle the fryer well before the oil starts to bubble. Make sure your fryer is on a flat, level space to carefully gauge the amount of oil needed. 
Don't use too much oil. Overfilling can lead to oil spilling onto the fire below and igniting a fireball. 
Get the temperature right
When cooking the turkey, maintain your oil temperature at 350 degrees and cook your turkey for 3 1/2 minutes per pound. We will do the math for you. That's about 35 minutes for a 10-pound turkey.
Monitor the turkey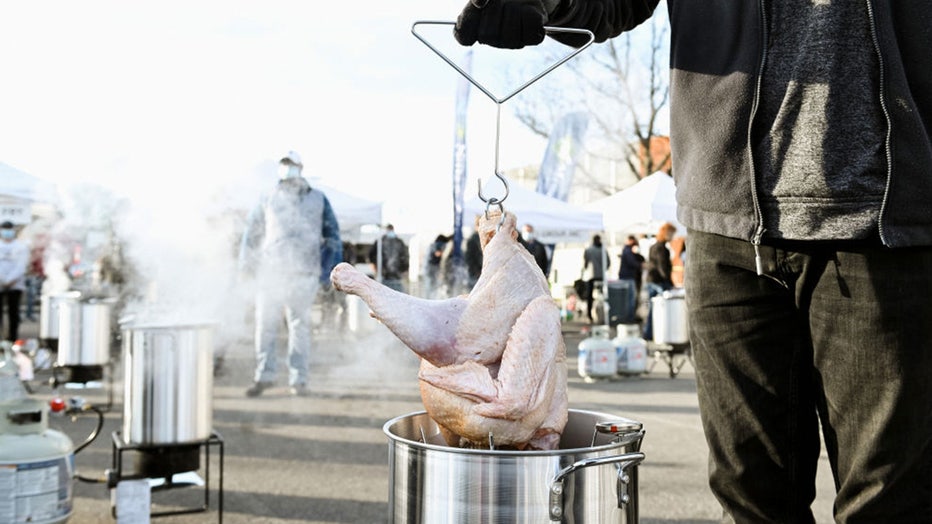 FILE - Participants are seen deep frying turkey on Nov. 24, 2020 in Nashville, Tennessee. (Jason Kempin/Getty Images)
Using temperature controls to monitor the blaze is a must. 
If possible, purchase a fryer with temperature controls already built in and watch the oil temperature carefully. Cooking oil that is heated beyond its smoke point can catch fire. If you notice the oil is smoking, turn the fryer off. 
Also, take your time while frying the turkey. When raising or lowering the turkey from/into the oil, go slowly to minimize spills, and give your full attention to the process. It's wise to avoid alcohol, too, and it goes without saying that you should never leave the bird unattended.
Clean up cautiously
Once you've fried up that bird, remember to remove it from the fryer slowly, turn off the heat and clean up your frying space just as meticulously as you set it up. 
When it comes time to gather around the table, enjoy every compliment your savory dish receives. 
FOX News and FOX Weather contributed to this report. This story was reported from Los Angeles.