Taylor Swift meets determined fan who survived shooting, multiple amputations and cancer
KANSAS CITY, Mo. - Julie Dombo is a determined woman. She was determined to live life despite becoming a quadraplegic. She was determined to beat breast cancer. She was also determined to meet Taylor Swift. 
And she did all those things. 
The 69-year-old from Derby, Kansas, went viral after snapping a picture with the popstar at a Kansas City Chiefs game. 
Swift has been attending some of the games amid a rumored romance with the Chiefs' tight end Travis Kelce. 
RELATED: Is Taylor Swift making Travis Kelce better? The stats say yes
Dombo, a Chiefs fan, met Swift during the October 22 game against the Los Angeles Chargers.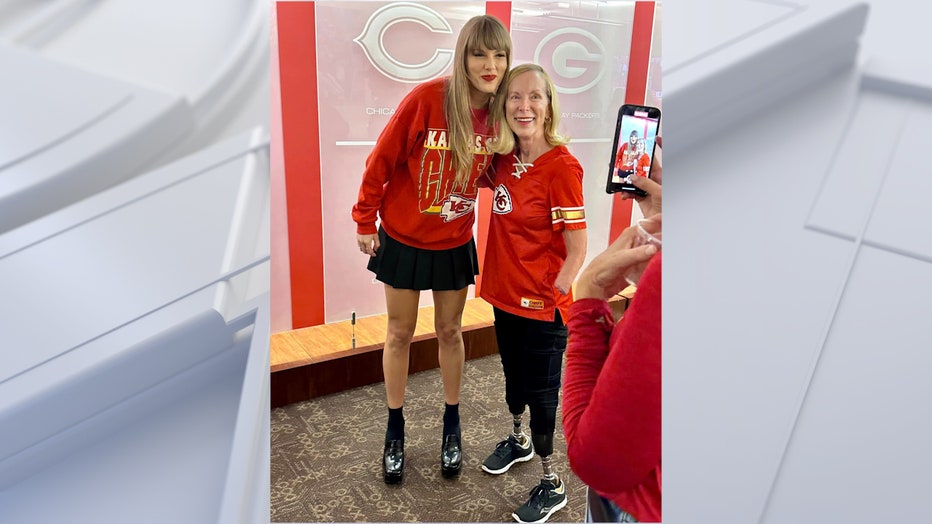 Julie Dombo poses with Taylor Swift at Chiefs' game. (Credit: Julie Dombo)
Even before the game, Dombo had already told family and friends she was going to meet Swift. 
"I knew that Taylor Swift had just started dating Travis Kelce this fall, and I kept saying, 'She's going to come that game, and I'm going to see her,'" Dombo told FOX Television Stations.
RELATED: Travis Kelce says NFL TV coverage is 'overdoing it' with Taylor Swift during games
Dombo's friends invited her to watch the game from their skybox. Swift was in a nearby skybox. 
Dombo and her friend found themselves wondering up and down the stadium hallway, hoping to bump into Swift. 
As fate would have it, word got out the Swift was leaving, and she was in the hallway coming around the corner. Swift was also with Brittany Mahomes, the wife of the Chiefs' quarterback, Patrick Mahomes. 
Dombo's determination paid off.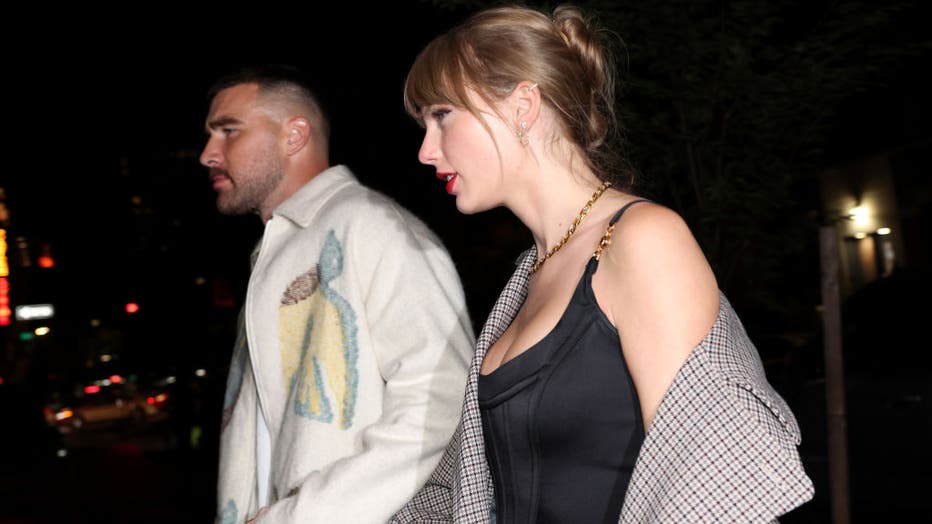 Travis Kelce and Taylor Swift attend CATCH Steak on October 14, 2023 in New York City. (Photo by Johnny Nunez/WireImage)
"And then Taylor stopped to take a picture with the little girl," she said. "And I pushed up through the crowd." 
Dombo said her disability helped her get noticed. Years ago, she was shot twice in the chest in a botched robbery. Doctors then had to amputate both of her arms and legs. 
RELATED: Taylor Swift appears at Chiefs-Jets game to support rumored boyfriend Travis Kelce's team
Security guards first blocked Dombo from getting any closer to Swift, until she showed the security guards that she could never be a threat. 
"The security guard sticks his arm out to stop me, and I hold my limbs up, and he could see I'm an amputee," she continued. "I couldn't hurt her. I didn't have any hands and feet.  I'm up on prosthetic legs. And so I say to him, 'Please, sir, please let me get a picture,'"
"And I looked at her [Swift], and he [security guard] looks back at her, and she says, 'It's okay,'" Dombo explained. "So he puts his arm down, and I go up. I give her [Swift] a little hug, turn around with our arms around each other."
Though their interaction was very brief, Dombo couldn't be more grateful to meet on of her favorite singers. 
"I already had survived gunshot wounds. And two years after that, I survived breast cancer. And here I am, eight years later, I feel like I'm still alive," she said. 
RELATED: Kelce family advocates for NFL stadiums to use grass fields after turf injury
Dombo said after meeting Swift, she went to go see the "Taylor Swift: The Eras Tour" concert film. 
"I think Taylor Swift is a wonderful role model for young girls and boys," she continued. "And I just love her. I love what she stands for. I love her singing, her dancing, her costumes."
This story was reported from Los Angeles.