Taco Bell giving away free tacos to celebrate trademark 'Taco Tuesday' ending
IRVINE, Calif. - To celebrate the liberation of the decades-long trademark "Taco Tuesday" and spotlight the restaurants that now have the right to freely use the slogan, Taco Bell announced it will offer fans free tacos on Tuesday, Sept. 12. 
The twist? The free tacos don't need to be ordered at Taco Bell. 
According to the Mexican fast-food giant, Taco Bell, in partnership with DoorDash, is opening a $5 million taco tab to cover a portion of taco fans' orders from any participating restaurant selling Mexican cuisine. 
"Because now that Taco Tuesday is free – your tacos should be, too," Taco Bell said in a statement on Tuesday.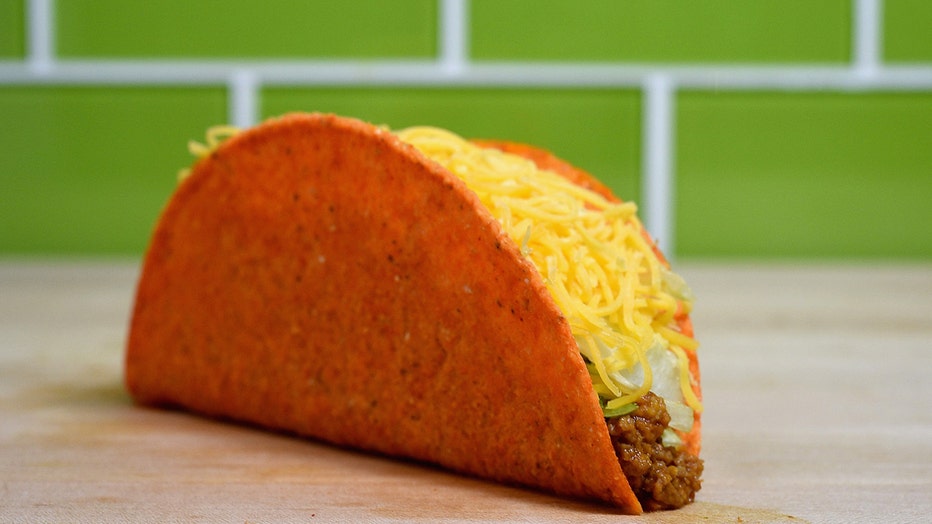 The Doritos Locos Taco. (Credit: Joshua Blanchard/Getty Images for Taco Bell)
Leading up to the celebration, the Irvine, California-based company said its locations will also be offering a free Doritos Locos Taco every Tuesday (8/15, 8/22, 8/29, 9/5). 
RELATED: Taco Bell releases new grilled cheese dipping taco
"Taco Tuesday belongs to all who make, sell, eat and celebrate tacos, and this Free-For-All will not only thank taco fans who supported the cause, but will also spotlight local restaurants and vendors who can now embrace Taco Tuesdays without fear of legal action," said Taco Bell U.S. Chief Marketing Officer, Taylor Montgomery. "When tacos win, we all win. We all win when Taco John's decides to release its trademark registration, we all win when taco vendors everywhere are free to join the movement, and we all win when taco fans can freely celebrate and support Taco Tuesdays at Taco Bell or anywhere else."
Taco John's lifts the trademark 'Taco Tuesday'
In May, Taco Bell filed legal petitions to cancel two "Taco Tuesday" trademark registrations.
In late July, Taco John's, which owned the trademark in 49 states, decided to abandon its trademark registration. Another business called Gregory's still owns the trademark in New Jersey, according to Taco Bell. 
Taco John's also made a donation to Children of Restaurant Employees (CORE) for $40,000, which the Taco Bell Foundation has matched.
This story was reported from Los Angeles.