Summer travel season will be 'one for the record books,' AAA says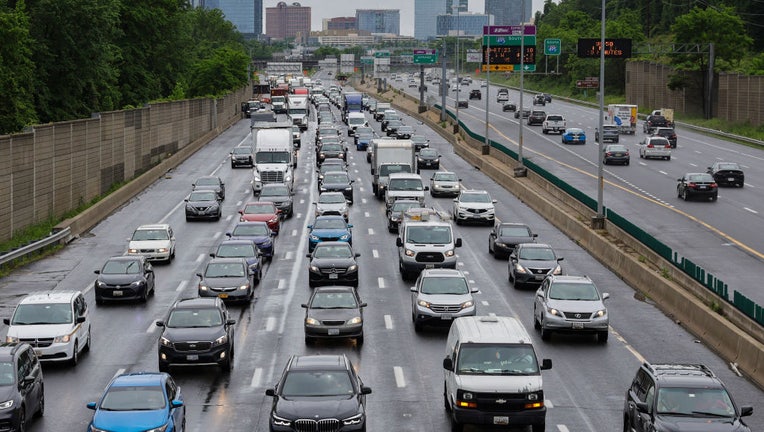 article
WASHINGTON - For those with travel plans over the next few months, brace yourself: AAA says Memorial Day weekend is expected to be one of the busiest in years and is a sign of what's to come this summer.
An estimated 42.3 million Americans will travel 50 miles or more from home this Memorial Day weekend, a 7% increase over 2022, according to a new forecast released by AAA on Monday. 
Some 2.7 million more people will travel for the unofficial start of summer in 2023 compared to last year, the company said.
AAA defines the Memorial Day holiday travel period as Thursday, May 25 to Monday, May 29 and bases its estimates on data obtained from over 50,000 U.S. households each month. 
"This is expected to be the third-busiest Memorial Day weekend since 2000, when AAA started tracking holiday travel," Paula Twidale, AAA Travel's senior vice president, said in a statement. 
At airports, it could be even more noticeable with nearly 3.4 million travelers expected to fly to their destinations this Memorial Day – an increase of 11% over last year, according to AAA.
"More Americans are planning trips and booking them earlier, despite inflation," Twidale added. "This summer travel season could be one for the record books, especially at airports."  
RELATED: Yosemite National Park closes several campgrounds amid flooding forecast
Air travel over the holiday weekend is projected to exceed pre-pandemic levels, with 170,000 more passengers – or 5.4% more – than in 2019, the company said. 
The estimates come as surging demand, higher jet fuel prices and lower capacity continue to pump up airfare prices, and particularly to destinations in Europe and Asia. Prices to Europe from the U.S. are already averaging $1,167 per round-trip ticket this summer, up 36% compared with last summer and up 37% compared to pre-pandemic times, according to Hopper data released earlier this month.
Despite high ticket prices, demand for flights continues to skyrocket, AAA said. Memorial Day weekend could be the busiest at airports since 2005, the company added.
RELATED: Airline satisfaction falls for the second consecutive year
On the ground, Memorial Day road trips are up 6% over last year with 37.1 million Americans planning to drive to their destinations. 
Meanwhile, gas prices are lower this holiday compared to 2022, AAA said, when the national average was more than $4 a gallon. Despite the lower prices at the pump, car travel this holiday will be just short of pre-pandemic numbers by about 500,000 travelers, the company said.
More Memorial Day travelers are also expected to take other modes of transportation, such as buses and trains, at an estimated increase of 20.6% compared to last year, AAA said.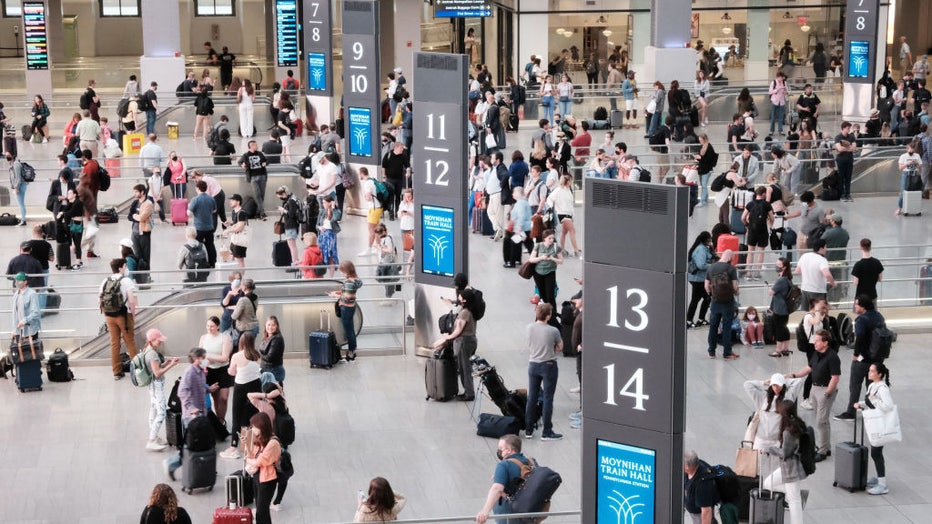 FILE - People wait to board trains at the Moynihan Train Hall in Manhattan at the start of the Memorial Day weekend on May 27, 2022 in New York City. (Photo by Spencer Platt/Getty Images)
Best and worst times to travel over Memorial Day weekend
Friday, May 26 is expected to be the busiest day on the roads during the long Memorial Day weekend, according to INRIX, a provider of transportation data and insights.
The best times to travel by car are in the morning or evening after 6 p.m. local time, AAA added, and the lightest traffic days will be Saturday and Sunday. 
Major metro areas like Boston, New York, Seattle, and Tampa will likely see travel times double compared to normal, the company said.
"With lower fuel prices and more travelers on the road compared to last year, drivers should expect long delays this holiday weekend, especially in and around major metros as commuters mix with Memorial Day travelers," Bob Pishue, transportation analyst at INRIX, said in a statement. 
"Knowing when and where congestion will build can help drivers avoid the stress of sitting in traffic," Pishue continued. "Our advice is to avoid driving during peak hours or use alternative routes." 
Top Memorial Day weekend destinations
Tourist hotspots like Orlando, New York City, and Las Vegas are top domestic destinations for Memorial Day weekend 2023, according to AAA booking data.
Cruise port cities in Florida and Alaska, as well as Seattle, are also high on the list given the 50% increase in domestic cruise bookings compared to 2022, the company said. 
Other popular U.S. cities for Memorial Day travel include Denver, Boston, Anaheim, and Canton, Ohio – home of the Pro Football Hall of Fame. 
"We are seeing a demand for iconic cities, international vacation packages, and cruises with included amenities that provide more value for the price," Twidale said.
This story was reported from Cincinnati.