State Fair of Texas shooting suspect told police he felt threatened, went into 'survival mode,' documents say
DALLAS - Arrest affidavits obtained by FOX 4 are shedding new light on what happened leading up to the shooting at the State Fair of Texas that injured three people over the weekend.
22-year-old Cameron Turner faces 3 counts of aggravated assault with a deadly weapon in the shooting.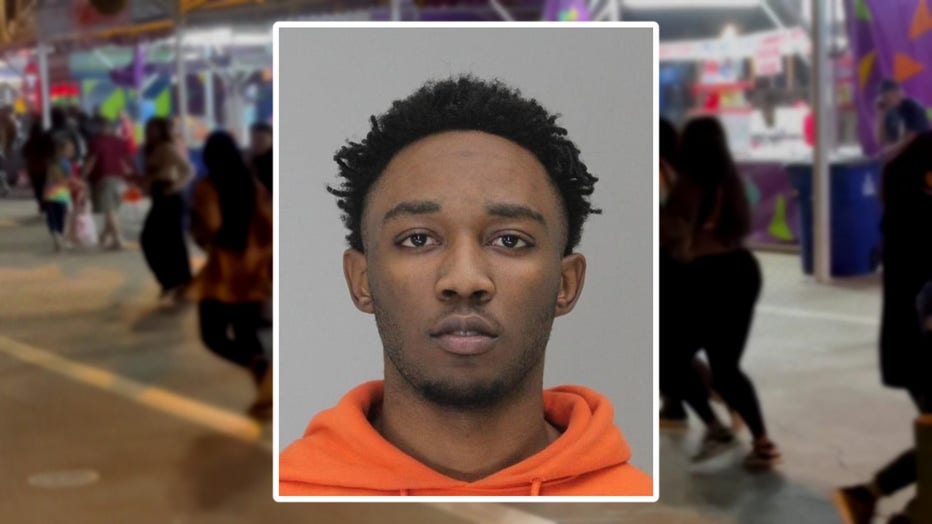 The shooting happened in the food court in the Tower Building on Saturday evening. 2 adult men and 1 adult woman had non-life threatening injuries. 
"We're deeply saddened by those events and thankful for the recovery of all those directly impacted by that," said Jeff Cotner, the Director of Security at the State Fair of Texas.
The shooting sent fair goers running for safety.
According to the arrest affidavit, video shows the man, later identified as Turner, at a concession stand inside the food court buying a water bottle away from his family when a group of males approached him.
When Turner tried to turn to leave, words were exchanged between Turner and one of the victims.
Police say that Turner then pulled out a handgun and began shooting.
The report says that the victim had nothing in his hands at the time.
He later told police that he felt threatened and went into "survival mode" when he opened fire 3 to 4 times.
The shots hit the man and in the process two others were hit.
Turner said he was trying to protect his family.
Investigators say video shows Turner fleeing the scene.
Witnesses identified Turner by his orange hoodie to police. He was arrested by two Texas state troopers and a Dallas police officer. 
Turner had a gun on him at the time of the arrest, according to the affidavit.
The arrest affidavit does not go into what was said that Turner believed was threatening.
State Fair officials said they did a "top to bottom" review of the security processes on Sunday.
"We ask everyone to be 'fair aware,' we do that internally to our direct employees and extended employees to be aware," said Cotner.
The fair has an open-gate weapons detection system that's new this year.
The fair prohibits weapons on the property, however, its policy does make an exception for licensed gun owners.
The arrest report did not state if Turner has an LTC.
It is also not clear how the suspect got a gun onto the fairgrounds.
At the State Fair on Monday, there was an enhanced security presence that will remain in place for the rest of the run.
"I walked around and talked to everyone who was waiting to get into the park and they were just so excited about being here," said Cotner,
Investigators also noted that one of the victims of the shooting refused to cooperate with police.