Senators look to ban kids under 13 from social media in bipartisan bill
Senators will soon introduce legislation to set a minimum age for children to use social media, according to a report.
Concerned with the detrimental effect social media has on children's mental health, Sens. Brian Schatz, D-Hawaii, and Tom Cotton, R-Ark., are reportedly leading the effort to keep these platforms out of kids' reach. Their bill would also set restrictions for how tech companies use algorithms to serve minors, according to the Washington Post's "The Technology 202" newsletter.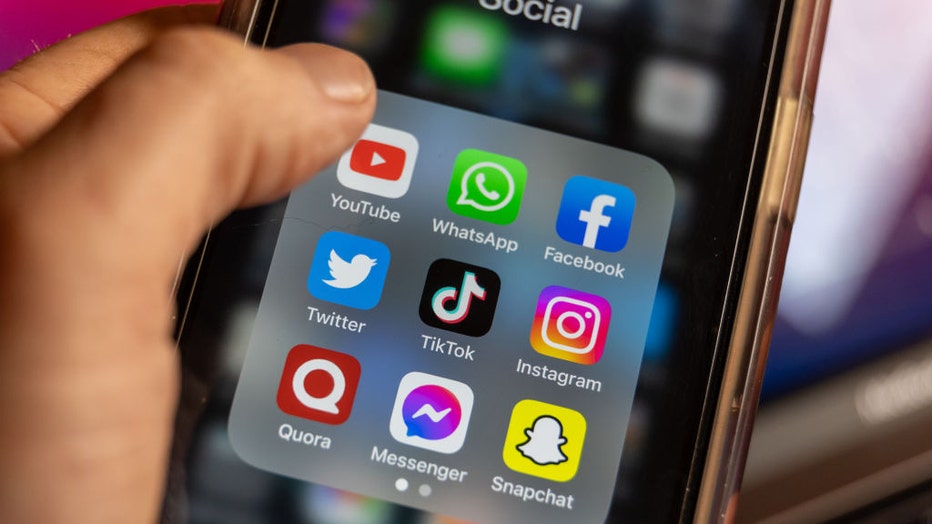 FILE - In this photo illustration, the logos of TikTok, YouTube, instant messaging software Whatsapp Facebook, Twitter, Instagram, Quora, Facebook Messenger and Snapchat are pictured on March 16, 2023. (Photo by Matt Cardy/Getty Images)
The bill would bar children under 13 from accessing social media and require parents of kids age 13 to 17 to give affirmative consent for their social media use, the report said. It is not clear how the proposed legislation would verify users' ages.
Sens. Chris Murphy, D-Conn., and Katie Boyd Britt, R-Ala., will be co-sponsors, according to a Senate aide who spoke to the Washington Post. 
HAWLEY INTRODUCES TWO BILLS TO PROTECT KIDS FROM EFFECTS OF SOCIAL MEDIA, RAISE AGE REQUIREMENT TO 16
FOX Business has reached out to Schatz and Cotton for comment. A spokesman for Schatz said more information on the bill will be available later this week. 
Policymakers in both parties have pushed for tighter restrictions on social media companies as research has shown that repeatedly checking social media devices actually led to changes in brain development. U.S. Surgeon General Vivek Murthy has warned that age 13 and younger is too early for America's kids to be using social media platforms.
"I, personally, based on the data I've seen, believe that 13 is too early," Murthy said in January. 
"It's a time when it's really important for us to be thoughtful about what's going into how they think about their own self-worth and their relationships – and the skewed and often distorted environment of social media often does a disservice to many of those children," he added.
AGE 13 AND YOUNGER IS 'TOO EARLY' FOR KIDS TO BE ON SOCIAL MEDIA, SURGEON GENERAL ADMITS
Sen. Josh Hawley, R-Mo., and others have argued that lawmakers need to intervene and create a legal age for kids to use social media. Hawley introduced the Making Age-Verification Technology Uniform, Robust, and Effective Act (MATURE Act) in February. The bill would place a minimum age requirement of 16 years old for all social media users and prevent platforms from offering accounts to those who do not meet the age threshold.
Hawley has also put forward the Federal Social Media Research Act, which would commission a government report on the harm of social media for kids. That study, according to the senator's office, would examine and "track social media's effects on children over 10 years."
Rep. Chris Stewart, R-Utah, introduced similar legislation called the "Social Media Child Protection Act" in the House earlier this year. Those efforts have yet to see bipartisan support in Congress, though some Democrats have shown openness to similar bills.
"I have seen no compelling reason why middle school kids should be on social media, where they're bombarded with targeted ads, trolls and algorithms working overtime to addict them," Sen. Michael Bennet, D-Colo., tweeted in January. 
GOP BILL BANS KIDS UNDER 16 FROM SOCIAL MEDIA TO SAVE THEM FROM DANGEROUS 'EMOTIONAL DISTRESSES'
At the state level, both Arkansas and Utah have enacted laws requiring anyone under 18 to get parental consent to join social media platforms. 
The Utah bill also sets a digital curfew on teen social media use between the hours of 10:30 p.m. and 6:30 a.m., and requires age verification for anyone who wants to use social media in the state. 
Approximately 38% of children between the ages 8 to 12 and 84% of teenagers between the ages of 13 and 18 are using social media, according to The Common Sense Census: Media Use by Tweens and Teens.
Children ages 8 to 12 are on social media for an average of 18 minutes per day, the report from 2021 found (the most recent one available), while teenagers spend about an hour-and-a-half every day. 
Several social media companies already prohibit kids under 13 from using their platforms in their terms of service, including Facebook, Twitter and TikTok, though those restrictions are easily evaded and loosely enforced. YouTube has created a specific app for children called YouTube Kids.