'Raise your hand': Passengers vote to kick woman off Frontier Airlines flight
TRENTON, N.J. - A woman was removed from a Frontier Airlines flight after passengers voted to have her kicked off, according to video footage that surfaced online. 
The incident occurred on a recent flight from Trenton, New Jersey to Atlanta, Georgia. Passengers claimed that the woman became disruptive and rude toward other people on the plane.
"We have 40, 50 people who would like her removed from the flight," one passenger said in the video, which was filmed by a fellow passenger. "If you would like her removed from the flight, please raise your hand. I'm not even kidding." 
The now-viral video footage, which has already garnered more than 7 million views on TikTok, shows multiple passengers raising their hands in favor of removing the woman. The video then shows the woman being escorted off the plane by an airport security guard.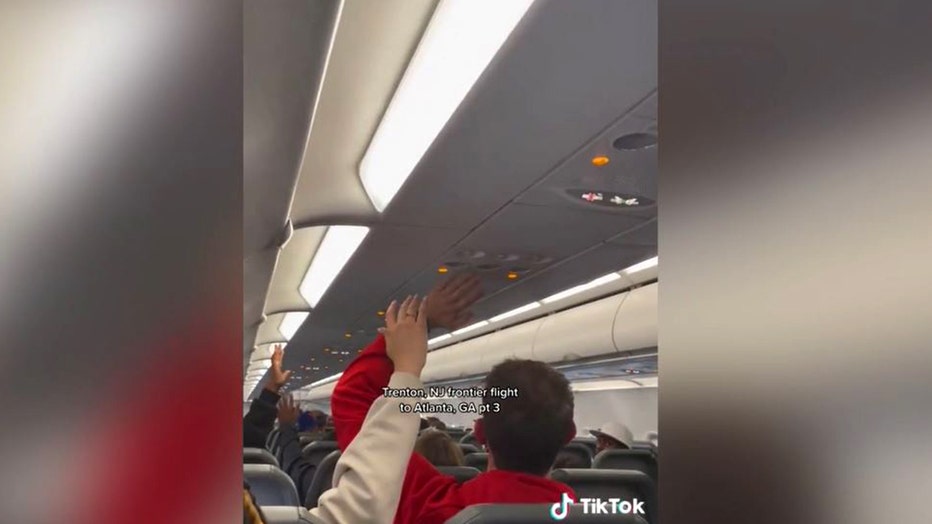 Passengers raise hands to vote whether a woman should be removed from a flight. (Credit: LanaisLi/TikTok)
Frontier Airlines did not immediately respond to FOX Television Stations' request for comment. 
It is unclear whether the woman faced any charges in connection with the incident. 
RELATED: 'Wasted' Delta passenger in first class accused of forcibly kissing flight attendant
This story was reported from Los Angeles.