Pancreatic cancer vaccine trial offers 'encouraging' results, 'positive outlook for the future'
Pancreatic cancer is a deadly disease and is soon to become the second leading cause of cancer deaths in the United States by 2030, according to the Pancreatic Cancer Action Network.
"And part of the reason for this is because the current treatments that we have for pancreatic cancer, which include surgery, chemotherapy and radiation, are largely ineffective," Dr. Vinod Balachandran, surgeon-scientist at Memorial Sloan Kettering Cancer, told FOX Television Stations. 
According to the American Cancer Society, the survival rate for pancreatic cancer remains at only 12%, highlighting the urgent need for new treatments. 
But recent findings from a study led by Balachandran offer hope, as the study's pancreatic cancer vaccine demonstrated promising results.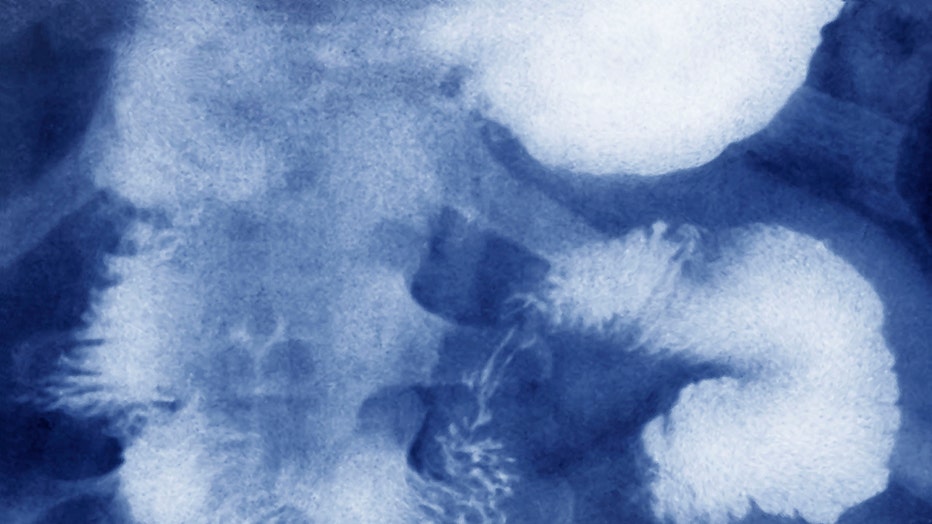 Abdominal X-Ray in front view displaying pancreatic cancer. (Credit: BSIP/UIG Via Getty Images)
Balachandran said his research team wanted to understand what might be different about the 12% of patients who were essentially given the same treatments as all other patients, but had remarkably long-term survival.
"So the question was, what's different about these survivors compared to all other patients? And can we use this knowledge to transform this into new therapies that we could then apply to the other pancreatic cancer patients in an effort to maybe make them into long-term survivors?" Balachandran explained. 
During the small trial, which started in December 2019, 28 patients' tumors were removed through surgery, and the samples were shipped to Germany. There, scientists at BioNTech, the company that made the COVID-19 vaccine with Pfizer, analyzed the genetic makeup of certain proteins on the surface of the cancer cells to identify which aspects of the patient's tumor would likely be recognized by their own immune systems.
RELATED: Maria Menounos reveals she beat pancreatic cancer: 'God granted me a miracle'
From there, the scientists created a custom vaccine used to treat 16 of the patients and then monitored how the vaccine responded. The treatment regimen also included chemotherapy and a drug intended to keep tumors from evading people's immune responses. 
The study's results, published in Nature, showed the vaccine provoked an immune response in half of the patients treated, and after 18 months, those people showed no relapse of their cancer. It's a finding that experts describe as encouraging.
"I think the findings are encouraging that we can perhaps use more RNA vaccines that are personalized to treat pancreatic cancer and possibly other cancers," Balachandran continued. 
In one patient, the vaccine also showed evidence of immune response in the liver after an unusual growth developed there. In imaging tests, the growth disappeared following the vaccine.
In patients who did not appear to respond to the vaccine, their cancers had come back on-average approximately 13 months after surgery. 
RELATED: Pancreatic cancer: What you should know about the disease that led to Jerry Springer's death
Balachandran noted that these results are still considered to be in an early phase of research. 
"All we have is a very interesting correlation, that we are now looking forward to testing in more pancreatic cancer patients as a next step," he added.  
The research team plans to test these vaccines in larger numbers of pancreatic cancer patients, so they can gain a better understanding of what these vaccines are doing and whether they can be used to treat pancreatic cancer in the future. 
"Hopefully this is a positive outlook for the future on our ability to use such vaccines to treat difficult-to-treat cancers going forward. So we're excited to explore these possibilities," Balachandran said. 
This story was reported from Los Angeles.