Ohio election revolving around abortion rights fueled by national groups, money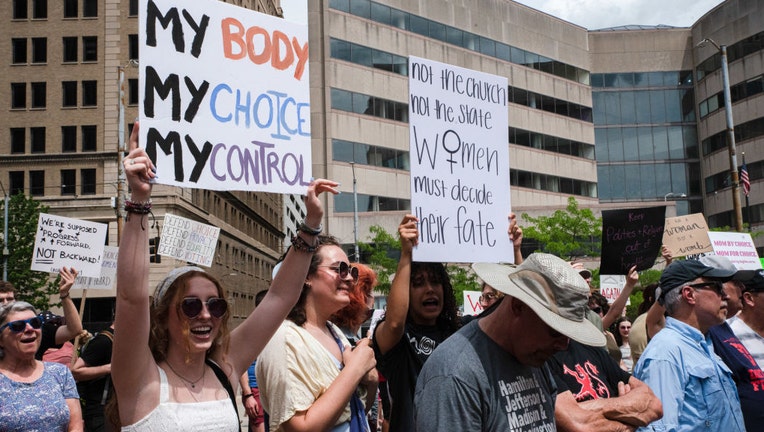 article
COLUMBUS, Ohio - Supporters of a ballot question in Ohio that would make it harder to change the state constitution and could determine the fate of abortion rights there say a yes vote will provide a "defense against out-of-state meddling."
Opponents argue that a yes vote would give "special interests the winning advantage."
But an analysis of campaign finance data shows that as both sides lambast out-of-state interests, they are largely funded by such donors. Even outside of the official coalitions for and against the measure, money, celebrity and influence from afar are fueling much of the last-ditch campaigning and misinformation about the measure, known as Issue 1, on Tuesday's ballot.
The coalition supporting the measure, called Protect Our Constitution, is funded almost entirely by billionaire Illinois business owner Richard Uihlein, who contributed $4 million of the campaign's $4.8 million, according to campaign filings. The campaign's largest Ohio-based donation, $150,000, came from Save Ohio Jobs, a group tied to the Ohio Chamber of Commerce.
RELATED: August special election has Ohio election offices scrambling with abortion rights on the line
The effort against Issue 1, called One Person One Vote, also raised a majority —- nearly 85% —- of its $14.8 million in contributions from outside Ohio, its filings show. Several of the largest donations came from so-called dark money groups that aren't legally obligated to disclose their donors, including the progressive Sixteen Thirty Fund, based in Washington, and the social justice group the Tides Foundation, based in California.
It's increasingly common across the nation to see a large influx of out-of-state money in state-level races, said Travis Ridout, co-director of the Wesleyan Media Project, which tracks advertising spending. Polarized issues that resonate nationally — like abortion in the Ohio election — can be a major motivator.
If Issue 1 passes, it would raise the threshold for passing future changes to the Ohio Constitution from a simple majority to 60% — making it significantly harder for a November ballot issue enshrining abortion rights in the state to get enough votes.
Some of the messaging from the outside groups has been deceptive. A fake newspaper distributed throughout the state has spread misleading claims about the opposition while conspiracy theorists hosted a get-out-the-vote event.
RELATED: Oklahoma court greenlights abortion to save mother's life
Allison Schroeder, a boutique owner in the northwest Ohio town of Ottawa, checked her mail last month to find what looked like an eight-page local newspaper, titled "The Buckeye Reporter."
"You know, Buckeye Reporter, you think of Ohio, you think of Buckeyes," Schroeder said. "And the fact that they had articles and quotes from local politicians, they kind of seemed to give it a little more credence and more importance."
But a closer look revealed the mailer was far from unbiased journalism. The articles emphasized prominent elected Republicans who supported Issue 1, while stereotyping the opposition as communists, Black Lives Matter supporters and LGBTQ+ allies.
The mailer also attributed a fake mission statement to the grassroots advocacy organization Red Wine and Blue, which opposes Issue 1, falsely claiming it aims to require the teaching of "critical race theory" and ban schools from teaching kids "that there is such a thing as biological sex."
RELATED: North Carolina 12-week abortion ban to become law after GOP legislators override governor's veto
Katie Paris, founder of Red Wine and Blue, told The Associated Press such a mission statement doesn't exist, nor do these claims reflect the group's values.
An internet search for The Buckeye Reporter reveals it is one of more than a thousand pseudo-local news outlets created by an Illinois-based network known as Metric Media or Pipeline Media, which churns out content promoting Republican candidates and ballot issues across the country.
A Chicago return address on the mailer matches the business address of Pipeline Media, according to state filing documents.
Priyanjana Bengani, a senior research fellow at the Tow Center for Digital Journalism at Columbia University who has researched the network, said Metric Media has printed similar mailers ahead of other recent high-stakes elections, such as a referendum on abortion last year in Kansas.
RELATED: Abortion in Minnesota: Walz signs 'fundamental right' to abortion into state law
It's unclear whether the official campaign supporting Issue 1 worked with Metric Media directly to publish favorable articles about it — neither group responded to inquiries from the AP. However, Protect Our Constitution has purchased several Facebook ads that link to online articles from The Buckeye Reporter and another Metric Media brand, The Cleveland Reporter, suggesting it is at the very least using the network's content for its benefit.
"You're worried about outside influence, but you're influencing it from the outside," Schroeder said. "It seems a little hypocritical at best."
Other controversial figures from outside Ohio also are weighing in and declaring their support for Issue 1.
A national religious organization, Catholics for Catholics, gathered a lineup of anti-abortion influencers and conspiracy theorists from across the U.S. to urge a "yes" vote during a Sunday "rosary rally" in a Cincinnati suburb.
The rally's advertised speakers included actor Jim Caviezel and former national security adviser Michael Flynn — both of whom have amassed large followings even as they've touted baseless conspiracy theories.
Caviezel, who recently starred in the film "Sound of Freedom," has denied alleged ties to QAnon but has repeated several of its talking points on conservative talk shows hosted by Steve Bannon and Charlie Kirk, and spoke at a QAnon-organized convention in 2021.
Flynn, a central figure in former President Donald Trump's attempts to overturn the last presidential election, has since focused on the Christian nationalist movement, with the goal of making Christianity the center of American life and government institutions.
Neither Caviezel nor Flynn responded to requests for comment.
Also speaking was Abby Johnson, a former Planned Parenthood employee turned anti-abortion activist who said in an interview with the AP that vague language in November's abortion amendment leaves loopholes for minors to receive abortions and gender-affirming surgery without parents' knowledge.
Legal experts disagree with this claim. The fall abortion amendment would protect access to various forms of reproductive health care but makes no mention of gender surgery, and the attorneys who wrote it say Ohio's parental consent law would not be affected.
As for abortion "up to birth" — a phrase medical experts say is misleading — the November abortion initiative wouldn't stop the state's lawmakers from restricting abortions after the fetus is viable outside the womb, around 23 or 24 weeks.
Ahead of Tuesday's election, Ohio groups doing their final campaign pushes are still being helped by out-of-state forces, data shows.
Protect Women Ohio, the campaign against the fall abortion issue, spent $5.5 million on ad buys to support Issue 1 in the last week before the election, according to data from AdImpact, which tracks spending on campaign ads. The cash brings the "yes" side's total ad spend closer to the "no" side, which still has outspent supporters of Issue 1 by about $3 million in summer campaigning, AdImpact data shows.
Protect Women Ohio is an in-state group that has raised some $1.5 million from Ohio donors. But according to campaign filings, the group's out-of-state contributions dwarf its in-state contributions by some $6.5 million.
___ Samantha Hendrickson is a corps member for the Associated Press/Report for America Statehouse News Initiative. Report for America is a nonprofit national service program that places journalists in local newsrooms to report on undercovered issues.