Ohio amusement park guests evacuate 205-foot-tall roller coaster, forced to walk down
SANDUSKY, Ohio - A thrilling day at an amusement park in Sandusky, Ohio turned into a nerve-wracking ordeal Monday for several roller coaster riders, who were evacuated from a 205-foot-tall roller coaster after the ride experienced a mechanical issue. 
Video, recorded by Josh Lett, shows a handful of riders walking down a steep incline of steps on the side of the Magnum XL-200 – a Cedar Point ride that was once the world's "fastest and steepest complete-circuit coaster." 
"I was actually on my way to ride the Magnum," Lett told video licensing company Storyful. "The car was probably stopped for 45 minutes to an hour with passengers on the ride."
Tony Clark, the director of communications for Cedar Point, told FOX News Digital that the incident was the result of a "standard ride stoppage" which triggered the guest evacuation.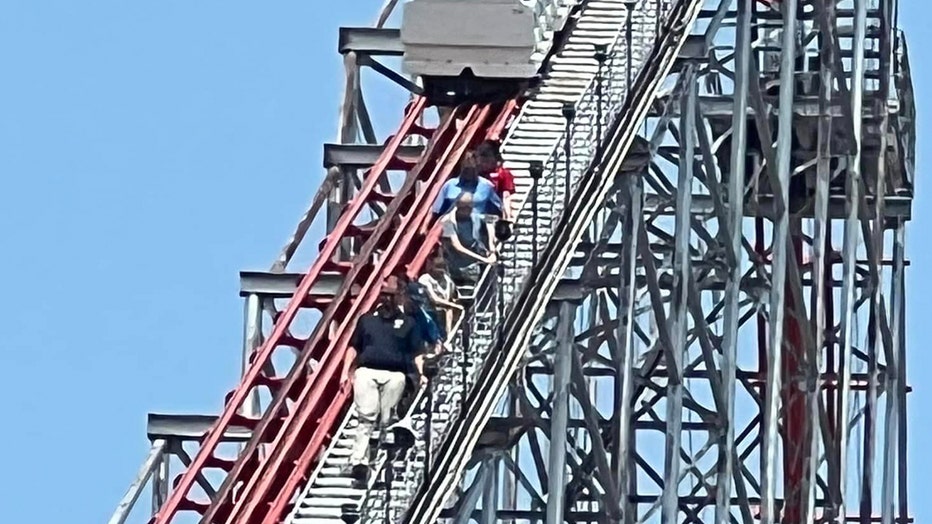 Guests evacuate ride at Cedar Point on July 31. (Credit: Josh Lett via Storyful)
He also noted that this was a "check engine light" situation, and the ride couldn't be immediately restarted.
"I'm just glad I wasn't them," Lett told FOX Television Stations. "I'm afraid of heights, but I still ride them. Not sure I could walk down one." 
The Magnum XL-200 is the first hyper-coaster and first ever coaster to top 200 feet, and was a Guinness Book of World Records holder for its "leading edge height," Cedar Point notes on its website.
When the coaster debuted in 1989, it was the fastest and steepest complete-circuit coaster in the world. Then, in 2004 it was also awarded the ACE Roller Coaster Landmark award for its historical importance. The roller coast can reach speeds of 72 mph and lasts two minutes and 45 seconds.
Last month, at an annual fair in Wisconsin, passengers became stuck inside cars near the top of a roller coaster ride's loop with the riders being held in an "inverted position by safety harnesses on cars. 
RELATED: Roller coaster riders stuck upside down for hours at Wisconsin festival after 'mechanical failure'
"The Fireball" fair ride also suffered a "mechanical failure," and occupants were stuck on the ride upside-down for up to four hours.
This story was reported from Los Angeles. Storyful, FOX News Digital contributed.