Milwaukee Police Officer Jerving funeral; family, friends say goodbye
MILWAUKEE - Peter Jerving, the Milwaukee police officer fatally shot in the line of duty last week, was laid to rest Monday, Feb. 13. He was 37 years old.
A procession of police and fire vehicles guided Jerving's body to Elmbrook Church in Brookfield Monday morning, an hours-long public visitation held at 9 a.m. Law enforcement from across the state and country paid their respects for the fallen officer, whose family said the support from near and far has been overwhelming. 
"While there are many variations on the definition of a hero, one of our MPD members located the correct one: A hero is an ordinary person who faces extraordinary challenges with courage, honor and self-sacrifice," MPD Chief Jeffrey Norman said during the funeral. "I cannot think of a better example of courage, honor and self-sacrifice than Officer Peter E.C. Jerving."
SIGN UP TODAY: Get daily headlines, breaking news emails from FOX6 News
Wisconsin Honor Guard Association helped provide full honors for Jerving. Those honors include a rifle firing party, commonly known as a 21-gun salute, the playing of "Taps," the presentation of the American flag draped over his casket and more. Flight for Life conducted a flyover.
"Nothing is more difficult. Nothing is more emotional. Nothing tests our faith to such a degree as this does," said Milwaukee Mayor Cavalier Johnson. "(Jerving) was a beloved family member, he was a good friend, and he was a dedicated police officer."
Community shows support for fallen Milwaukee Police Officer Peter Jerving on the day of his funeral.
After hearing from police officials and the mayor, Jerving's parents spoke to those who gathered.
"Help this nation to see that the police are not their enemy. Father, please bless all the officers of my District 4 of Milwaukee and every member of their families. Please help them to deal with their grief and trauma," said Jerving's mother, Patty."I ask for you to wipe away any bitterness that they might have in their hearts toward the young man who cut down Peter."
"My son has finished the race and will receive a glorious crown," Jerving's father, Douglas, said. "Like him, we have a job to do. We have a mission to complete. For me, it will be finished when God calls me home."
After a nine-mile procession from the church, Jerving was laid to rest at Wisconsin Memorial Park in a private ceremony. The cemetery is the final resting place for tens of thousands of people, directors said – including congressmen, sports figures and governors. 
Fellow Milwaukee Police Officer Michael Michalski was also buried there in 2018. A monument at the cemetery's "Garden of Eternal Life" has Michalske's name on it, and park directors said Jerving's name will be added.
Passion to serve
Jerving was a lifelong Milwaukee resident and decorated officer, honored by the police department in fall 2022 for saving someone's life in June.
MPD said Jerving received the award "for heroically providing lifesaving care to a shooting victim during extremely dangerous conditions." Officer Jerving grabbed a fire extinguisher and helped save a man in a burning vehicle who had been shot. He had four years of service with the police department and worked at Police District 4.
"In the first five minutes of talking to him, I knew that he was someone special. I knew he had dedication and heart and a drive to do this job and serve his community that was way above," said MPD District 4 Capt. Brad Schlei. "He was special."
MPD Officer Peter Jerving receives award for saving victim's life (Courtesy: The Nowak Family)
Oak Creek Police Sgt. Wes Jerving, Peter's cousin, echoed that sentiment during Monday's funeral. 
"I knew he was exactly the kind of man that we needed in our profession. A man of action, a man who was fit, but also a man who was filled with loving-kindness," he said. "The exact kind of person we need on the street to be able to serve our community."
READ MORE: Western States Peter Jerving memorial stone honors fallen officer
Also in attendance Monday were former co-workers of Jerving's at Western States in Butler, including Barb Kurcz and Mary Lynn Ellis.
"He's touched so many people," Kurcz said. "He was proud to be a Milwaukee police officer, and he did every job – any job he did – he did it with his all."
"I'll miss you. Thank you for your service. I'll never forget you," said Ellis.
READ MORE: Officer Jerving's message 'from the grave' shows community focus
Jerving was roughly halfway through his studies for a bachelor's of science in criminal justice at Marian University when he was killed. One person who read what Jerving wrote for class called it a "plan for his community from the grave." 
"Officer Jerving was somebody who had a heart for it. He really wanted to make this community a better place, and we were blessed to have that time with him," said Callista Gould, assistant vice president for marketing and communications for Marian University.
Honoring the fallen
A growing memorial to remember Jerving formed at Milwaukee Police District 4. A squad outside the station was draped with a flag, and passersby have left bouquets of flowers and other items.
Jerving's line-of-duty death was the first under Norman's tenure. However, he was the fifth killed in the line of duty in the past five years. A sixth officer, Kou Her, was driving after his shift when he was hit and killed by a reckless driver.
How to help
Jerving's partner on the force, Jimmy Nowak, was with him at the time of the shootout.
"Jimmy and Peter were literally best friends. They did everything together," said Julia Nowak, Jimmy's wife. "(Jimmy's) partner had gone to a different shift, and Peter just got off training, and they said, 'This is your new partner.' First, Jimmy was like, 'No, I'm not being partners with that new guy,' and it was a match made in heaven."
READ MORE: After Milwaukee officer's sacrifice, mental health toll a reality
Nowak said the support for Jerving's family, his girlfriend and MPD has spoken volumes.
"I printed off hundreds of photos for Peter's funeral this weekend," she said. "I went to pay for the photos, and the cashier at Walgreens was like 'Have a good day', and I was like, 'Here's my credit card,' and he's like 'Nope, have a great day.' That really got me."
Community responds
Gov. Tony Evers ordered flags to be flown at half-staff the day of the funeral.
Shootout with robbery suspect
Jerving was shot on the city's south side early Tuesday, Feb. 7 during what police said was a struggle with a robbery suspect.
The shooting happened near 14th and Cleveland around 1:15 a.m. Norman said it was reported that a man, wanted for a Monday night robbery that took place near Teutonia and Good Hope, was in the area. Norman identified that man as 19-year-old Terrell Thompson.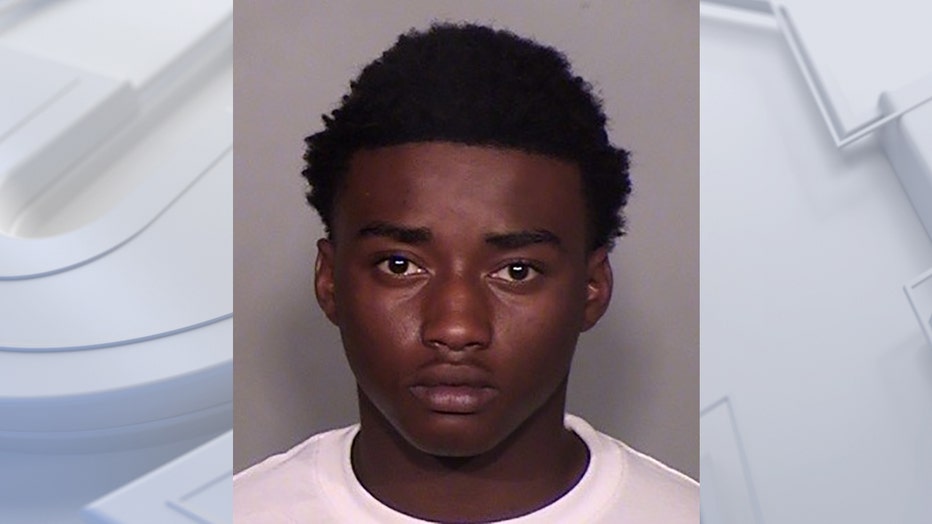 Norman said officers found Thompson, but he ran off. After officers caught up to him, during a struggle, Norman said Thompson shot Jerving. Jerving then fired back, hitting Thompson.
Jerving died at the hospital. Thompson died at the scene. 
FOX6 News learned Thompson was in court on Feb. 6 – the day before the shootout – for a 2021 case and pleaded guilty to causing a hit-and-run.
Court records indicate Judge Christopher Dee ordered Thompson to serve 120 days in the Milwaukee County Community Reintegration Center, formerly the House of Correction, but stayed that sentence in favor of 12 months of probation. It means Thompson only had to serve time if he violated the conditions of his probation.
The shootout that left both Jerving and Thompson dead happened more than two years after the 19-year-old blew a red light at Sherman and Bradley in Milwaukee and then ran away from the crash scene – a year-and-a-half after he hit two more cars in one night and ran away again.
FREE DOWNLOAD: Get breaking news alerts in the FOX6 News app for iOS or Android.
During his sentencing, Thompson apologized and called the hit-and-run crashes a "life learning lesson." His lawyer acknowledged he was facing 120 days in jail, adding, "thankfully, the state's not asking for it." The judge told Thompson: "You got the benefit of a good bargain."
Fourteen hours later, Milwaukee police say Jerving paid the price. Thompson barely made it 12 hours before police say he committed an armed robbery, and two hours after that, they say he was involved in the shootout with Jerving.
At the sentencing hearing, Thompson's attorney said he had a supportive mother, he was pursuing his GED, had a job painting cars with his cousin and even had a job interview scheduled for the day of the shootout. All of that played into the decision to release him on probation for a year.
Speakers at funeral
Milwaukee Police Chief Jeffrey Norman
Milwaukee Mayor Cavalier Johnson
Milwaukee Police District 4 Capt. Bradley Schlei
MPD Chaplain George Papachristou
Officer Jerving's mother, Patty
Officer Jerving's father, Douglas
Officer Jerving's brother, Drew
Officer Jerving's cousin, Wes
Pastor reads messages from Officer Jerving's sister and girlfriend
Official statements
Milwaukee Fire & Police Commission:
"Today, as many gather to say their final goodbyes to Milwaukee Police Officer Peter Jerving, we extend our deepest sympathies to his loved ones and the Milwaukee Police Department.
"Almost one week ago, we woke up to the terrible news that Officer Jerving had been killed in the line of duty.  Since then, we have not only learned more details about that fateful day, but we have also continued to learn about Officer Jerving's life and his commitment to the City of Milwaukee.
"Officer Jerving's family and friends have shared the enthusiasm and pride that he exhibited after realizing his dream of becoming a Milwaukee Police Officer.  A lifelong resident of the City of Milwaukee and a four-year veteran of the Milwaukee Police Department, Officer Jerving proudly served and protected the people of Milwaukee on a daily basis.  Just last year, he received an MPD merit award for providing lifesaving care to a shooting victim during extremely dangerous conditions.
"It is with heavy hearts that we remember Officer Jerving and his pride and eagerness to serve as an officer with the Milwaukee Police Department.  Our thoughts and prayers are with his family, friends, and colleagues at the Milwaukee Police Department as they mourn his loss.
"Officer Jerving paid the ultimate sacrifice while protecting the Milwaukee community, and for this, he will always be remembered."