Oct. 14th solar eclipse: When and where to see the spectacle
Next month, an annular solar eclipse will cross into the United States.
It won't have the same spectacle as the total solar eclipse set to sweep the country next spring, but it will still be a sight to see for millions of people in the Western Hemisphere. 
When is the next solar eclipse?
The annular solar eclipse will cross into the United States on Saturday, Oct. 14, 2023 – the first full annular solar eclipse to be seen in the country in over a decade, according to FOX Weather.
It will be visible in parts of the United States, Mexico and many countries in South and Central America, according to NASA.
In the U.S., the eclipse is expected to first be seen in Eugene, Oregon around 9:15 a.m. local time (PST) and travel southeast through California, Nevada, Utah, Arizona, New Mexico and Texas.
It will leave Texas just after 12 p.m. local time (CDT). 
If you're not in the eclipse's direct path, you'll still see some obscuration of the sun throughout the day. The northeast states will see the least, with only about 10-20% being obscured.
Annular solar eclipse Oct. 14, 2023 map. (FOX Weather)
RELATED: India's moon rover completes walk, scientists to analyze data for signs of frozen water
What will Oct. 14th eclipse look like?
An annular solar eclipse happens when the moon passes between the Earth and the sun while at its furthest point from the globe, as FOX Weather explains it.
Due to its orbit, the moon cannot completely block out the sun, leaving what appears to be a ring of fire in the sky around the moon.
It will be a sight to see – but it's not safe to look directly at it without specialized eye protection since the sun won't be completely obscured.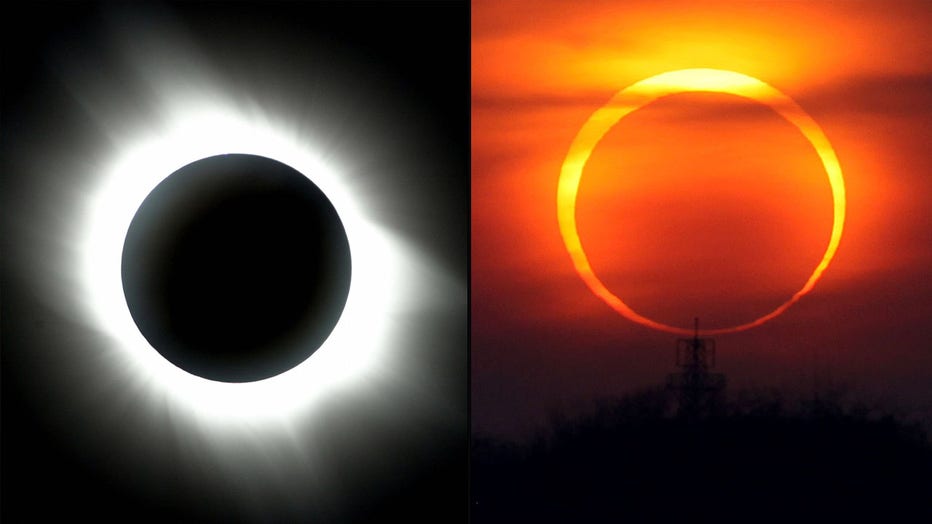 From left to right, these images show a total solar eclipse vs. an annular solar eclipse. (Getty Images)
Astronomers say an annular solar eclipse is not that rare, and at least one occurs every two years somewhere in the world.
RELATED: Watch: Fireball meteor soars across Colorado night sky
When is next year's total solar eclipse?
As mentioned, October's annular solar eclipse isn't as rare as a total solar eclipse, which is set to sweep the United States next spring. 
On April 8, 2024, the moon will cast its shadow across a stretch of the U.S., Mexico and Canada, plunging millions of people into midday darkness.
All in all, it will hit parts of 13 U.S. states: Texas, Oklahoma, Arkansas, Missouri, Illinois, Kentucky, Indiana, Ohio, Pennsylvania, New York, Vermont, New Hampshire and Maine. Cities in its path include Dallas; Little Rock, Arkansas; Indianapolis; Cleveland and Buffalo, New York.
It's been less than six years since a total solar eclipse cut across the U.S., from coast to coast. That was on Aug. 21, 2017.
If you miss next year's spectacle, you'll have to wait 20 years until the next one hits the U.S. But that total eclipse will only be visible in Montana and the Dakotas.
This story was reported from Detroit. FOX Weather and The Associated Press contributed.