North Carolina GOP begins to override governor's veto on abortion ban bill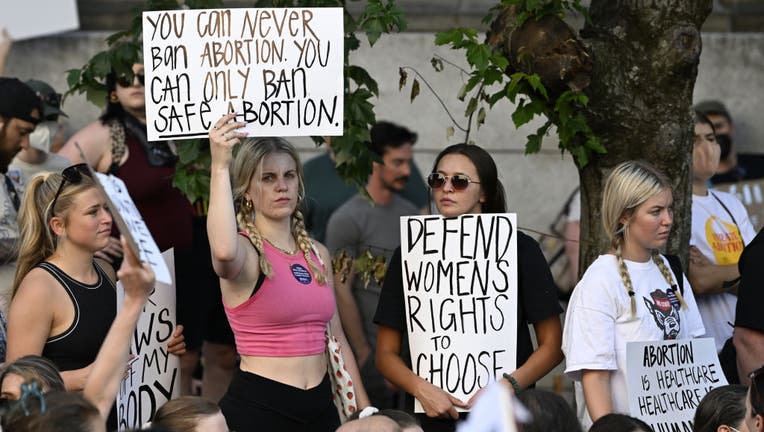 article
RALEIGH, N.C. (AP) - North Carolina's Republican-controlled Senate voted Tuesday to override the Democratic governor's veto of a bill banning most abortions after 12 weeks of pregnancy in the first of two steps necessary to enact the policy over Gov. Roy Cooper' s opposition.
The vote came as abortion rights in the U.S. faced another tectonic shift with lawmakers debating laws to sharply limit abortion in North and South Carolina, two of the few remaining Southern states with relatively easy access.
Nebraska joined North Carolina and South Carolina in debating abortion restrictions Tuesday that are possible because the U.S. Supreme Court last year struck down the landmark 1973 Roe v. Wade ruling, which established a nationwide right to abortion.
RELATED: North Carolina governor vetoes abortion ban bill, prepares for possible override
Under another bill up for a vote Tuesday, in the South Carolina House, abortion access would be almost entirely banned after about six weeks of pregnancy. The South Carolina state Senate rejected a proposal to nearly outlaw abortions.
Abortion is banned or severely restricted in much of the South and is banned throughout pregnancy now in Alabama, Arkansas, Kentucky, Louisiana, Mississippi, Oklahoma, Tennessee, Texas and West Virginia. In Georgia, it's allowed only in the first six weeks of pregnancy.
The Carolinas, Florida and Virginia are now the main destinations in the region for those seeking legal abortion. Florida has a ban that kicks in 15 weeks into pregnancy. Under a recent law, that would tighten to six weeks – before women often know they're pregnant – pending a court ruling. Further west, women often travel to Illinois, Kansas, New Mexico or Colorado.
Nationally, bans on abortion throughout pregnancy are in effect in 14 states.
If the North and South Carolina bans become law, combined with Florida's recent ban, "it would be just devastating for abortion access in the South," Jamie Lockhart, executive director of Planned Parenthood Advocates of Virginia, said Tuesday.
RELATED: North Dakota adopts strict abortion ban after 6 weeks of pregnancy
In North Carolina, House Republicans will attempt late Tuesday to complete the override of Gov. Roy Cooper's veto in a consequential test of unity for their recently attained supermajority. In both the House and Senate, Republicans hold the exact three-fifths majority needed to pull off an override if all members are present and vote together.
While House Speaker Tim Moore has made repeated assurances that he has the votes, one key Republican has declined to state publicly his position on the bill.
Cooper vetoed the measure over the weekend in an unconventionally public ceremony after spending last week traveling around the state to convince at least one Republican to uphold his expected veto. Republicans have pitched the measure as a middle-ground change to state law, which currently bans nearly all abortions after 20 weeks of pregnancy, without exceptions for rape or incest.
During the hour of North Carolina Senate debate, Republicans urged colleagues to override Cooper's veto, saying the Democratic governor has been dishonest in public about the extent of the proposed restrictions.
They said Cooper also ignored $160 million within the measure that would boost funding to increase contraceptive services, reduce infant and maternal mortality and provide paid maternity leave for state employees and teachers.
"North Carolinians watching this debate, you are bearing witness to exaggerated and extremist objections from some Democrats," Republican Sen. Vickie Sawyer of Iredell County said. "Their anger is that this bill is mainstream and a common-sense approach to a very difficult topic."
Democrats focused on details of the abortion rules, which they say would place barriers between women and their doctors, leaving those who are pregnant in danger.
And the 12-week cutoff means that young women will have potentially only a couple of weeks to decide whether an abortion is the right decision, leading them to continue with unwanted pregnancies, Democratic Sen. Natasha Marcus said.
Anti-abortion protesters who arrived hours before the vote packed the North Carolina Senate gallery, with about 150 supporters of the proposed ban holding identical "Vote Pro-Life" signs.
"So many Republicans have just keeled over from pressure from all the groups who are just filled with hate and are pushing things that are going against God," said Sharon Dooley, 61, of Garner, North Carolina.
In South Carolina, the impasse dates back to a special session last fall when House lawmakers demanding a near-total ban did not meet to negotiate with their Senate counterparts pushing for a ban around six weeks.
The stalemate persisted even after the state Supreme Court in January struck down a previous law banning abortions once cardiac activity is detected.
That decision left abortion legal through 22 weeks of pregnancy. A sharp increase in abortions since then has rankled Republicans.
The House is now weighing a Senate bill similar to the one they denied last year. The measure would ban abortion when an ultrasound detects cardiac activity, around six weeks.
RELATED: What's next for abortion pill after Supreme Court's order
A late night is expected even after Republicans invoked rules to limit debate. House Speaker Murrell Smith has said the chamber will not adjourn until the measure gets approval. Democrats began slowing the process Tuesday by speaking for all three allotted minutes on each of their hundreds of amendments and forcing other procedural votes.
"We are going to make it hurt if they're going to force this on us," Democratic Rep. Beth Bernstein said at a Tuesday press conference, flanked by dozens of supporters with signs reading "BANS OFF OUR BODIES."
Lawmakers in Nebraska were scheduled to take up debate on a proposal that would ban abortion at 12 weeks of pregnancy. The proposal comes after lawmakers rejected a bill last month that would have banned abortion after cardiac activity is detected.
This latest proposal is tacked onto a bill that would ban gender-affirming care for transgender minors. Opponents have said they plan to filibuster for the entire two hours of scheduled debate Tuesday evening. Conservatives in Nebraska's unique single-chamber, officially nonpartisan Legislature will need 33 out of 49 votes for these proposals to advance.
A separate challenge to abortion access will be considered Wednesday, when a federal appeals court hears arguments on whether the Food and Drug Administration's approval of the widely used abortion drug mifepristone should be overturned. A three-judge panel of the 5th U.S. Circuit Court of Appeals will review a ruling last month by a federal judge in Texas who ordered a hold on approval of mifepristone, a decision that overruled two decades of scientific approval of the drug. That ruling was stayed while the appeal is pending.
The three judges who will hear the case each have a history of supporting restrictions on abortion. A ruling is not expected immediately.
Associated Press writers Hannah Schoenbaum and Gary D. Robertson in Raleigh, North Carolina; James Pollard and Jeffrey Collins in Columbia, South Carolina, Geoff Mulvihill in Cherry Hill, New Jersey and Sarah Rankin in Richmond, Virginia, contributed to this report. Pollard and Schoenbaum are corps members for the Associated Press/Report for America Statehouse News Initiative. Report for America is a nonprofit national service program that places journalists in local newsrooms to report on undercovered issues.