Nashville school shooter identified as 28-year-old woman
NASHVILLE, Tenn. - Authorities say they believe the 28-year-old female shooter who killed three children and three adults at a private Christian school in Nashville on Monday was a former student.
The suspect was later identified by police as Audrey Hale.
Investigators identified the victims as Evelyn Dieckhaus, Hallie Scruggs, and William Kinney, all 8 or 9 years old, and adults Cynthia Peak, 61; Katherine Koonce, 60; and Mike Hill, 61.
The violence at The Covenant School, a Presbyterian school for about 200 students from preschool through sixth grade, marks the latest in a series of mass shootings in a country growing increasingly unnerved by bloodshed in schools.
The suspect — who was wielding two "assault-style" rifles and a pistol — also died after being shot by police. Authorities said she was from the Nashville area. Her motive in the attack has not been determined.
RELATED: Nashville school shooting: 3 students, 3 adults killed by female suspect, police say
The shooter entered the school through a side entrance and went to the second story, police spokesperson Don Aaron said during a news briefing.
Police said the suspect had drawn a detailed map of the school, including potential entry points, and performed surveillance before the shooting.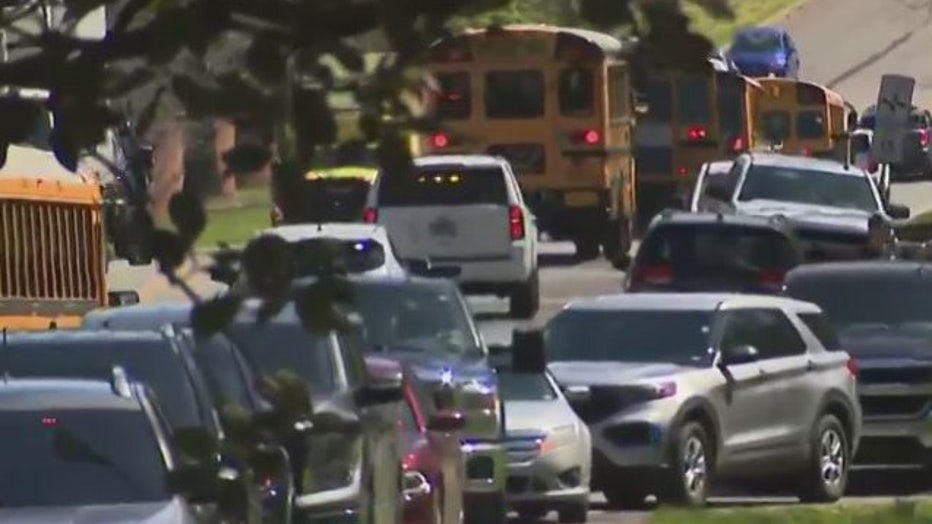 School buses and vehicles are seen during a shooting at a Nashville school. (FOX) 
The Nashville victims were pronounced dead upon arrival at the Monroe Carell Jr. Children's Hospital and Vanderbilt University Medical Center. One officer had a hand wound from cut glass.
Other students walked to safety Monday, holding hands as they left their school surrounded by police cars, to a nearby church to be reunited with their parents.
"I was literally moved to tears to see this and the kids as they were being ushered out of the building," Metropolitan Nashville Police Chief John Drake said at an afternoon news conference.
Drake did not give a specific motive when asked by reporters but gave chilling examples of the shooter's prior planning for the targeted attack.
"We have a manifesto, we have some writings that we're going over that pertain to this date, the actual incident," he said. "We have a map drawn out of how this was all going to take place."
The Covenant School was founded as a ministry of Covenant Presbyterian Church in 2001, according to the school's website. The school is located in the affluent Green Hills neighborhood just south of downtown Nashville, situated close to the city's top universities and home to the famed Bluebird Café – a beloved spot for musicians and songwriters, the Associated Press noted. 
The grade school has 33 teachers, the website said. The school's website features the motto "Shepherding Hearts, Empowering Minds, Celebrating Childhood."
The Associated Press contributed to this report.  This story was reported from Washington, D.C.