Most popular ice cream flavors by state, according to Instacart data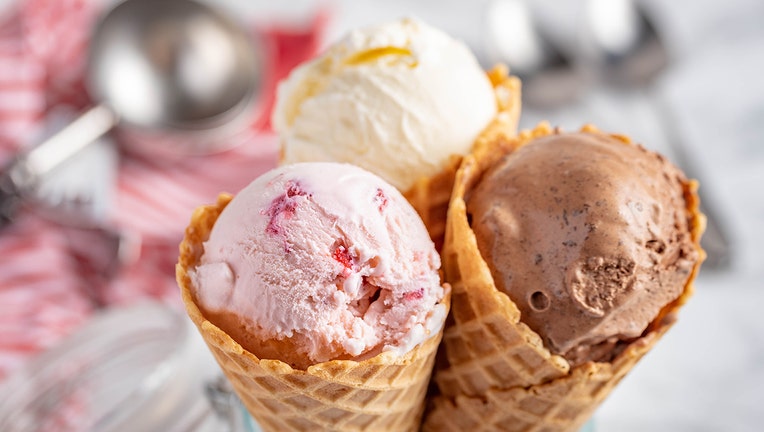 article
As National Ice Cream Month comes to a close, Instacart has revealed the most popular flavors by state. 
The digital grocery delivery service looked at its purchase data from June 2022 through May 2023 to find out which beloved ice cream flavor each state bought the most, compared to the national average. 
Instacart revealed that vanilla is the most popular ice cream flavor in America, making up for 30% of all ice cream purchases through Instacart. The company also found that 21 states purchase vanilla ice cream more than the rest of the country, from Alaska to Arizona up to Minnesota and back down to Georgia.
"It's no surprise most states in the country are partial to vanilla ice cream because it's arguably the most versatile of them all," Laurentia Roaniuk, Instacart's trends expert said in a press release earlier this month. "As such, it holds the title of America's favorite ice cream overall, and we don't foresee it losing its lead anytime soon!"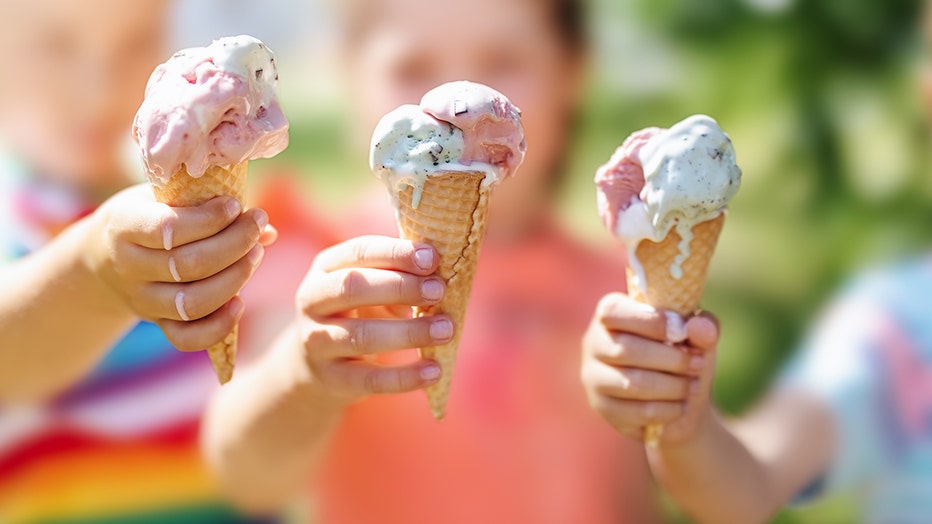 Group of children in the park eating cold ice cream. Concept of friendship and family relationship. (Credit: iStock/Getty Images)
Meanwhile, chocolate ice cream is preferred by 15 states on the East Coast, from Maine down to Florida.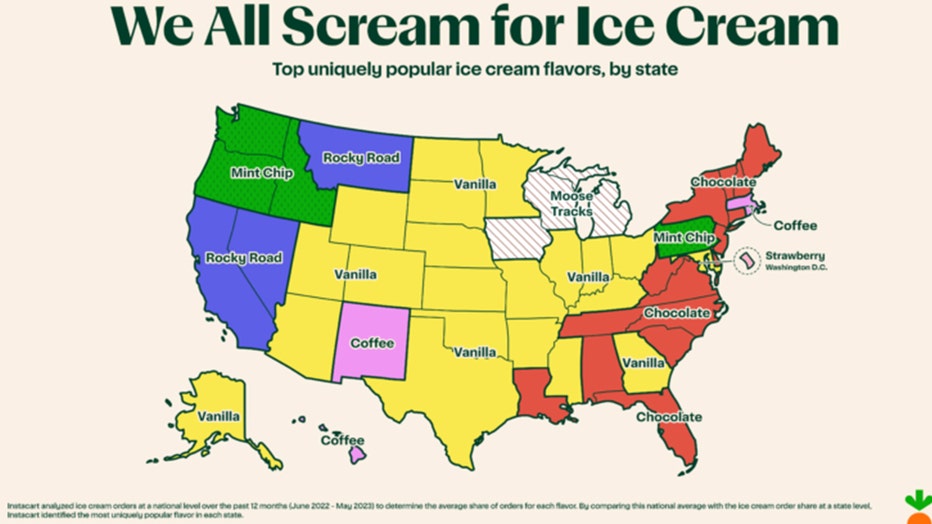 Map of most popular ice cream flavors by state (Credit: Instacart)
Four states enjoy the fresh mint and chocolate chip combo, including the entire Pacific Northwest and Pennsylvania, while another four states prefer to get buzzed on coffee ice cream, including Hawaii and Rhode Island.
Rocky Road and Moose Tracks are among the most unique popular flavors with three states each preferring them. 
Yet, Washington D.C. stood alone as a fan of strawberry ice cream purchases, buying more than the national average. 
Instacart is a leading grocery technology company in North America, partnering with more than 1,200 national, regional and local retail banners. The company said it delivers 22% more ice cream per customer in July compared to the yearly average. 
Here's a closer look at each state's favorite flavors:
Alabama: Chocolate
Alaska: Vanilla
Arizona: Vanilla
Arkansas: Vanilla
California: Rocky Road
Colorado: Vanilla
Connecticut: Chocolate
Delaware: Chocolate
Florida: Chocolate
Georgia: Vanilla
Hawaii: Coffee
Idaho: Mint Chip
Illinois: Vanilla
Indiana: Vanilla
Iowa: Moose Tracks
Kansas: Vanilla
Kentucky: Vanilla
Louisiana: Chocolate
Maine: Chocolate
Maryland: Vanilla
Massachusetts: Coffee
Michigan: Moose Tracks
Minnesota: Vanilla
Mississippi: Vanilla
Missouri: Vanilla
Montana: Rocky Road
Nebraska: Vanilla
Nevada: Rocky Road
New Hampshire: Chocolate
New Jersey: Chocolate
New Mexico: Coffee
New York: Chocolate
North Carolina: Chocolate
North Dakota: Vanilla
Ohio: Vanilla
Oklahoma: Vanilla
Oregon: Mint Chip
Pennsylvania: Mint Chip
Rhode Island: Coffee
South Carolina: Chocolate
South Dakota: Vanilla
Tennessee: Chocolate
Texas: Vanilla
Utah: Vanilla
Vermont: Chocolate
Virginia: Chocolate
Washington: Mint Chip
Washington, D.C.: Strawberry
West Virginia: Chocolate
Wisconsin: Moose Tracks
Wyoming: Vanilla
This story was reported from Los Angeles. FOX News Digital contributed.