McCarthy says House impeachment inquiry of President Biden a 'natural step forward'
Speaker Kevin McCarthy suggested Sunday that an impeachment inquiry of President Joe Biden was becoming more likely, calling it "a natural step forward" as Congress soon ends its summer break and House Republicans seek to expand their investigative powers.
McCarthy, R-Calif., has so far avoided committing to an impeachment vote or offering a timeline for possible action. Some House Republicans are eager to go after Biden over claims of financial misconduct involving his son Hunter, but the Democratic president has not been shown to have done anything wrong.
Meanwhile, McCarthy said passing a short-term spending bill to keep the government running past the end of September would ensure that investigations of Hunter Biden could continue, a pitch directed at conservatives worried a bipartisan deal with Senate Democrats would not cut enough spending. The stopgap measure would buy time to work out a longer-term budget deal before mandatory spending cuts that neither party prefers are imposed in the new year.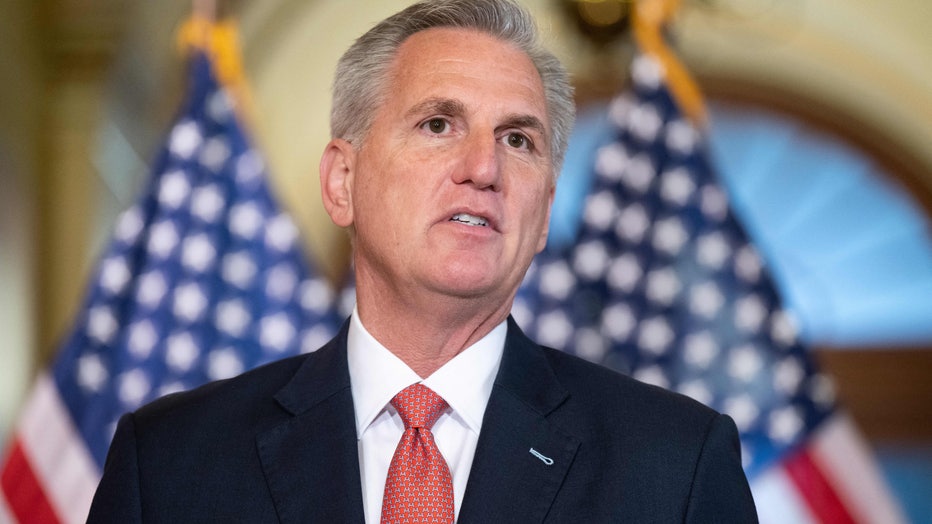 US House Speaker Kevin McCarthy, Republican of California, speaks to the press, as he meets with Italian Prime Minister Giorgia Meloni, at the US Capitol in Washington, DC, on July 27, 2023. listens to (Photo by SAUL LOEB/AFP via Getty Images)
"If you look at all the information we have been able to gather so far, it is a natural step forward that you would have to go to an impeachment inquiry," McCarthy told Fox News Channel's "Sunday Morning Futures."
An impeachment inquiry, he said, "provides Congress the apex of legal power to get all the information they need."
READ MORE: Video exposes tense moments prior to deadly FBI raid on man accused of threatening Biden
McCarthy is walking a tightrope as he faces pressure from members of his party looking to demonstrate support for Donald Trump in the 2024 presidential campaign. But the speaker also risks imperiling the GOP's fragile House majority.
Even if Biden were to be impeached in the House, he is unlikely to be removed from office by the Senate, which is controlled by Democrats.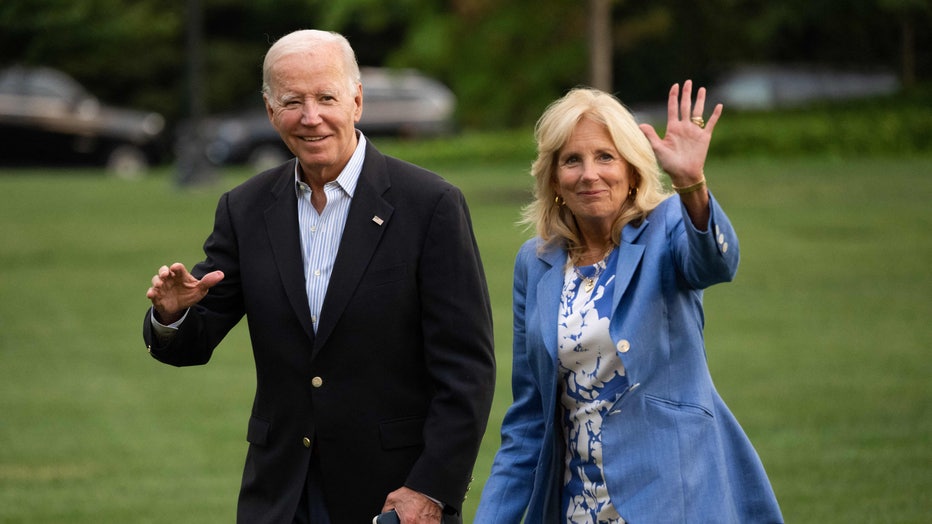 US President Joe Biden and First Lady Jill Biden walk to the White House upon arrival on the South Lawn in Washington, DC, August 26, 2023, following a week long vacation in Lake Tahoe, Nevada. (Photo by SAUL LOEB/AFP via Getty Images)
With the House set to return to work in mid-September, the Oct. 1 start of the next budget year is fast approaching and a spending deal would be needed to avoid a partial federal closure.
"If we shut down, all the government shuts it down, investigation and everything else. It hurts the American public," McCarthy said.
Conservatives, including many from the House Freedom Caucus, are usually loath to get behind short-term funding measures as they push for steeper spending cuts, using the threat of a shutdown as leverage. In June, a small group of conservatives brought the House to a standstill to protest McCarthy's leadership.
All sides had agreed to budget levels during the recent debt ceiling negotiations when Biden and McCarthy struck a deal that established topline spending levels. But McCarthy's GOP majority rejects those amounts.
A stopgap spending bill would improve McCarthy's negotiating position with the White House and Senate Democrats, the speaker said.
"We're in this discussion together," he said. "And so we have got to have a stronger hand."