Woman, 22, killed in hit-and-run by suspected drunk driver she refused to ride with earlier, authorities say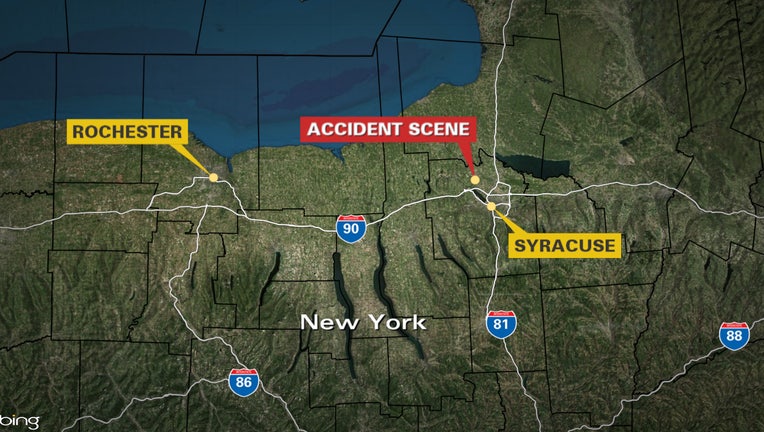 article
SYRACUSE, N.Y. - A 22-year-old woman in upstate New York was killed in a hit-and-run by an alleged drunk driver, who she had previously refused to ride with, according to authorities. 
Madison Faltisco, 22, was walking along Route 57 in the town of Clay, a suburb of Syracuse, on the evening of June 8 when she was struck and killed by a vehicle, allegedly driven by a 23-year-old Joshua Schiano, according to Onondaga County Sheriff's spokesperson Thomas Newton.
Schiano has been charged with second-degree manslaughter, second-degree vehicular manslaughter, and leaving the scene of a fatal accident, court records show. 
The grim details of the case unfolded hours after Faltisco was struck. 
Faltisco and Schiano were co-workers at Smokey Bone's in Clay, according to Newton. The two were at a local bar and Faltisco's friends told detectives that she had earlier refused a ride from Schiano, according to officials.
Around 10:40 p.m. local time, Schiano was driving the vehicle that hit Faltisco near the Seneca Savings branch at 7799 Oswego Road (Route 57), Sheriff Toby Shelley told Syracuse.com.
Soon after, Schiano got into another crash less than a mile down the road in front of a Salvation Army thrift store, Newton confirmed to FOX Television Stations.
The second crash outside the store caused Schiano's car to burst into flames, authorities told Syracuse.com. Schiano was taken to a hospital but put in police custody under suspicion of driving while intoxicated, the news outlet reported. 
Schiano didn't tell investigators that he had hit someone before the second crash, Syracuse.com reported, citing local authorities. 
It wasn't until 5 a.m. the next day that Faltisco's body was discovered by a passerby, Newton said. She was pronounced dead at the scene.
During Schiano's arraignment on Friday, a judge set bail at $500,000 bond or $250,000 cash, jail records show. He was being held at the Onondaga County Justice Center.
Authorities were still waiting on toxicology reports to determine Schiano's blood alcohol level that night, according to Syracuse.com. The local news outlet added that the crash, and whether the fatal hit-and-run was an accident, was still being investigated. 
On Tuesday, Onondaga County District Attorney Bill Fitzpatrick told CNY Central that Schiano "has extensively said he has no recollection of the evening's events." 
Fitzpatrick added that Schiano "can say whatever he wants or not say whatever he wants, that's not going to affect our ability to prosecute the case."
Meanwhile, family members of Faltisco created a GoFundMe to raise money for funeral expenses. 
"She was only 22. Her bright light was extinguished in seconds," the GoFundMe page states of Faltisco. "Her family is living a nightmare, preparing to bury their beautiful daughter and sister."
Faltisco was a 2018 graduate of the Institute of Technology at Syracuse Central, according to Syracuse.com.
This story was reported from Cincinnati.