Portions of Louisiana interstate remain closed after deadly pileup caused by super fog outside New Orleans
ST. JOHN THE BAPTIST PARISH, La. - At least seven people were killed and dozens more injured in a massive pileup on Interstate 55 outside New Orleans on Monday, caused by a thick layer of super fog that dramatically reduced visibility. The FOX Forecast Center warned these dangerous conditions could continue Tuesday and Wednesday.
Super fog gets its name from a combination of moisture and smoke from wildfires that can reduce visibility to near zero.
WHAT IS SUPER FOG AND WHAT CAUSES IT?
Because of fires burning in the region, the FOX Forecast Center expects low visibility to remain an issue during the next few mornings, which could lead to more dangerous morning commutes.
The FOX Forecast Center says this is especially true during the Tuesday and Wednesday morning commutes as tropical moisture streams into the area and combines with wildfire smoke, creating super fog.
RAIN PROVIDES HOPE FOR LOUISIANA FIREFIGHTERS BATTLING HUNDREDS OF WILDFIRES AMID EXTREME DROUGHT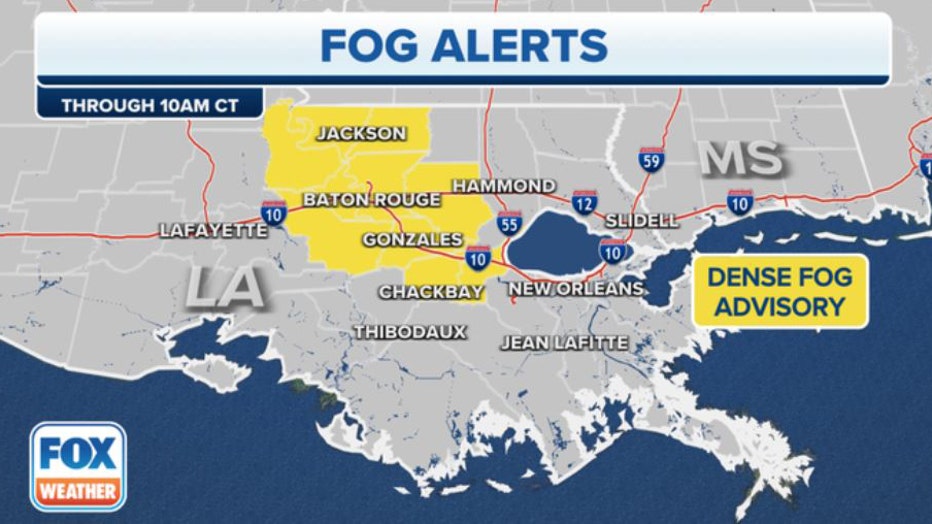 Dense Fog Advisories in effect in Louisiana. (FOX Weather)
A Dense Fog Advisory has been issued across the region from Jackson, Louisiana, to the west of the New Orleans area. Several schools have announced they would be opening later in the day to allow some of the fog to dissipate.
The National Weather Service in New Orleans said the fog should begin to mix out of the region by around 10 a.m. CDT as the Sun climbs higher above the horizon.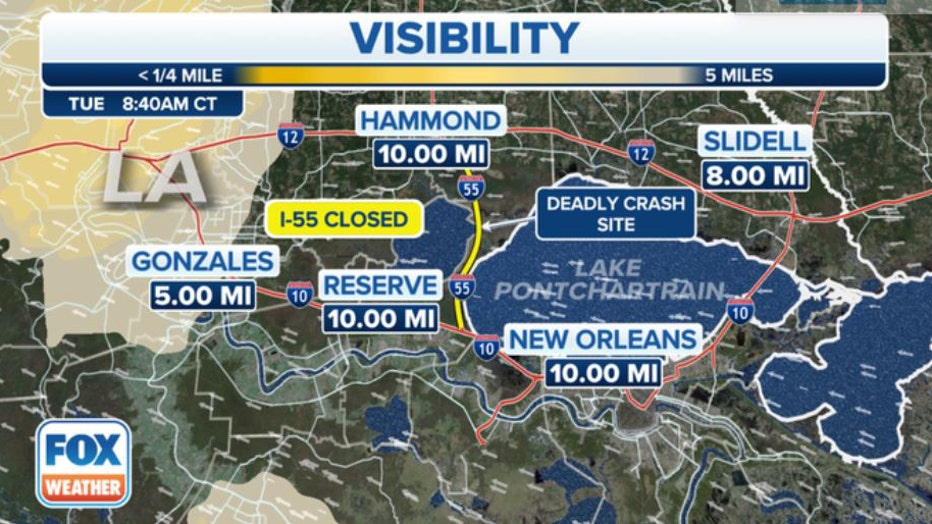 Current visibilities in the New Orleans area. (FOX Weather)
On Tuesday morning, visibility dropped to about a quarter-mile in the Gonzales area, which covers a stretch of Interstate 10 that leads to and from New Orleans. Conditions have slowly been improving as the day continues.
Drivers on that highway should reduce speeds and pay attention to conditions as it may be difficult to see long distances on the road or spot a crash or other issues.
Sections of Interstate 12 have also reported reduced visibility.
SURVIVORS RUSH TO AID VICTIMS IN 'CRUMBLES' CARS AFTER SUPER FOG CAUSES DEADLY PILEUP IN LOUISIANA
"You just heard 'boom, boom, boom"
Louisiana State Police said nearly 160 vehicles were involved in the pileup on Monday morning, and injuries varied from critical to minor.
An eyewitness told FOX Weather that he was bringing his daughter to the airport when he stopped suddenly to avoid the massive pileup.
He said that he couldn't see the cars ahead of him, and he noticed the stopped cars on GPS, then hit the brakes.
FOG, SMOKE LIKELY TO BLAME FOR 'MASS CASUALTY' CRASHES INVOLVING AT LEAST 17 VEHICLES ON I-95 IN FLORIDA
"I happened to be in a little pocket of about probably 15 cars with no damage," said Lance Scott. "And probably two or three seconds after we came to a stop, you just heard boom, boom, boom, boom, collision after collision behind us."
His daughter, an ICU nurse, jumped out of his car to help the injured for about two hours. Other victims checked on trapped drivers as well.
State police said portions of I-55 remain closed and warned that the removal of crumbled, charred vehicles will take some time.
In addition, state police said that while they work to remove vehicles from the scene, they may find additional victims.