Louisiana oil refinery fire sends tower of black smoke into air, no injuries reported
GARYVILLE, La. - Residents within two miles of a south Louisiana refinery were ordered to evacuate Friday after a fire broke out, sending a tower of thick black smoke into the sky.
No injuries were reported and emergency responders said the fire was contained to the sprawling Marathon Petroleum facility in Garyville, about 30 miles (48 kilometers) northwest of New Orleans. Air quality monitoring was also taking place, officials said.
Photos from above showed orange flames leaping into the air beneath the dark cloud of smoke as emergency crews sprayed long arcs of water onto the inferno. The fire was burning in an section of the refinery surrounded by wide cylindrical storage tanks, and at least one tank appeared to be destroyed.
St. John the Baptist Parish President Jaclyn Hotard said she had ordered the mandatory evacuation of those living near the refinery as a precaution "even though we have been assured that all impacts are contained to the facility."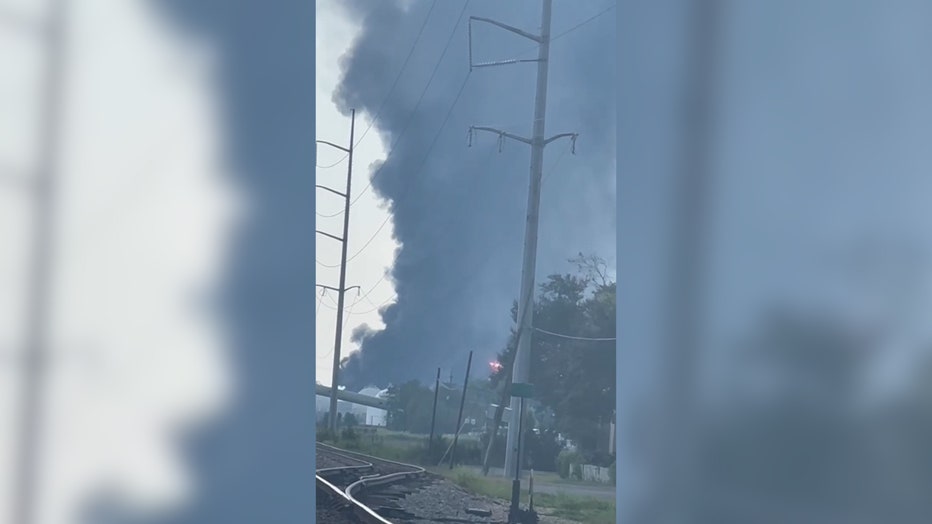 FILE - Still image from video of a fire at the Marathon Petroleum facility in Garyville, Louisiana.  (TeAndra Clayton via Storyful)
"We just want to make sure that our residents are safe," Hotard said during a news conference. "It's alarming to see what's going on. I understand residents' concerns. It's a little scary. We recommend you take the evacuation seriously in case there are impacts."
According to the company, a storage tank at the facility released naphtha — a partially refined product used as feed stock to make gasoline — and a fire ignited shortly before 7 a.m. Friday.
"We're doing everything possible to get the fire out," company spokesperson Justin Lawrence told reporters. He could not provide a timeline as to when the fire might be extinguished.
An investigation will be conducted to determine what caused the leak and subsequent fire, officials said in a news release.
___
This story has been updated to correct that the refinery is northwest of New Orleans, not southeast. Storyful contributed to this report.