Lawmakers claim UFO 'cover-ups' from Pentagon, military as witnesses head to Congress
Lawmakers said they had "an argument" with a commanding officer at Eglin Air Force Base in Florida as they pushed for answers about UFOs.
Reps. Tim Burchett, R-Tenn., and Anna Paulina Luna, R-Fla, said their efforts to disclose records about UFOs, or what the government calls unidentified anomalous phenomenon (UAP), have been met with resistance from the Pentagon and intelligence community.
Lawmakers will hear from former military service members David Grusch, Ryan Graves and David Fravor during the House's national security subcommittee meeting next Wednesday, Burchett said at Thursday's press conference.
"The Pentagon and Washington bureaucrats have kept this information hidden for decades, and we're finally going to shed some light on it," Burchett said. "We're bringing in credible witnesses who can provide public testimony because the American people deserve the truth. We're done with the cover-ups."
EXCLUSIVE: UFO WITNESS AND FORMER NAVY PILOT PRAISES UFO BILL FOR TRANSPARENCY, LAUNCHES WHISTLEBLOWER PROGRAM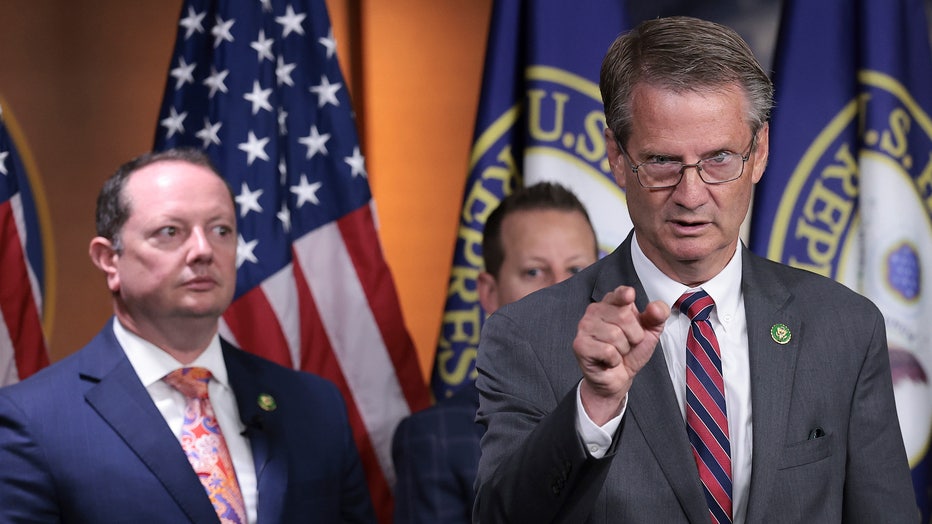 Rep. Tim Burchett (R) (R-TN) speaks during a press conference held by members of the House Oversight and Accountability Committee at the U.S. Capitol on July 20, 2023 in Washington, DC. Members of the committee held the news conference to discuss an
Burchett and Luna described tense moments as they tried to get information from the military about UFOs, and they said the Pentagon and Air Force tried to impede their push for records.
"The status quo on the part of the U.S. government has been to leave the American people in the dark regarding information of UAPs," Luna said.
"They refused to answer questions posed by whistleblowers, avoiding the concerns of Americans and acknowledging that the possible threat UAPs poses to our national security as well as public safety is extremely unnecessary."
UFO LEGISLATION TO USHER IN NEW AGE OF TRANSPARENCY: 'LONG PAST TIME'
Fox News reached out to the Air Force for comment but hasn't heard back.
Susan Gough, a spokesperson for the Department of Defense who handles UFO-related inquiries, handled the Pentagon's response. 
"DoD takes its congressional reporting requirements seriously and is committed to timely and thorough reporting to Congress," Gough said in an email. "AARO (All-domain Anomaly Resolution Office) regularly reports on its progress to the Congress, to include both its contemporary findings and its historical research on past USG UAP efforts. 
"AARO has kept Congress apprised of its efforts to support interagency cooperation on UAP while continuing to provide regular congressionally-mandated reports and briefings to the Hill, including classified briefings."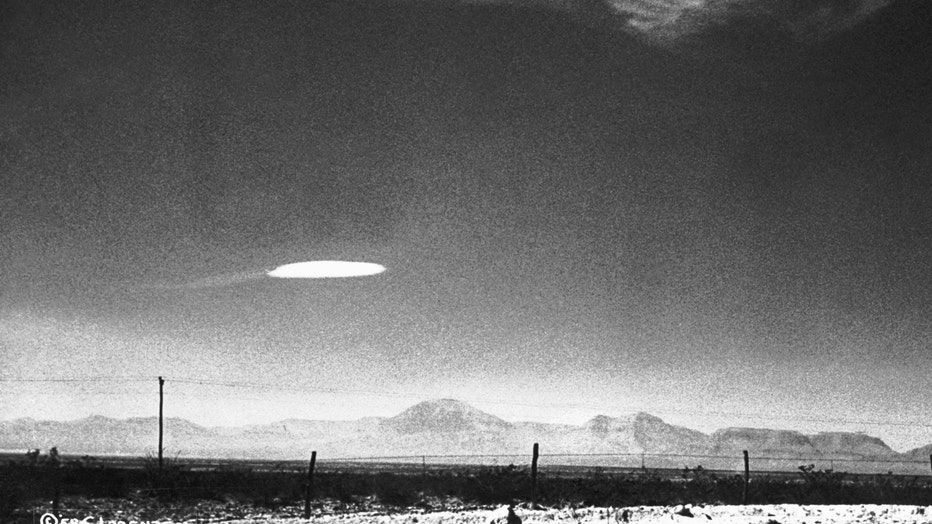 A UFO variety was photographed when it hovered for fifteen minutes near Holloman Air Development Center in New Mexico. The object was photographed by a government employee and was released by the Aerial Phenomena Research Organization after careful s
During the recent trip to Eglin Air Force Base, Luna said she, Burchett and Rep. Matt Gaetz, R-Fla., were blocked by the Pentagon and Air Force from seeing information and pictures, from reading testimony from pilots who saw potential UFOs and from talking to witnesses.
They visited Eglin Air Force Base because they were told they were going to be briefed on UFO-related issues, Burchett said. 
CONGRESSMAN HAS GRIM TAKE AFTER ACCESS TO UFO FOOTAGE: 'WE CAN'T HANDLE IT'
Luna added that they were following up on whistleblowers' claims.
"The synopsis had nothing to do UFOs, and we stopped the thing in the middle of it and said, 'Hey, this is not what you all told us we were coming down here for.' And they basically told us, 'We're not going to get into UAPs,'" Burchett said.
Luna said this sparked the confrontation with the commanding general at the base.
"Even before we got down there, the Pentagon tried to stop the field hearing," she said.
FOX EXCLUSIVE INTERVIEW: STRANGE OBJECTS ON OCEAN FLOOR MAY BE UFO CRASH DEBRIS
"After much arm twisting, we got some of the information, but the fact is … that they answer to Congress acting on behalf of the American people, and any government entity that attempts to stonewall us is doing nothing in the best interest of the American people," Luna said.
"If the Air Force, the Pentagon thinks they're above Congress, then they have another thing coming to them. We told them we were going to do this if they continue to hide information."
WITNESS LIST FOR JULY 26 HOUSE SUBCOMMITTEE HEARING
The House's subcommittee on National Security, the Border, and Foreign Affairs will hold a hearing Wednesday titled "Unidentified Anomalous Phenomena: Implications on National Security, Public Safety, and Government Transparency."
The purpose of the hearing is to listen to firsthand accounts from Grusch, Graves and Fravor about UFOs and assess the federal government's transparency and accountability with regard to possible threats to national security.
MILITARY WHISTLEBLOWER GOES PUBLIC WITH CLAIMS US HAS SECRET UFO RETRIEVAL PROGRAM: 'TERRESTRIAL ARMS RACE'
Grusch, a decorated Air Force veteran, came forward with assertions about a secret, government-run crashed UFO retrieval program to reverse engineer the technology. He's a former combat officer in Afghanistan who served the National Reconnaissance Office as their representative to Congress' Unidentified Aerial Phenomena Task Force from 2019 to 2021.
Graves, a former Navy fighter pilot who became the first to testify about UAPs while on active duty, encountered several unexplained phenomena during his decorated career.
"While I was in the Navy, myself and others in my squadron had an experience that continues to this day and at first was something that we didn't have a name for," Graves said in previous interviews.
FOOTAGE OF UFOS OVER CONFLICT ZONES SEEN FOR FIRST TIME: 'THIS IS DEVASTATING'
Fravor is a former squadron leader who served 18 years as a Navy pilot and who spotted what's become known as the "Tic Tac UFO" during a 2004 training mission about 60 to 100 miles off the coast between San Diego and Ensenada, Mexico.
The initial sighting was described as a "white Tic Tac, about the same size as a [F/A-18] Hornet [fighter plane], 40 feet long with no wing …. Just hanging close to the water" that seemed to mirror the pilot's movements before it suddenly disappeared.
Grusch's claims haven't been definitively confirmed nor denied, and the pilots haven't received any information about what they saw.
"The American public has a right to learn about technologies of unknown origins, non-human intelligence and unexplainable phenomena," Graves told Fox News Digital during an exclusive interview on Wednesday.
"We are not only working to declassify what the government has previously learned about these phenomena but to create a pipeline for future research to be made public."
The All-domain Anomaly Resolution Office (AARO), which is a specialized department in the Pentagon that investigates UAPs, is currently investigating about 800 cases, according to Director Dr. Sean Kirkpatrick. About 2% to 5% of the 800 cases that AARO is investigating are "truly anomalous," Kirkpatrick said.
NASA is also investigating UAPs, running on a separate but parallel track as AARO.
Both NASA and AARO are expected to release separate reports this summer.