Lashawn Thompson: Family releases independent autopsy of Fulton County Jail inmate 'consumed by bedbugs'
FULTON COUNTY, Ga. - The family of an inmate who died in a bedbug-infested cell at the Fulton County Jail has released the results of their independent autopsy and renewed their calls for justice over his death. 
Lashawn Thompson, 35, died in September 2022, three months after being booked into the Fulton County Jail in Atlanta. His body was discovered in a cell on the psychiatric floor covered in bed bugs and insects after he was unable to pay his $2,500 bail for a misdemeanor charge.
Photos of the cell and Thompson's face and body covered in insects sparked outrage when they spread on social media in April after his family's local attorney, Michael Harper, released them to the media. The medical examiner's report lists Thompson's cause of death as "undetermined" but notes a "severe bed bug infestation." 
The independent autopsy, which former NFL quarterback Colin Kapernick helped pay for, confirmed much of the information in the medical examiner's report, but determined that the cause of Thompson's death was cardiac arrhythmia due to criminal neglect, Harper said.
Calling Thompson's death "one of the most deplorable in-custody deaths in the history of America," Attorney Ben Crump said the family's commissioned autopsy determined that the Georgia man did not receive the treatment that he needed for his mental illness.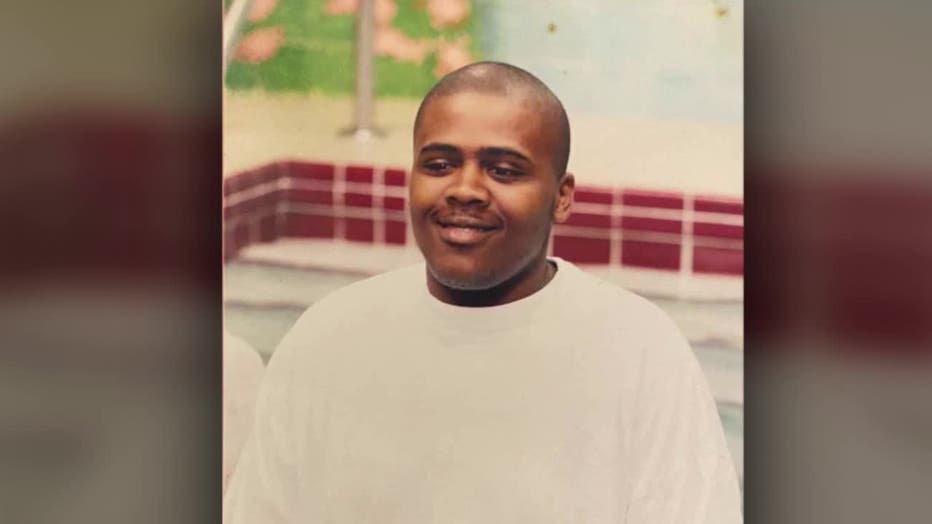 (Lashawn Thompson (Courtesy of the Family))
 "Major contributing causes - untreated schizophrenia, dehydration, malnutrition, and extensive and severe body insect infestation," Crump described.
Crump described the jail cell that Thompson was living in was like a "torture chamber" and said he lost nearly 30 pounds while he was staying in the cell.
"They said it was innumerable how many bedbug bites were on his body," he said, pointing to the autopsy report. 
Jail records reportedly reveal that detention officers and medical staff at the jail noticed Thompson's deteriorating health but did nothing to help him, leading to his untimely death.
RELATED: Sheriff shows deplorable conditions on tour of Fulton County Jail
Photos provided by the family of Lashawn Thompson's cell before he died. (family of Lashawn Thompson) (FOX 5)
"For 93 days, there was severe neglect for a mentally ill citizen," Crump said. "And for about 40 of them he didn't get any medical treatment at all."
Crump described the jail as "a cancer at the heart of Fulton County" and demanded that the county take steps to make a radical change.
Speaking at the press conference, NAACP President Attorney Gerald Griggs said that Thompson's family must be "made whole" and that someone must be charged with his death. 
"It's time for Georgia to live up to its civil rights banner, starting with Lashawn Thompson," Griggs said.
Thompson's brother Brad McCray said the discovery of what his older brother went through was devastating for his family. 
"It's not enough that the bedbugs and lice ate my brother to death," McCray said. "It's the neglect that affects me the most."
McCray said one of his brothers had a mental breakdown after seeing the conditions in which Thompson was living at the jail.
Following Thompson's death, Fulton County Sheriff Pat Labat accepted the resignations of three leaders at the jail. In a statement, the sheriff's office acknowledged the "dilapidated and rapidly eroding conditions" of the facility. The sheriff's office has also launched an internal investigation into Thompson's death and is reportedly addressing the sanitation and infestation problems at the facility. 
"We understand, and I have said this publicly, this is absolutely unconscionable, point-blank," Labat said at a press conference with the family.
RELATED: How should the issues at the Fulton County Jail be fixed?
Family members say they want the county to launch an investigation. Two investigations - one by the Fulton County Sheriff's Office and another by the Atlanta Police Department - are ongoing. Once completed, they'll be turned over to the Georgia Bureau of Investigation.
Responding to Thompson's death, the county board has given the sheriff's office an additional $5.3 million to provide upgrades at the jail, including increased monitoring in the psychiatric and medical units and more frequent high-level sanitation of those units.
The family is planning to file a civil lawsuit over the death.
The Fulton County Jail has been plagued with numerous issues over the years.
A deputy was recently fired for allegedly opening doors for an inmate; officers are under suspicion for allowing inmates to order from restaurants; an inmate reportedly bit off part of a deputy's ear; and a female officer was caught on camera being intimate with an inmate.
In February, a detention officer was arrested after being accused of not protecting an inmate from physical harm and aiding and abetting during the commission of a crime.
The Associated Press contributed to this report.