Kindred Bravely Bamboo Nursing Hoodies recalled due to potential 'choking hazard' to children
OCEANSIDE, Calif. - Akerson Enterprises, the parent company of Kindred Bravely, has recalled about 7,500 of its bamboo nursing hoodies due to a manufacturing defect that can pose a choking hazard to young children. 
According to the Consumer Product Safety Commission, the popular motherhood retail company has recalled its inventory of Kindred Bravely Bamboo Nursing Hoodies due to faulty manufacturing. The plastic caps at the ends of the drawcord – the string that you pull to tighten the hood – can become unattached, which could then be swallowed by a nursing baby.
While the company said no complaints, injuries or issues have arisen from this defect, they issued a corrective action "out of an abundance of caution." 
"Consumers should immediately stop using the recalled nursing hoodies, cut the fully extended drawstring cords and discard the cords," the recall stated, adding that customers should immediately stop using hoodie even if the caps appear secure.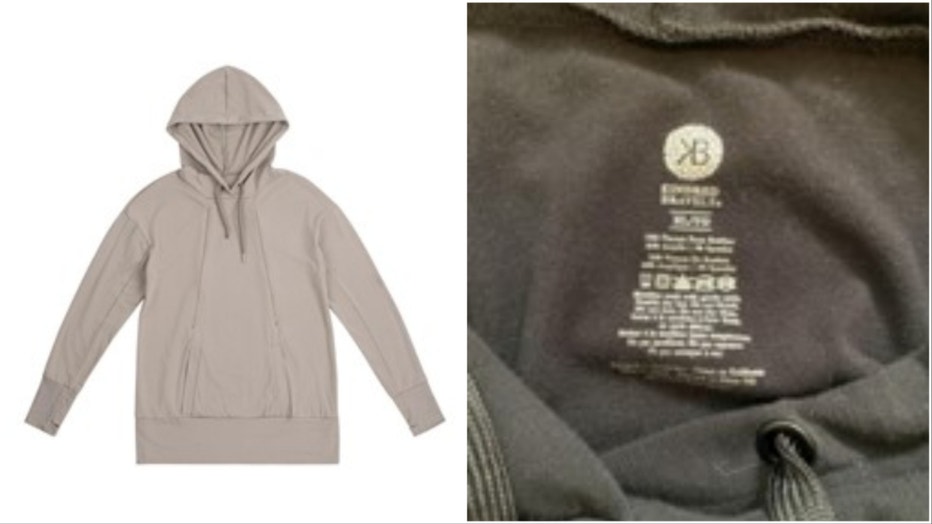 The drawcord on the hoodies has small plastic caps that can be swallowed by a nursing baby, posing a choking hazard.
All Kindred Bravely Bamboo Nursing Hoodies purchased through December 2022 are impacted. If there are caps on the end of the hoodie's drawcord, the hoodie is affected, the company explains on its website. 
Consumers can request a $75 store credit by filling out an online form and providing a photo of the cut drawstrings cords and company branding. A receipt is not required.
Kindred Bravely was founded in 2015 in Oceanside, California. The company said its mission is to create maternity and nursing clothes that are beautiful, useful and comfortable, while building a community of moms who support and encourage each other on the motherhood journey.
RELATED: Eye drops recalled over non-sterility: FDA
This story was reported from Los Angeles.