Kinder Chocolate, a cream-filled hit in Europe, is coming to the US
European brand Kinder chocolate is expanding its footprint in the US with its flagship product.
In August, Kinder Chocolate bars will arrive in retail stores across the country, parent company Ferrero North America announced this week.
The candy bars, the most popular Kinder product in Europe, are different from the Kinder Bueno bars that have been sold stateside since 2019. Kinder Chocolate bars are known for their creamy milky filling, while Bueno bars have a creamy hazelnut filling.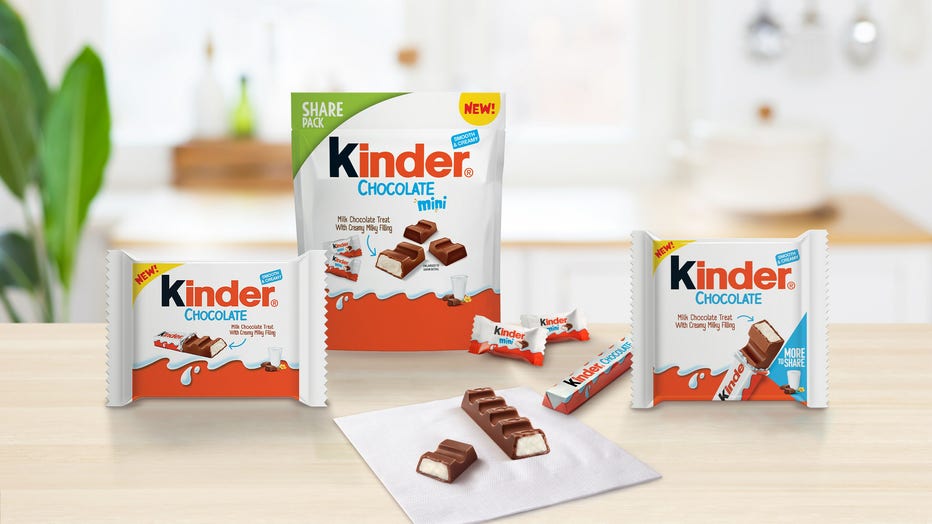 Kinder Chocolate (Ferrero North America)
Ferrero first introduced Kinder to the U.S. in 2017 with Kinder Joy treat-and-toys for kids. Kinder Bueno has risen to a $209 million brand since its American debut, according to the company.
READ MORE: Dairy Queen discontinues fan-favorite menu option, says it could return in the future
"Kinder, Tic Tac, and our other iconic brands continue to excite current fans and attract new ones with smart, quality innovations," Catherine Bertrac, senior vice president of marketing for Kinder and Mainstream Chocolate at Ferrero USA, said in a statement. "We are thrilled to bring new treats like Kinder Chocolate to America and continue building on our tremendous momentum."
The company has continued to invest in the US since expanding in 2017. Ferrero's manufacturing center in Bloomington, Illinois, is adding a new chocolate processing facility, and a Kinder Bueno production line set to open later this year.