Justice Dept. moves closer to potential indictment of Trump in classified documents probe
WASHINGTON - A federal grand jury investigating Donald Trump in Florida heard from at least one additional witness Wednesday amid signs that the Justice Department was moving toward a possible indictment over the former president's mishandling of classified documents.
In the last week, his lawyers have met with Justice Department officials to argue against an indictment; Trump has issued social media posts in which he suggested he anticipated that he might be charged; and a former top aide appeared before a grand jury in Miami — an indication, legal experts said, that prosecutors had settled on Florida rather than Washington as an appropriate venue for charges.
In addition, several media reports Wednesday evening said prosecutors had recently issued the Trump legal team a target letter, which is often but not always a precursor to criminal charges. The Justice Department defines a target as someone whom prosecutors have substantial evidence linking to a crime.
RELATED: Classified items discovered in Trump storage unit in Florida
"I think the signal is increasingly that the charges against the former president will be in Florida," said Brandon Van Grack, a former Justice Department prosecutor and a key lawyer on an earlier special counsel team that investigated ties between Russia and the 2016 Trump campaign.
Lawyers for Trump did not return calls seeking comment. The Associated Press has not independently confirmed the existence of a target letter. A Trump spokesman would not confirm or deny receiving a letter and a Justice Department spokeswoman declined to comment.
RELATED: Biden classified documents: How the case is (and isn't) similar to Trump's
Earlier in the day, Taylor Budowich, who had served as a spokesman for Trump after his presidency and now runs a pro-Trump super PAC, testified before the grand jury. He confirmed his appearance on Twitter, writing, "Today, in what can only be described as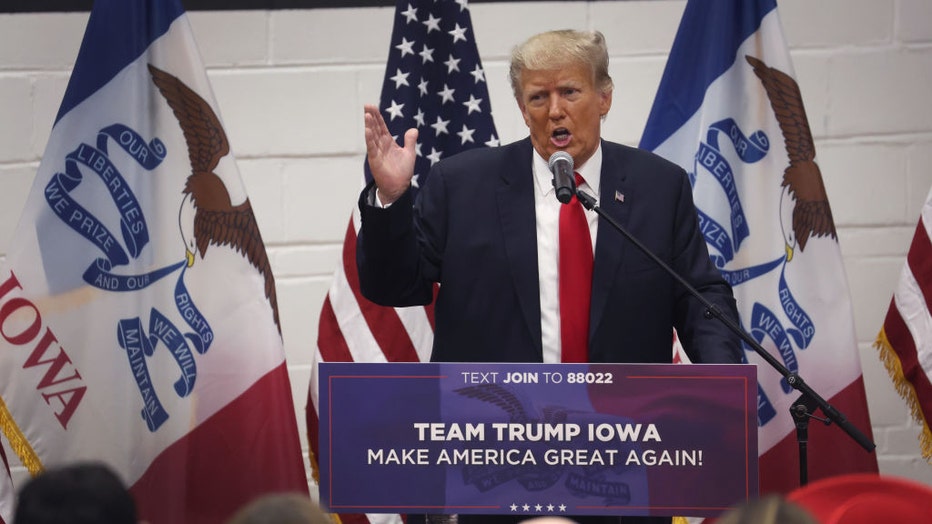 Former President Donald Trump greets supporters at a Team Trump volunteer leadership training event on June 01, 2023 in Grimes, Iowa. (Scott Olson/Getty Images)
 a bogus and deeply troubling effort to use the power of government to 'get' Trump, I fulfilled a legal obligation to testify in front a federal grand jury and I answered every question honestly."
A variety of witnesses, including lawyers for Trump, close aides to the former president and officials with the Trump Organization, have appeared over the past year before the grand jury in Washington as part of a Justice Department special counsel investigation into Trump over the retention of hundreds of classified documents at Mar-a-Lago and potential obstruction of the government's efforts to reclaim the records.
RELATED: Trump team has turned over additional items marked as classified, source says
But the existence of a separate grand jury in Florida adds a wrinkle to an investigation that has been largely shrouded in mystery and has been thought to be in its end stages. 
It suggests that prosecutors may be moving toward bringing criminal charges in Florida, where the documents were taken after Trump left the White House and where multiple acts of alleged obstruction have occurred, instead of in Washington.
Though the bulk of the investigative work has been done in Washington, prosecutors could simply read key testimony to the Florida grand jury or have a summary witness summarize all the key evidence, Van Grack said.
RELATED: Biden classified documents: How the case is (and isn't) similar to Trump's
Trump's lawyers met at the Justice Department on Monday with officials including special counsel Jack Smith, part of an effort by the legal team to raise concerns about what they say is prosecutorial misconduct and to try to argue against a potential indictment. After that meeting, Trump posted on his Truth Social platform in capital letters: "How can DOJ possibly charge me, who did nothing wrong," when no other presidents have been charged.
He also called into a radio show, where he confirmed the meeting with his lawyers and said: "Well, I can just say this: They did go in and they saw 'em and they said very unfair. No other president has ever been charged with anything like this."
On Wednesday, he issued a new social media post saying, "No one has told me I'm being indicted, and I shouldn't be because I've done NOTHING wrong, but I have assumed for years that I am a Target of the WEAPONIZED DOJ & FBI."
The investigation has focused not only on the possession of classified documents, including at the top-secret level, but also on the refusal of Trump to return the records when asked, and on possible obstruction.
The FBI last year issued a subpoena for classified records at the property, and after coming to suspect that Trump and his representatives had not returned all the documents, returned with a search warrant and recovered an additional 100 with classification markings.
Beyond the Mar-a-Lago investigation, another probe in Washington also conducted by Smith centers on efforts by Trump and his allies to undo the results of the 2020 presidential election.
Associated Press writer Jill Colvin in Des Moines, Iowa, contributed to this report.