Watch this adorable rescued sea otter show off her basketball skills: 'Clam dunk!'
PORTLAND, Ore. - Look out, Nikola Jokic: this skilled sea otter might be coming for your job.
Juno, a rescued sea otter at the Oregon Zoo, has been quietly honing in on her basketball skills for several years behind the scenes, but only recently began showing off for the public. Her trainers added basketball as a way of exercising the rescue's elbow joints, the zoo said.
Otterly adorable video shared by the zoo shows Juno proudly dunking the ball, playing catch and twirling for her trainers.
"Juno loves to play basketball," Nicole Nicassio-Hiskey, the zoo's senior marine life keeper, said in a news release. "She gets so excited whenever we bring the ball out for her training sessions. And she's good too!"
READ MORE: Voters officially name newborn baby gorilla in National Smithsonian Zoo contest
Thanks to the zoo's maintenance team, Juno has a custom-made hoop mounted to the rock wall of her habitat. Zoo-goers can see her live in action if they happen to visit during training sessions.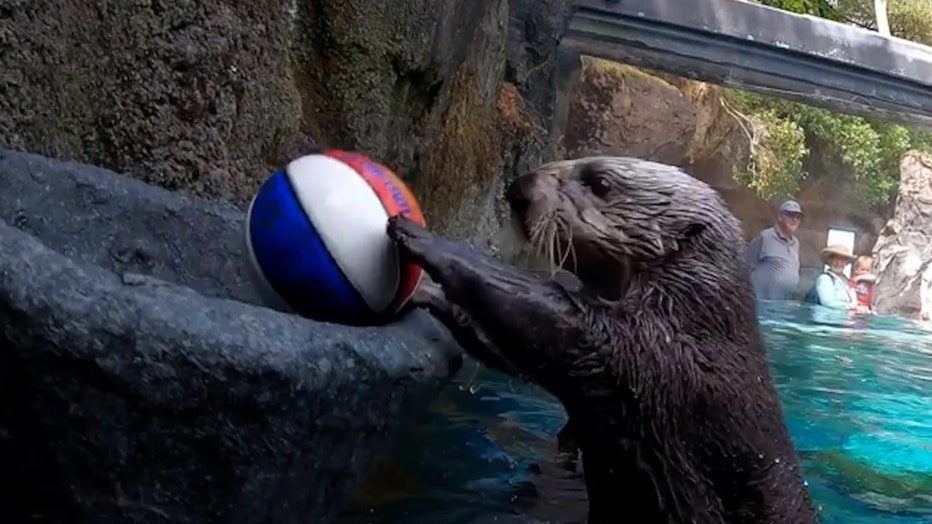 Juno the slam-dunking sea otter
The zoo said caregivers bring two small basketballs to their daily trainings.
"If she chooses to, Juno can pick one up in her front paws and dunk it into her special basket," the zoo explained. "She also 'dribbles' the ball by swimming around the hoop with it. She ends each session with some of her favorite fresh seafood."
Sea otters are known for their playful personalities, the zoo said, which could be why Juno enjoys putting on such a show. She's also not the only hoop star the zoo has ever known.
RELATED: Watch: Adorable red wolf pups learn to howl from parents
Years ago, Oregon Zoo caregivers trained Eddie the sea otter to dunk as a way of staving off arthritis. Eddie, nearly 21 years old when he died in 2018, was one of the oldest known sea otters in the world and "earned worldwide fame for his dunking skills," the zoo said.
Juno and the two other sea otters at the Oregon Zoo — Lincoln and Uni Sushi — are rescue animals found orphaned off the California coast as tiny pups.
Sea otters were hunted to near extinction along the Oregon coast in the 1990s. The zoo is working with Elakha Alliance, a tribal-initiated nonprofit, to reintroduce them to the area.