Horseshoe Beach councilwoman on Hurricane Idalia aftermath: 'Everything is gone'
As recovery efforts from Hurricane Idalia continue across parts of Florida, Georgia and the Carolinas, residents are left trying to find places to live as they rebuild their homes – if they decide it's even worth it. 
The cyclone, which made landfall Wednesday as a major Category 3 hurricane, battered beach towns and fishing communities, including the small-knit village of Horseshoe Beach, Fla.
"What I've seen is catastrophic damage," Brooke Hiers, a council member in the community, told LiveNOW from FOX. "I've seen homes that have been here for many, many years, destroyed, disintegrated. No recollection or trace of where they went. There's debris everywhere."
Idalia made landfall about 30 miles north of Horseshoe Beach with maximum sustained winds of 125 mph.
"Everything is gone in our town, stacked up in debris piles that still need to be cleaned up," Hiers continued. "Never seen destruction like this in Horseshoe Beach." 
Many residents in the area remember the "No Name Storm of 1993," also known as the "Storm of the Century" which slammed into the same region.
Resident Sid Thomas, who has owned a home in Horseshoe Beach for nearly 70 years, told FOX that his home survived the '93 hurricane. But this time, when Idalia roared ashore, he wasn't as lucky.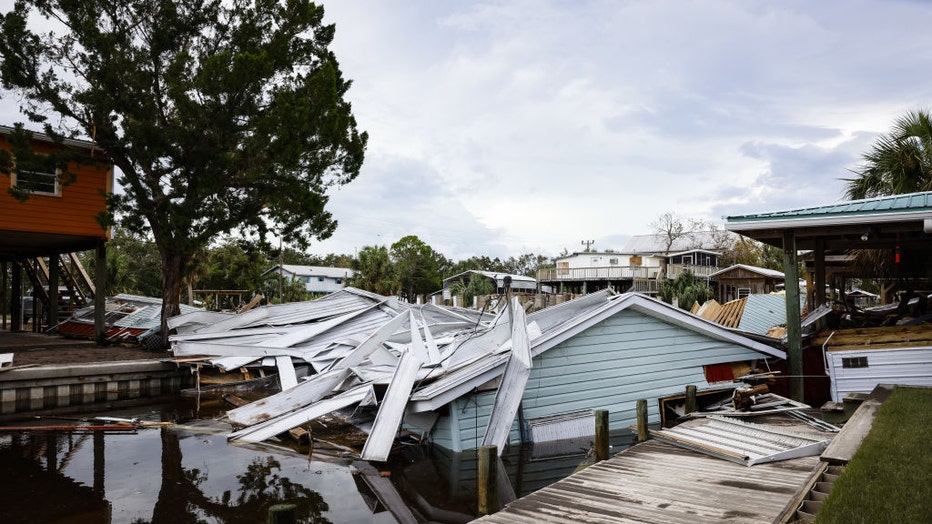 Debris in the canal after Hurricane Idalia in Horseshoe Beach, Florida, US, on Thursday, Aug. 31, 2023. (Credit: Eva Marie Uzcategui/Bloomberg via Getty Images)
"This one just had too much surge. It probably was 10 or 12 feet, and it went right into the house and took it away," Thomas revealed.
Gov. Ron DeSantis and Federal Emergency Management Agency (FEMA) Administrator Deanne Criswell planned Thursday to "see first-hand" damage from the storm.
"There has been significant damage, particularly along Florida's Big Bend," DeSantis said. "But the community is resilient, and we are going to work hard to make sure people get what they need."
RELATED: Losses from Hurricane Idalia expected to top $10 billion
Hiers said she is asking the public for resources to further assess their community's damage and get rid of debris. You can contact the Horseshoe Beach town council here or email Hiers directly at kinsey98@hotmail.com.
This story was reported from Los Angeles. FOX Weather, the News Service of Florida contributed.