Holiday shipping deadlines 2023: What you need to know to make sure your gift arrives on time
It's that time of year when family, friends and loved ones like to show how much their care with a holiday gift. Mail carriers and shipping companies don't want to get in the way of that and have released their holiday shipping deadlines as well as tips to ensure your gift arrives on time. 
US Post Office
USPS Ground Advantage: December 16
First-Class Mail (including greeting cards): December 16
Priority Mail: December 18
Priority Mail Express: December 20
RELATED: Radio stations playing only Christmas music until end of the holiday season
FedEx (To have gifts delivered on or before December 24)
FedEx Overnight: December 22
FedEx 2Day: December 20
FedEx Express Saver: December 19
FedEx Ground/Home Delivery: December 13
UPS (To have gifts delivered by December 23)
Ground shipping: check ups.com
3-Day Select: December 19
2nd Day Air: December 20
Next Day Air: December 21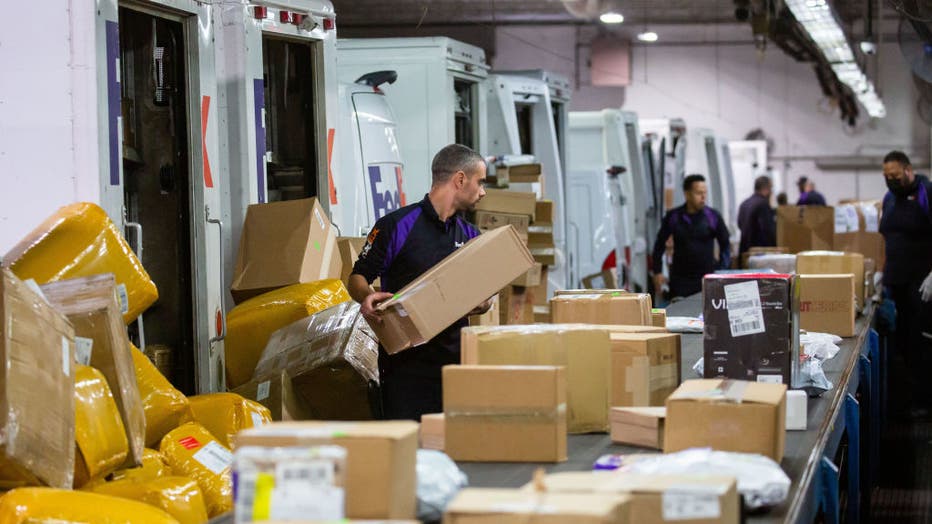 Workers sort packages at a FedEx Express facility on Cyber Monday in Garden City, New York, US, on Monday, Nov. 28, 2022. Photographer: Michael Nagle/Bloomberg via Getty Images
Other shipping tips to keep in mind
If you're planning to do some of your holiday shopping online, check retailers' specific deadlines.
According to AAA, gift givers should check with carriers to see if they can package the items themselves to ensure that it's properly packaged. 
RELATED: Rockefeller Center Christmas tree: 80-foot Norway spruce gets the nod!
AAA also says whether gift givers should require a signature from the receiver depends. 
"Requesting a signature or deciding to purchase insurance coverage will depend on the value of the products in the shipment and whether the recipient will be home to sign for the delivery," Joshua Erickson, the COO of ShipBuddies, an order-fulfillment shipping company, told AAA. 
Can you tip your mail carrier?
You can give your mail carrier a gift as a holiday thank-you but, as federal workers, they have certain rules to follow when it comes to receiving gifts, per the United States Postal Service. 
$20 or less
Under federal regulations, you can "tip" your mail carrier with a gift that is worth $20 or less per occasion, this includes Christmas, according to the USPS.
Federal employees are not allowed to accept gifts that are worth more than $50 from any customer during one calendar year period. 
No cash
You cannot tip cash and cash equivalents, such as checks or gift cards that can be exchanged for cash, in any amount, according to the USPS.
So if you plan to show your appreciation to your mail carrier this holiday amid the ongoing pandemic that has proven extra difficult for frontline workers everywhere, consider a small gift. 
Catherine Stoddard and FOX Business contributed to this report. This story was reported from Los Angeles.