Fuel thieves erect altars to devil, death in Mexican tunnel
Hundreds of police and government agents raided an underground fuel theft terminal in a tunnel in central Mexico on Thursday where thieves had erected an altar to the devil and another to La Santa Muerte, a skeletal folk saint.
Prosecutors in the state of Hidalgo said a hidden entrance led them to a 25-yard (meter) long tunnel that reached 12 feet (4 meters) beneath the surface. Inside, they found fuel cisterns and illegal taps drilled into government pipelines.
There were approximately 10,000 gallons (38,000 liters) of stolen fuel inside the poorly ventilated space, and hoses to move the fuel. Ten suspects were arrested at the site, and 12 vehicles and drugs were seized.
Photos of the tunnel showed that offerings of food and candles had been left recently to the Devil and "Santa Muerte," a female skeletal figure worshipped by petty criminals, drug traffickers and the poor. Some believe that making offerings to Santa Muerte will protect them.
READ MORE: Border Patrol seizes $900K in meth disguised as candy, food
President Andrés Manuel López Obrador has assigned thousands of troops to guard pipelines since he took office in December 2018, and has ordered fuel moved by tanker trucks in some areas to frustrate thieves who drill taps into pipelines.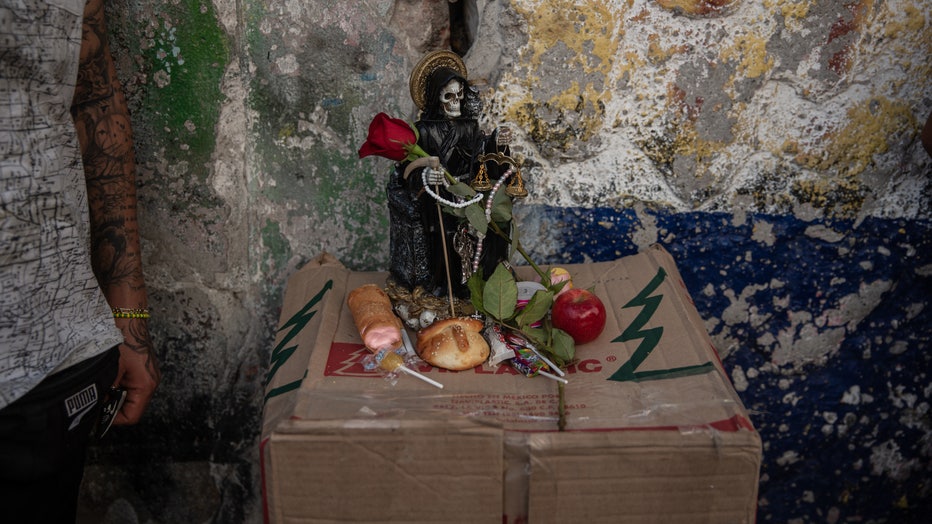 A small carboard box shrine to Santa Muerte is seen on November 01, 2022 in Tepito, Mexico. People from across the city go to Tepito, the most notorious neighbourhood run by La Union Cartel, to celebrate Santa Muerte (saint of death). The figure of S
Despite those efforts — and a decline in the number of illegal taps in 2020 and 2021 — by last year the number of taps found had gone back up to nearly 14,000 per year.
READ MORE: Biden sends 1,500 troops to U.S.-Mexico border for migrant surge
The illegal taps are immensely dangerous.
On Jan. 18, 2019, an explosion at an illegally tapped pipeline north of Mexico City killed at least 134 people. The explosion occurred in the town of Tlahuelilpan as residents collected gasoline leaking from the illegal tap.