Fox News Poll: Voters favor gun limits over arming citizens to reduce gun violence
After a series of mass shootings this spring, including the killing of several students at a private Christian school in Tennessee, voters would prefer focusing on specific gun control measures rather than arming citizens to reduce gun violence.
A new Fox News Poll finds most voters favor the following proposals:
-- Requiring criminal background checks on all gun buyers (87%)
-- Improving enforcement of existing gun laws (81%)
-- Raising the legal age to buy a gun to 21 (81%)
-- Requiring mental health checks on gun buyers (80%)
-- Allowing police to take guns from those considered a danger to themselves or others (80%)
-- Requiring a 30-day waiting period for all gun purchases (77%)
SHERIFFS RALLY AROUND GOP CRIME BILL ALLOWING EASIER FELONY CHARGES FOR RETAIL THEFT, DRUG POSSESSION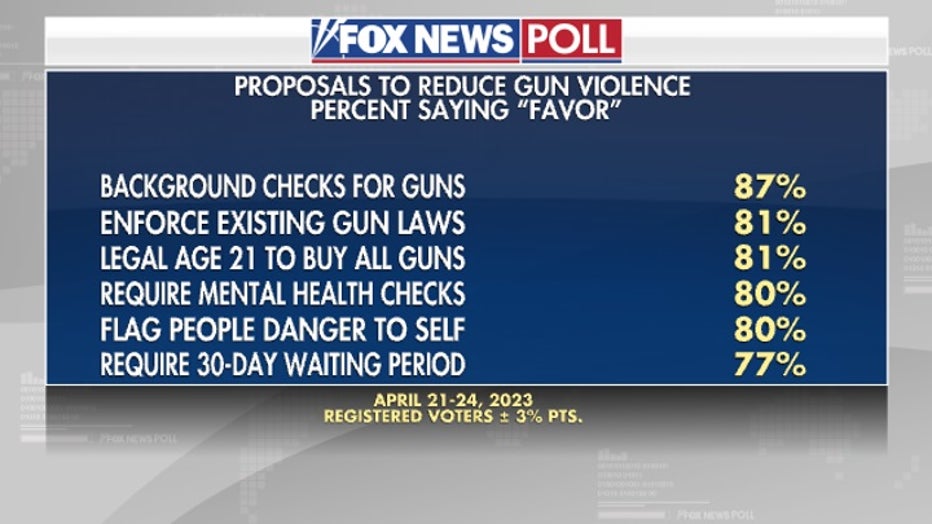 Fox News poll on gun violence and the Second Amendment. (Fox News)
Another 6 in 10 favor banning assault rifles and semi-automatic weapons (61%).  On Tuesday, Washington became the 10th state to institute a general ban on assault weapon sales.
While nearly half would encourage more citizens to carry guns to defend against attackers (45%), a slim majority is opposed (52%).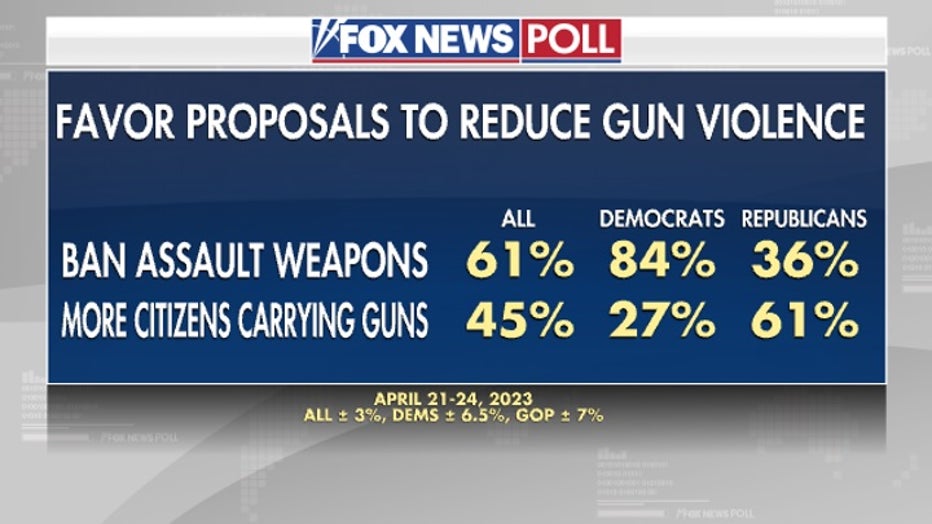 Fox News poll on proposals to reduce gun violence. (Fox News)
Democrats and Republicans mostly agree on specific gun measures, however there is a deep divide on the banning of assault weapons and equipping citizens with guns. For instance, 84% of Democrats favor banning assault weapons while just 36% of Republicans say the same, and just 27% of Democrats favor citizens carrying guns while twice as many Republicans prefer it (61%).
At least half of gun-owning households favor each of the gun proposals tested.
SOUTH DAKOTA'S KRISTI NOEM TAKES ACTION ON SECOND AMENDMENT AS 2024 RUMORS RAMP UP
Overall, 43% feel passing stricter gun control laws would make the country safer, a quarter feel it would make it less safe (25%), and a third thinks they won't make a difference (31%).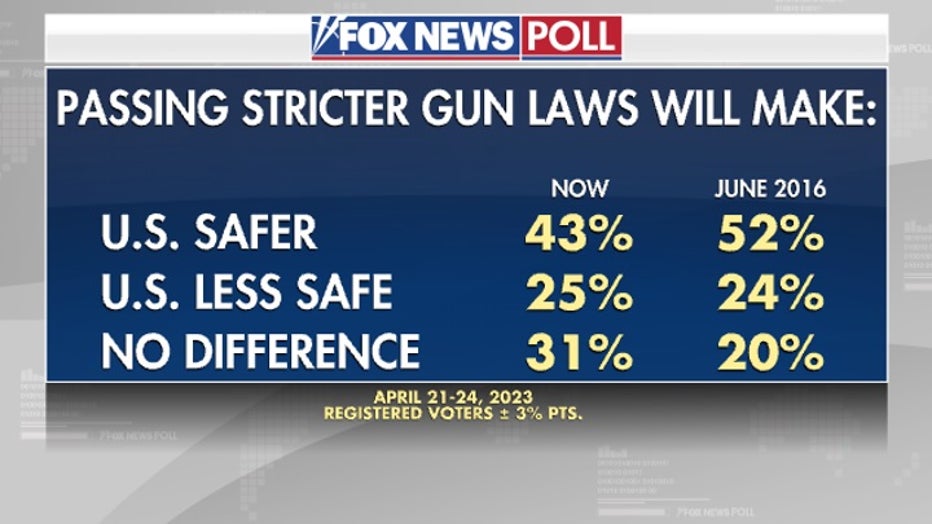 Fox News poll on stricter gun laws. (Fox News)
The number feeling stricter gun laws would make the country safer is down 9 points from 2016: at that time, 52% said they would make the country safer, while 24% said they would make the country less safe and 20% said they wouldn't make a difference.
The shift comes from women, Republicans, and independents, all of whom are less likely to say the laws will make the U.S. safer.
The gun issue is important to voters. When asked to say, without the aid of a list, what they feel is the most important issue facing the county, 12% cite gun control/violence.  Economic issues are the only thing more important (24% economy, 16% inflation/cost of living), and no other issues receive double-digit mentions.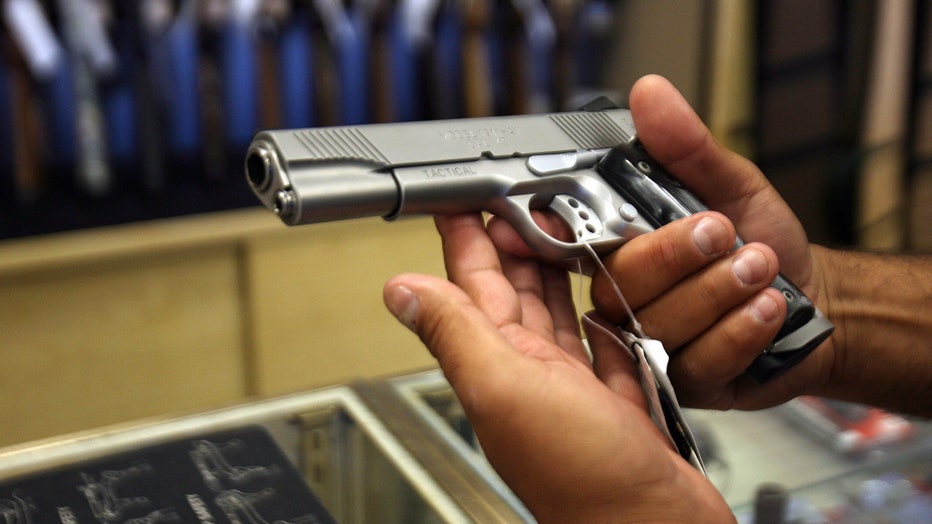 A Fox News poll shows the majority of Americans favor gun control laws (Photo credit GABRIEL BOUYS/AFP via Getty Images)
Half of voters are extremely or very concerned that they or a loved one will be a victim of gun violence (51%). That includes 44% of those living in a gun-owning household. Concern is higher among those under age 45 (59%), parents (59%), urban residents (65%), and nonwhite voters (65%).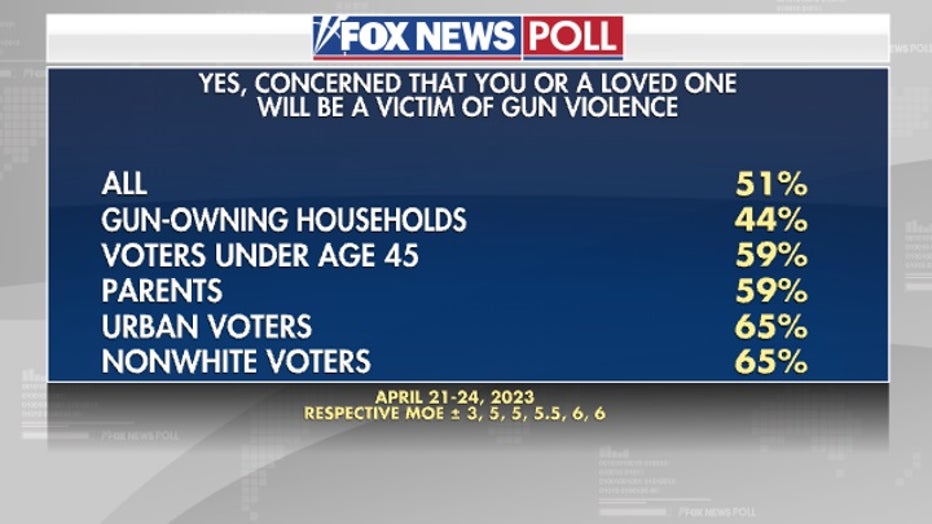 Fox News poll on gun violence. (Fox News)
Among those extremely concerned about being a victim, 67% think stricter gun laws will make the country safer.
Voters dislike how President Biden is handling the gun issue: 35% approve, while 62% disapprove. He only does worse on the economy, albeit by one point (35-63%).
CLICK HERE FOR TOPLINE AND CROSS TABS
Conducted April 21-24, 2023, under the joint direction of Beacon Research (D) and Shaw & Company Research (R), this Fox News Poll includes interviews with 1,004 registered voters nationwide who were randomly selected from a national voter file and spoke with live interviewers on both landlines and cellphones. The total sample has a margin of sampling error of plus or minus 3 percentage points.