FOX, American Red Cross team up to support victims of Hawaii wildfires
NEW YORK - FOX announced Friday it has joined forces with the American Red Cross to provide vital assistance and relief to the victims of the devastating Hawaii wildfires.
According to the media company, FOX's Red Cross site was activated to collect donations for those affected by the fires. 
"Help people affected by the Hawaii wildfires. Your donation enables the Red Cross to prepare for, respond to and help people recover from these disasters," FOX wrote on its site.
Officials said relief is needed immediately, and more will be required later as the islands recover from the impacts. You can make a donation here.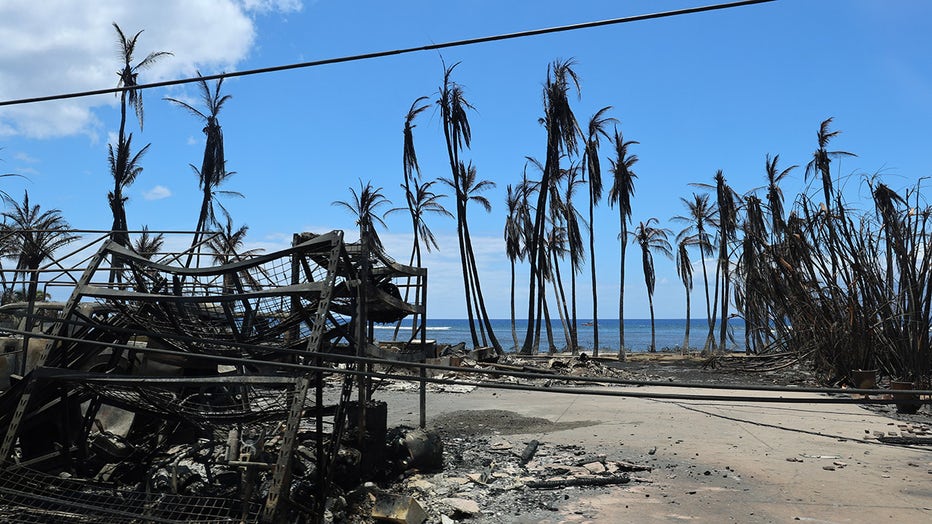 Wildfire destruction in Lahaina, as seen during the governor's tour of the town on Thursday, August 10. (Photo courtesy the Office of the Governor, State of Hawai'i)
The Red Cross is currently on the ground providing aid and resources to those who live and work on Maui, or who were vacationing there when the fires broke out.
Since the fires began, the Red Cross said they have provided more than 2,100 overnight shelter stays. The shelter in Oahu was opened to assist displaced Maui residents and the thousands of tourists evacuated from Maui.
RELATED: Hawaii wildfires: How to help those impacted on Maui, Big Island
In addition to providing evacuees with a place to stay, the Red Cross and its partners are also providing food and emotional support. When it is safe to do so, the Red Cross said its teams will help with damage assessment and begin distributing relief supplies.
Maui wildfire: Death toll rises, thousands race to escape
A search of the wildfire devastation on the Hawaiian island of Maui revealed a wasteland of obliterated neighborhoods and landmarks charred beyond recognition. 
A flyover of historic Lahaina showed entire neighborhoods that had been a vibrant vision of color and island life reduced to gray ash. 
"Lahaina, with a few rare exceptions, has been burned down," Hawaii Gov. Josh Green told the Associated Press. More than 1,000 structures were destroyed by fires that were still burning, he said.
The blaze is the deadliest U.S. wildfire since the 2018 Camp Fire in California, which killed at least 85 people and laid waste to the town of Paradise.
The death toll in Hawaii rose to at least 96 and is likely rise as search and rescue operations continue, Green added, and officials expect it will become the state's deadliest natural disaster since a 1961 tsunami killed 61 people on the Big Island.
This story was reported from Los Angeles. The Associated Press contributed.