Foo Fighters announce new drummer after Taylor Hawkins' death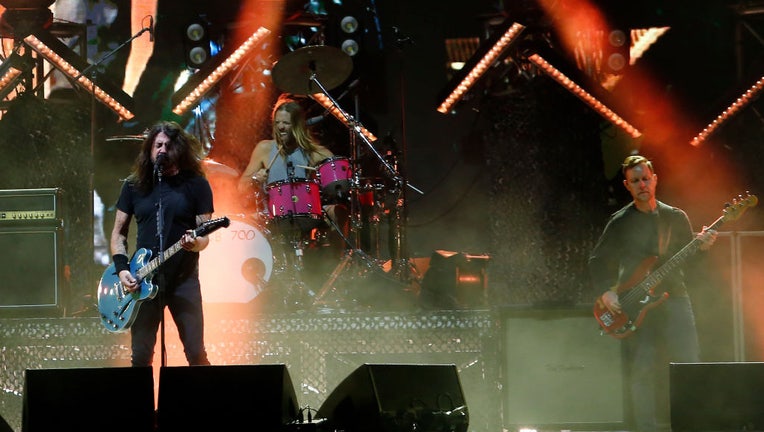 article
LOS ANGELES - The Foo Fighters announced their new drummer just over a year after the death of longtime drummer Taylor Hawkins. 
Hawkins died on March 25, 2022, during a South American tour with the rock band at age 50. He had served as the band's drummer for 25 years and was the best friend of frontman Dave Grohl.
During a livestream event called "Foo Fighters: Preparing Music for Concerts" on Sunday,  veteran session drummer Josh Freese was revealed as the rock band's new drummer.
Freese previously played with the Foo Fighters during Hawkins tribute concerts last fall in London and Los Angeles, according to Variety – and is also a longtime friend of both Grohl and Hawkins.
Freese has performed and toured with rock bands Guns N' Roses, A Perfect Circle, Puddle of Mudd, Nine Inch Nails, Weezer, Paramore, the Replacements, and Sting and the Vandals, according to Variety. Freese was most recently drumming for Danny Elfman and the Offspring, the outlet added.
During Sunday's livestream event, the news was announced with a slew of other famous drummers. 
Red Hot Chili Peppers drummer Chad Smith made an appearance, complaining about a "white Mercedes blocking my car." This was followed by Motley Crue's Tommy Lee, who appeared with a bag of PF Chang's, and Tool's Danny Carey, who walked in and announced, "I groomed your poodles for you."
A voice then interrupted the moment, yelling, "EXCUSE ME?!" before the camera cuts to Freese who is seen sitting behind a drum kit. 
"Can we play a song or something?!" Freese asked, before the band then jumped into songs. 
Hawkins joined Foo Fighters in 1997, first appearing with the band on the tour supporting its sophomore album "The Colour & The Shape."
He made his recording debut with Foo Fighters on 1999′s "There Is Nothing Left To Lose." Hawkins played on every subsequent band album, including "One by One" and "In Your Honor," and on hit singles like "Best of You."
Earlier this year, the Foo Fighters announced a new album, "But Here We Are," which will be released June 2 and was produced by the band and Greg Kurstin. 
The rockers said in a statement in April that the upcoming 10-track album will be "a brutally honest and emotionally raw response to everything Foo Fighters endured over the last year."
The lead, driving single is "Rescued," with the lyrics "I'm just waiting to be rescued/Bring me back to life/Kings and queens and in-betweens/We all deserve the right."
Other titles include "Hearing Voices," "Show Me How," "Nothing At All" and "Rest," the ending song.
This story was reported from Cincinnati. The Associated Press contributed.