Flight cancellations mount as Tropical Storm Hilary bears down on West Coast, Southwest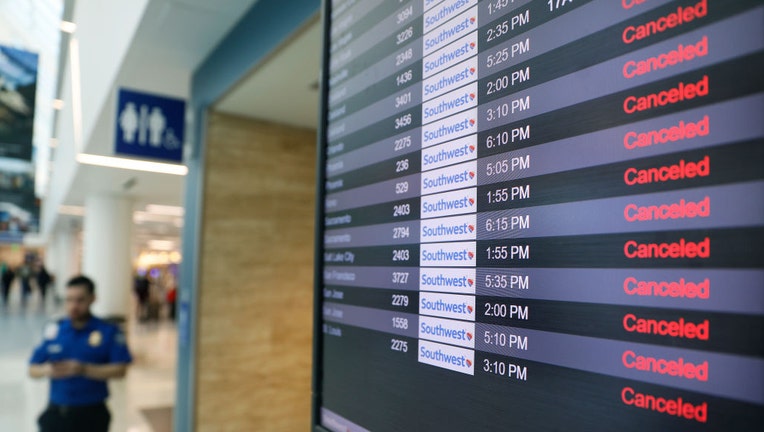 article
Flight cancellations and delays are rising as Tropical Storm Hilary approaches the southwestern U.S. bringing high winds plus heavy rain and the threat of significant flooding in California and Nevada.
According to data from FlightAware, there have been 2,562 delayed flights within, into, or out of the U.S. in addition to 1,006 cancellations as of Sunday at 3 p.m. ET. 
Airports in the southwestern U.S. have been the most impacted by delays and cancellations as Hilary brings heavy rain and wind to the region. San Diego International Airport is reporting that 37% of departures and 41% of arriving flights have been canceled, while 20% of departures and 22% of arrivals at Las Vegas's Harry Reid International Airport have been canceled as well per FlightAware.
TROPICAL STORM HILARY MAKES LANDFALL IN MEXICO AS STORM CLOSES IN ON CALIFORNIA WITH CATASTROPHIC FLOODING
Other airports in the southwestern U.S. have also been hit hard with cancellations as the storm approaches the area.
People stand on a pier over the Pacific Ocean with Hurricane Hilary approaching in San Diego County on August 20, 2023 in Imperial Beach, California. (Photo by Mario Tama/Getty Images)
Hollywood Burbank Airport, formerly known as Bob Hope Airport, is reporting cancellations for 41% of its departures and arrivals, while 20% of departures and 21% of arrivals at Orange County's John Wayne Airport in Santa Ana have also been canceled according to FlightAware.
Los Angeles International Airport has only seen a relatively small number of flight disruptions thus far, reporting cancellations for just 3% of departures and 4% of arrivals, although delays have impacted 11% of departures and 10% of arrivals at LAX.
TROPICAL STORM HILARY TRACKER: PROJECTED PATH, WATCHES AND WARNINGS, RAINFALL TOTALS AND MORE
Further north, 24% of departures and 18% of arrivals at Sacramento International Airport have been canceled, as have 18% of departures and arrivals at Oakland International Airport.
Hilary, which was downgraded from a hurricane to a tropical storm on Sunday, according to Fox Weather, is expected to arrive in Southern California late Sunday afternoon after making landfall in the northern part of Mexico's Baja California peninsula.
The tropical storm is expected to bring periods of heavy rain and strong winds to the area. Dangerous to catastrophic flash flooding is possible in mountainous and desert areas, particularly in Nevada and inland California where debris flows and mudslides are a concern. Some areas may see tornado warnings as well.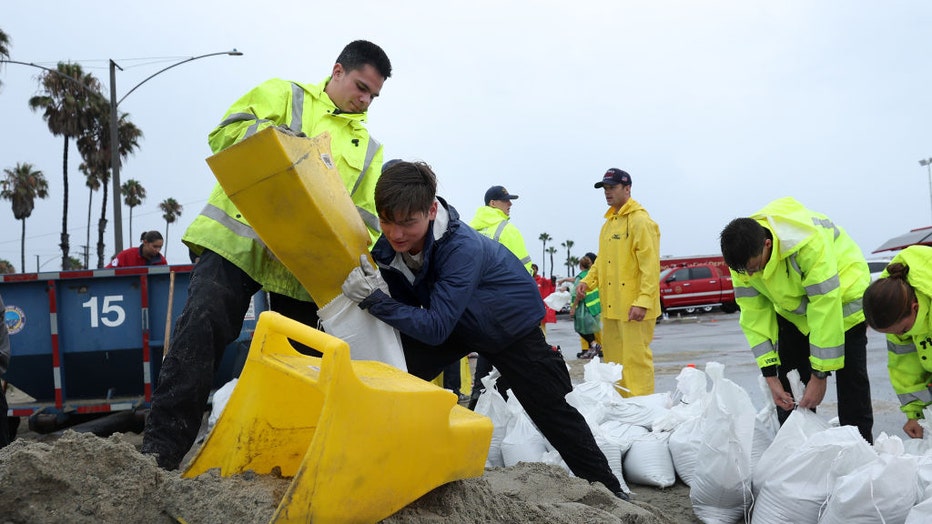 Volunteers and members of the Long Beach Fire Department fill sandbags at Belmont Shore Beach on August 20, 2023 in Long Beach, California. (Photo by Justin Sullivan/Getty Images)
DISNEYLAND RESORT TO CLOSE EARLY SUNDAY OVER HURRICANE HILARY, UNIVERSAL STUDIOS HOLLYWOOD MONITORING STORM
Tropical storm warnings are in effect for much of Southern California, with more than 21 million people residing in areas covered by the warnings which stretch along the coast from Los Angeles to San Diego, and inland from Mount Laguna to Palm Springs, San Bernardino and Victorville.
According to the National Weather Service's San Diego bureau, this is the first time the National Hurricane Center has issued tropical storm warnings for Southern California. 
Flood alerts are in effect for Southern California, Nevada and Western Arizona – as well as parts of Utah, Eastern Oregon and Idaho as the storm makes its way north into Monday.
Emergency resources have been prepositioned across the region. California Gov. Gavin Newsom declared a state of emergency on Saturday, while Clark County City Manager Kevin Schiller declared a state of emergency for the Las Vegas area.
FOX Weather's Steven Yablonski contributed to this report.