Fears of possible Oregon serial killer rise after 6 women found dead in Portland area
Police have recovered the remains of six women in and around Portland, Oregon, since February, prompting fears that a serial killer may be prowling the region.
Police found the remains of Kristin Smith on Feb. 19, Joanna Speaks on April 8, Bridget Webster on April 30, Charity Perry on April 24, Ashley Real on May 7, and a sixth, unidentified woman on April 24.
All were discovered within 75 miles of the Pacific Northwest city. However, Portland's Police Bureau pushed back on the idea that the cases may be connected.
"While any premature death is concerning, and we will diligently investigate deaths that happen in our jurisdiction in collaboration with the Multnomah County and Oregon State Medical Examiner's offices, PPB has no reason to believe these six cases are connected," police said in a statement.
RELATED: Idaho murders suspect Bryan Kohberger allegedly stalked another female student months before massacre: report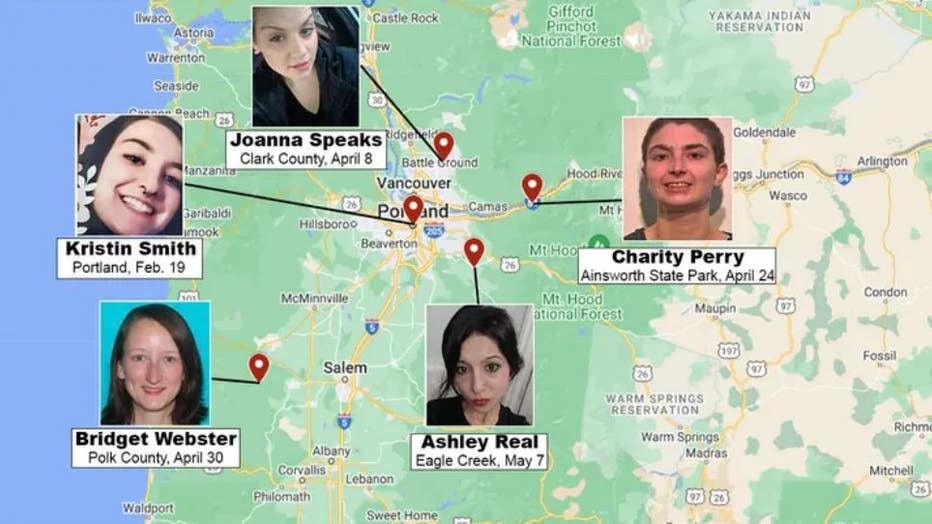 The remains of Kristin Smith, Joanna Speaks, Bridget Webster, Charity Perry, Ashley Real and a sixth, unidentified woman have all been discovered within 75 miles of Portland, Oregon, over the past five months. (Fox News Digital/Google Maps)
Perry's disappearance and death have prompted her mother to raise awareness about her case and the others.
"I know that she didn't get where she was found on her own," Diana Allen told Fox News Digital. "And the person or persons that put her there tried very hard to keep her from being found."
RELATED: Man accused of hunting homeless women in Kent, luring them for sex & shooting them pleads not guilty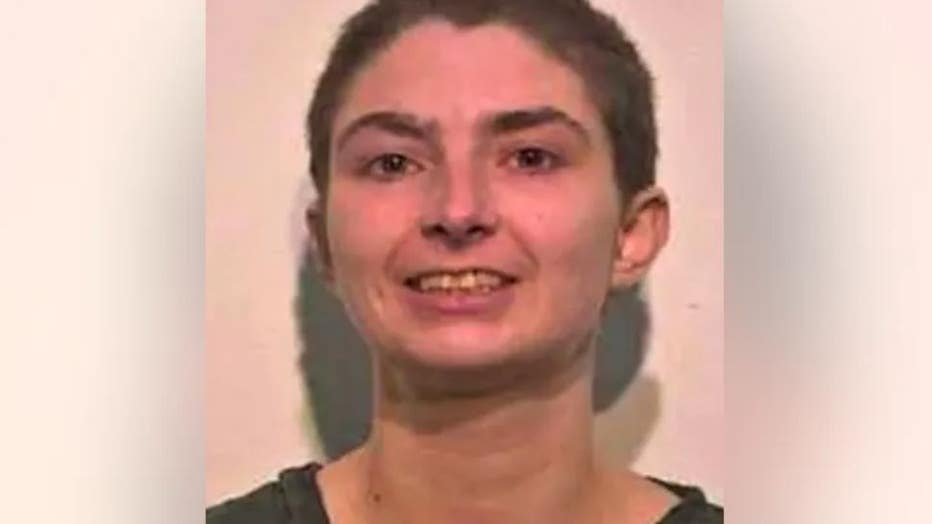 Charity Perry was found in a state park on April 24. She was living in Vancouver, Washington, before her disappearance. (Multnomah County Sheriff's Office)
Perry was homeless and last living out of a tent in Vancouver, Washington, her mother said, about nine miles north of Portland. However, her remains were discovered in a culvert at Ainsworth State Park – 35 miles to the east.
Kristin Smith, 22, went missing on Dec. 22, 2022. Police found her remains in the woods in the Pleasant Valley neighborhood on Feb. 19. Her cause and manner of death have not yet been determined.
Ashley Real, 22, was last seen at a fast-food restaurant in Portland on March 27. Police found her remains on May 7 in Eagle Creek, about 25 miles southeast of Portland. Authorities in Clackamas County, who are also involved in the investigation, have deemed her death suspicious – but it has not been officially ruled a homicide, Portland police noted.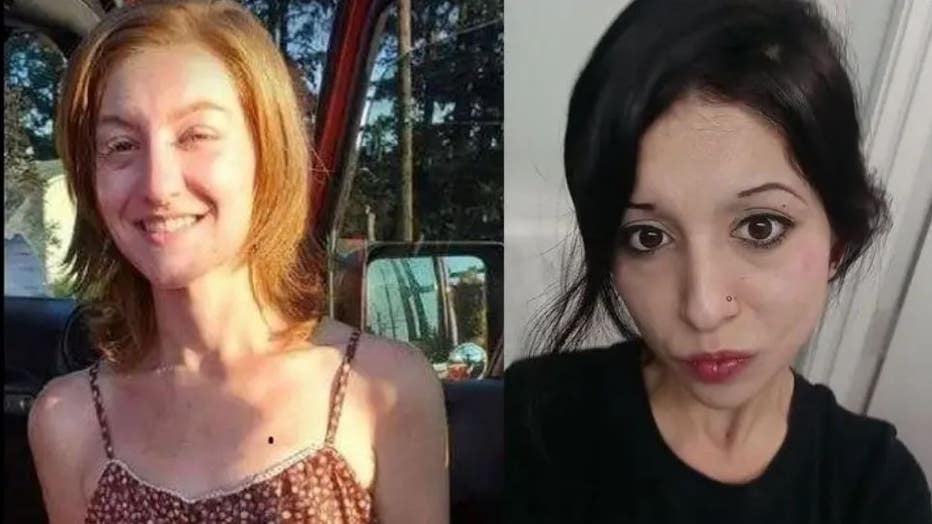 Kristin Smith, left, and Ashley Real were found dead in February and May, respectively. Portland police are investigating both cases but say they have "no reason to believe" they are connected. (Portland Police Bureau)
Multnomah County authorities declined to give Fox News Digital the autopsy reports on both women Monday, citing the ongoing investigations. Toxicology reports for both victims were also still pending.
The death of a third, unidentified woman found in Portland is not being investigated as a homicide, police said.
"There is no indication that foul play was suspected by the [medical examiner's] responder on scene, or the officers who were there to assist, and the PPB Homicide Unit has not become involved in the investigation," police stated.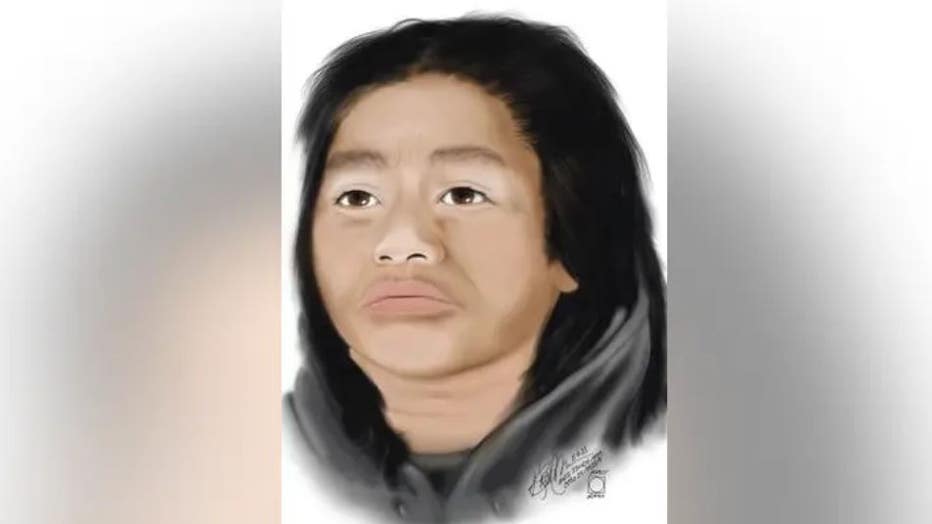 An artist's sketch of an unidentified woman found near Interstate 205 and Southeast Flavel Street in Multnomah County on April 24. (Multnomah County Sheriff's Office)
They are still working to identify her. Police described her as "possibly Native American" or native Alaskan with tattoos of a music note on her chest and a seated Buddha on her right shoulder blade.
Joanna Speaks, 32, was found dead at an abandoned barn in Ridgefield, Washington, on April 8, according to the Clark County Sheriff's Office. That's about 23 miles north of Portland.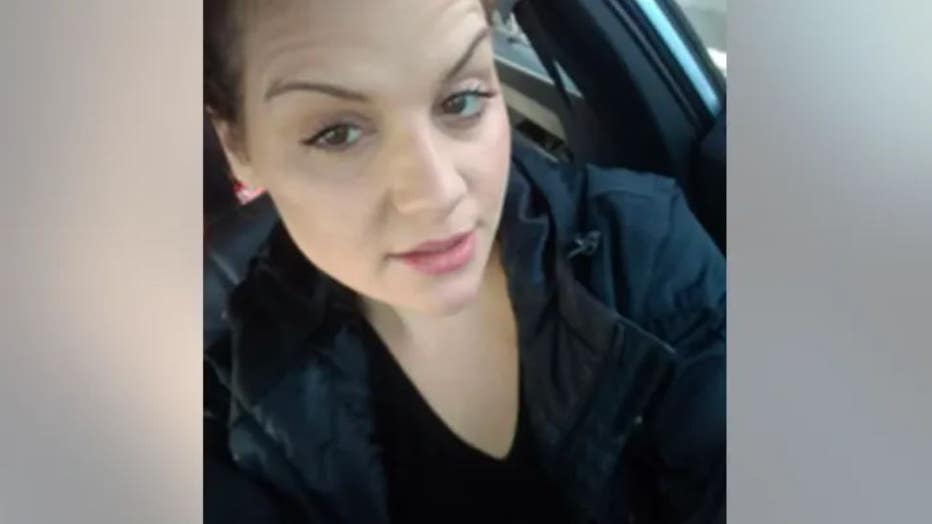 Deputies in Clark County, Washington, say they are investigating the death of Joanna Speaks as a homicide after her remains were found at an abandoned barn in Ridgefield, Washington. (Clark County Sheriff's Office)
"There are indications the body was moved to this location," the sheriff's office said in a statement. "This is being investigated as a homicide and no further details regarding the circumstances of the body are being released at this time."
The Clark County Medical Examiner's Office deemed Speaks' cause and manner of death a homicide from blunt head and neck injuries.
A search of the National Missing and Unidentified Persons System database revealed at least four other Jane Does were discovered in the region in 2022: a woman in Lowell, Oregon, in May; another in Salem, Oregon, in November; and two more women in Woodland, Washington, in March and April.
RELATED: Authorities deny rumors of serial killer in Seattle area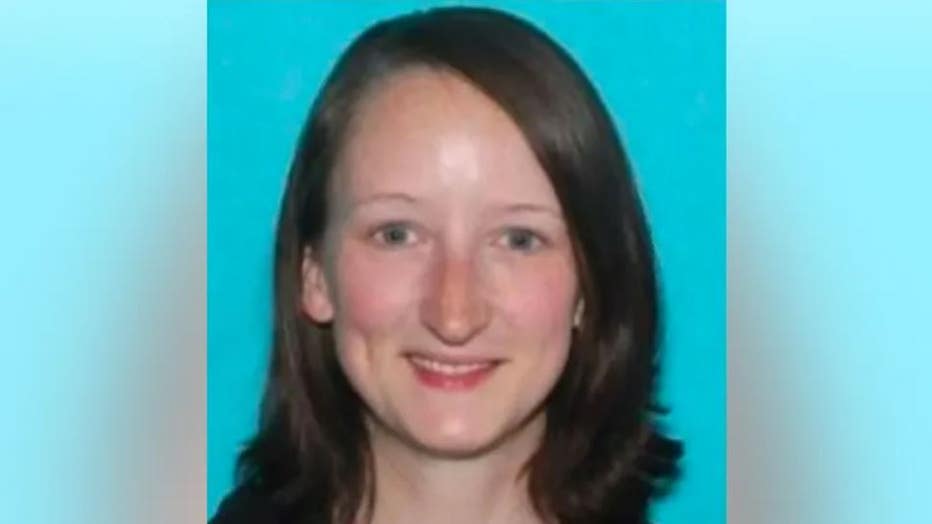 Bridget Webster of Milwaukie, Oregon, was found dead on April 30 in Polk County. Her age was not immediately available. (Polk County Sheriff's Office)
One of them had been struck by a train. Two were found on the side of rural roads and the fourth was found floating in the Columbia River.
"In police parlance, it takes two to create a pattern," said Joseph Giacalone, a former NYPD sergeant and cold-case investigator now teaching at the John Jay College of Criminal Justice. "So, you look at these and see what could connect them."
He said the investigation is in its early stages and that police, who have access to more information than the public, will be able to determine the nature of the deaths.
"At the very least, you have six sets of human remains, and you just take it from there and tune out all the noise, meaning the internet and the bloggers and everybody else who wants to turn this into more than it is," he said.
Fox News' Haley Chi-Sing contributed to this report.